Sony PlayStation 2, Intel Pentium 4 Processor, and Intel D915GAV Desktop Board
More video-game hardware in less space.
My medication is obviously not working because I'm still talking to myself. Marveling at the redesigned PlayStation 2's jaw-droppingly slender form factor for about 10 minutes straight, I caught myself actually saying "Wow" out loud, even though I was alone. It's comparable in size to a paperback book, but it reminds me more of a portable DVD player, sans screen, in black. While some of the accessories designed for use with the original PS2 are not compatible with this new design (the vertical stand and the Multitap to allow four players instead of the standard two, although new versions of each are now available), I was happy to find that my step-up Monster Game products all still fit. The digital optical cable and component video adapter plugged into the obvious places, while the replacement AC cable now patches into the breakout AC adapter (the 8.5-volt power supply is now located outside the console, which is another secret to the PS2's profound weight loss). At just 2 pounds, it's half as heavy as its former incarnation and takes up one-quarter the space, leaving me with vast amounts of open air in my under-TV gear stack after a quick, new-for-old PS2 swap. I do wish it had a catchier moniker, rather than simply "the 70000 Series."
Good News, Not-So-Bad News. . .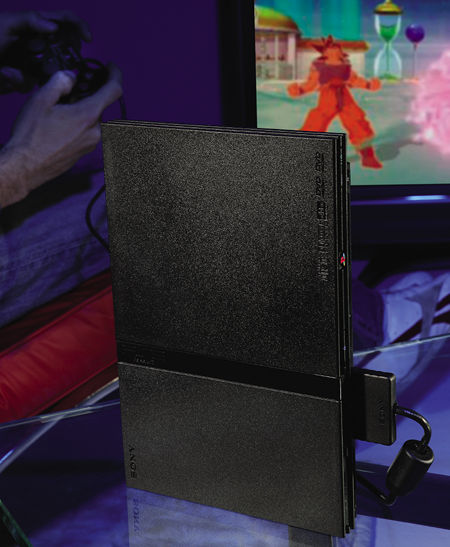 PlayStation 2 devotees are surely familiar with the expansion bay, also known as The Big Gaping Hole, which was included in every PS2 console to enable future hardware upgrades. However, the specifics were something of a question mark at the 2000 launch. Now that Sony better understands their consumers' wants and needs, they've removed the bay and integrated the once-optional network adapter, for both dial-up and broadband Internet access to a world of online gaming. The only other application for the bay, an add-in hard disk drive, is now an impossibility; this accessory never truly caught on, though, so it's a small sacrifice in the name of evolution. The compact 70000 Series also carries over a hardware improvement from the unheralded 2003 product refresh, incorporating the infrared sensor for the wireless DVD remote control at the expense of the FireWire port, which I can't imagine anyone will miss. My old PS2 DVD remote worked fine without its included remote receiver plug-in module and, just as importantly, without a memory card for the first time. Another carryover from 2003 is the PS2's ability to play the four major recordable DVD formats, DVD-R/-RW and DVD+R/+RW, although it still doesn't support CD-R/-RW discs or MP3/WMA music. The internal fan is no doubt smaller and noticeably quieter, and the only other significant change is the removal of the motorized disc drawer. Sony has replaced it with a manual tray, similar to that on the older, less-expensive PS1. The transition here is basically painless; just don't lean on the lid too hard, or the disc beneath will stop spinning and possibly incur damage.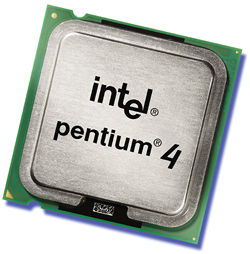 This little guy delivers the same great gameplay as ever on the huge legacy of PS2 titles—some of the best in the business—with graphics that stand up to the 480i component video output's increased resolution. Only a handful of PS2 games offer progressive-scan graphics, and none render live Dolby Digital 5.1 audio. This is, however, still the only console that supports DTS audio for games. The interlaced DVD playback is excellent as well, with a crisp, natural, colorful image. Getting to know the PlayStation 2 all over again reminded me of why it's the most popular video-game system in the world, and the new, less-is-more approach helps make this the best Sony console yet.
Intel Pentium 4 3.6GHz Processor with Hyper-Threading Technology and Intel D915GAV Desktop Board
Consumers still have different paths toward the goal of a top-notch entertainment PC—including snazzier-than-ever preconfigured boxes—although a large contingent of the typically well-informed, handy (and oh-so-sexy) readership of HT would only ever consider the build-it-yourself approach. With you in mind, Intel has introduced a selection of thoroughly redesigned "digital home"–friendly gear: a 3.6-gigahertz Pentium 4 processor with Hyper-Threading technology to more-efficiently allocate the processor's resources on multiple programs running simultaneously; the 915G Express chipset with microchips that connect the processor to the motherboard, controlling the transfer of data between the CPU and the rest of your computer; and the D915GAV (for Graphics, Audio, and Video) motherboard for desktop PCs. Our past coverage has focused mostly on the processor, which is largely responsible for the system's power and overall speed, while the chipset can dictate your rig's efficiency and even its specific abilities. The motherboard is where all of the physical connections are made, so you will want the most ports offering the latest standards.
Look, Ma: No Cards!
While I am not implying that you will never, ever need to install an optional sound or graphics card, this gear will now enable you to do more than ever without additional cards. Intel designed the GMA (Graphics Media Accelerator) 900 engine specifically for video users, an increasing segment as the entertainment PC gains ground. It also has the bonus of respectable 3D graphics for most gamers, as long as they don't demand the highest detail settings and frame rates. The GMA 900 supports playback of Windows Media Video HD's Terminator application (disc two of the T2 Extreme DVD in high-definition) in mainstream PCs with 512 megabytes of RAM. Power users will still want to add a PCI Express graphics card, which is now possible under the 915G chipset. You'll need another piece of silicon called an ADD2 adapter to support a second monitor or TV-out, added down on the motherboard or via a card in the PCI Express slot. Essential to Intel's new design is the PCI Express architecture, which provides two main benefits: more bandwidth for big high-definition video streams and dedicated bandwidth for each direction so the traffic doesn't have to arbitrate with itself. The new graphics core and driver also solve the monitor manufacturers' problem of sometimes-odd widescreen sizing and the discrepancies between the 16:9 and 4:3 resolution settings, VGA, SVGA, and so on. It also supports the display of HDTV broadcasts up to and including 1080i, and you'll only need an HDTV tuner card for the signal input. Another technology included on the motherboard is Intel's High Definition Audio, which supports up to 7.1 channels and 24-bit audio. At press time, Dolby was developing ways to combine their Dolby Digital and Dolby Pro-Logic IIx with Intel's existing HD Audio platform, which will mandate established signal-to-noise qualifications for the first time. The CPU and the software stack perform audio processing, and the HD Audio specifications provide robust "pipes" for the signals, enabling high-bandwidth digital sampling for high-fidelity digital-to-analog conversion. You can even turn all of the audio output jacks to independent headphone outs.
The motherboard also features the second generation of Serial ATA controllers, a ground-up implementation as opposed to an S-ATA front-end to the Parallel-ATA. Again, the chipset supports this application, for the best possible response times from a connected high-end S-ATA hard disk drive like the 300-GB Maxtor DiamondMax 10 that I installed. (It makes sense to hook this speed demon up with the fastest accessories available, including the proper DDR1 RAM.) Intel's Matrix Storage technology also automatically backs up non-DRM-protected audio and video files in all formats from one hard drive to another, a welcome security measure for multiple HDD PCs (buy two Diamond Max 10s), and the large capacity will certainly come in handy on storage-intensive tasks like high-definition video capture/timeshifiting. And while that 3.6-GHz CPU flaunts its might on brutal jobs like transcoding video files, Intel's new design also incorporates sufficient headroom for future improvements and for upgrades with minimal remorse.