Sony is First in Line
Spring is traditionally the season when major consumer electronics manufacturers hold their annual line shows, showing new products that will be introduced during the year. With a late winter snowstorm raging in the northeast, Sony held their 2005 get-together in warm, sunny Las Vegas, Nevada, on March 8.
There was plenty new to see, not all of which was related to the sort of audio/video products we normally focus on—after all, Sony attempts to cover all the consumer electronics bases. The company's new multiroom products were intriguing, as were their new digital cameras and voice recorders. As a journalist, I was particularly drawn to the Cyber-shot T7, a tiny, 5.1-megapixel digital camera with a 2.5-inch LCD screen and a thickness of just over one-third of an inch ($500, April). Just the thing for taking pictures at shows. And is that "5.1" an homage to multichannel audio? Just wondering. The Cyber-shot T7 does not record in 5.1-channel sound, though Sony does have camcorders that do—and in widescreen to boot, both standard and high definition. They are, of course, just a bit larger.
I also liked Sony's line of voice recorders, particularly those that are said to transcribe the audio to text using Dragon NaturallySpeaking version 8.0 voice-to-print service. I haven't heard any reports that this sort of transcription works very well, but I intend to find out.
But on to the big stuff. In their standard audio line, Sony launched a new 400 disc DVD/CD/SACD changer, the DVP-CX995V ($400, summer) with an HDMI output, plus several inexpensive single-disc players, even the cheapest of which (the $80 DVP-NS50p, spring) is equipped with Sony's A/V Sync feature designed to provide proper timing of picture and sound (generically known as lip-sync). There were also four new popularly priced receivers ranging from $200 to $500 (spring).
The new flagship of Sony's DVD recorder line will be the RDR-HX715 ($700, September). It includes a 160GB hard-disk drive, HDMI and component outputs, an IEEE1394/Digital8 input (for camcorders), and DVD+R/+RW/-R/-RW and +R Double Layer compatibility.

Sony also showed its current line of flat-panel televisions, but those worth waiting for were not on hand. Later this year, the seventh generation of LCD panels is expected to start coming off the assembly line that Sony is sharing with Samsung under a collaboration agreement. In one-on-one discussions, Sony representatives were not hesitant to rave about the improvements they claim these new panels will bring. Models in sizes up to 40 inches will be available. Sony won't like me saying this, but if you're in the market for a Sony flat-panel LCD in this size range, it might be worthwhile waiting until these new sets are launched. On the other hand, if you're looking for something at, oh, say 46 inches, the Sony Qualia 005, with its LED backlighting and astonishing color performance, can be yours this spring for about $15,000. I'll take two.
The real news in affordable Sony big-screen TVs came in the form of the new Grand Wega E-Series LCD rear-projection sets. Four models will be available: 55- and 60-inchers in the spring, with 42- and 50-inch versions in the summer. The most exciting feature of these designs (a feature that will not be found in the more upscale Grand Wega XBR models until the next model rotation, probably later in the year or early next) is an auto-iris function similar to the one that provides such surprisingly rich, deep blacks in the Sony Cineza LCD projector (see our review for more). I hoped this feature would show up in Sony's rear-projection sets as soon as I experienced how effective it was in the front projector, and I won't be surprised if other manufacturers follow suit.
The later delivery date for the smaller E-Series models is due to new cosmetics that drastically reduce the area surrounding the screen and allow the sets to fit into smaller spaces. For example, the 42-inch design is 14 inches deep and is said to fit spaces that previously housed a 36-inch CRT television. The larger models have wider bezels (as in the 55-inch model shown here in front and side view).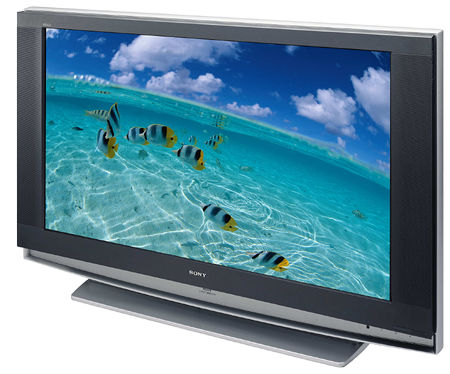 Perhaps more important, however, the two smaller models have a resolution of 1280x720, while the larger two are rated at 1366x768. At first, that might appear to argue for a slight superiority in the larger designs, but it may mean something else. Judging from the fact that Sony's older LCD RPTVs were all 1366x768 and the newer Cineza front projector is 1280x720, the smaller sets may be using a newer generation of LCD panels.
I saw no new CRT TVs, but there are still a number of sets in Sony's line, including the Super Fine Pitch models that are being carried over from last year. There was also a single, lonely, CRT RPTV that was being totally ignored by everyone. CRTs might be an endangered species, but they aren't going away; they still form the bedrock of TV sales, at least in dollars. But that's largely in low-end models. With those rear-projection LCD sets plunging in price, will higher-end CRTs remain in play forever? Doubtful. (The new E-Series starts in the low $2000s, as they say in LA real-estate ads, though with a few more zeros tacked onto the end). If you've been looking at a 34-inch widescreen CRT set, it might not be wise to wait another year.
Finally, Sony's ES line of audio components has some new additions to the family. There are three new receivers, two with traditional analog amplification. The third, the STR-DA7100ES ($2000, summer) features seven channels of 170Wpc, S-Master Pro digital amplification. It not only has 2-in/1-out HDMI switching, but can also upconvert all lesser inputs to HDMI for a simplified connection to your video display.
The ES line also has new speakers to complement flat-panel displays, but so does everyone else. More interesting—to me, at least—were two new DVD/CD/SACD players, particularly the flagship DVP-NS9100ES ($1300, summer). It features 720p/1080i upscaling from its HDMI output, 14-bit/216MHz video DACs, A/V Sync, and, of course, 2-channel and multichannel SACD playback. It's also said to be compatible with almost every other current form of optical disc, including those with MP3 and JPEG files. (Not DVD-Audio, though.)
It promises to be a busy year for Sony—and a busy year for us as we try to keep up with their new products.
LATEST VIDEO