Sony DVP-CX850D 200-Disc DVD/CD Changer Page 2
A piece of equipment is only good or poor in relationship to other equipment in its price range, therefore my testing procedure is pretty standard. I simply test the equipment against a reference system of similar cost. In this case, that meant a single-disc Sony player. So how did it fare? The DVP-CX850D comes with a complement of video and audio modes designed to modify the original software's presentation. Typically, I find these modes to be more distracting than useful; however, this unit's Digital Video Noise Reduction feature (of which there are three levels) actually did make the picture appear to look better, without producing the after-images that can be a by-product of such manipulation. The Video EQ offers a choice of standard, dynamic, and cinema options. While the dynamic and cinema modes produce an interesting spin on the video presentation, the standard mode does such a good job of reproducing the perceived intent of the filmmaker that deviating from it seems unnecessary.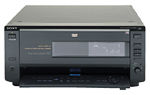 The DVP-CX850D also comes with no less than six different modes in its Virtual 3D Surround menu, all of which are designed to produce the auditory illusion that you're hearing sound from speakers that aren't really there. Two of the modes are based on the premise that you'll be listening to DVD soundtracks through two front stereo speakers, the idea being that you only need two speakers to enjoy a "surround-like" presentation. I tried these modes, and, while they did sound like they widened the soundfield a bit, they produced a somewhat-disconcerting echo effect reminiscent of yelling down a large cement culvert. The other modes are based on a Pro Logic setup and attempt to make Pro Logic's monaural rear channels sound like the more-defined soundfield produced by Dolby Digital's (or DTS's) discrete surround channels. All of these modes succeed to some degree, but they're all based on the assumption that this player will not be hooked up to take advantage of true 5.1-channel surround. Running this player through anything less than a 5.1 system would be a mistake—the DVP-CX850D does such a good job reproducing this material that relegating it to Pro Logic or stereo with some digital effects to compensate is like buying a Porsche 911 and limiting its speed to55 miles per hour.
When I conducted my comparison, I found the DVP-CX850D to be a consistent winner in regard to picture quality. On some discs, the difference between the players was negligible; on many others, it was quite noticeable. Switching the Video EQ from off to level one was the deciding factor on most of the discs. The audio difference between the two players was hard to qualify and, at times, completely indistinguishable. Since I've always been more than satisfied with my current system's sound quality, this unit receives two thumbs up in that department.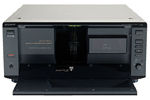 I ran the DVP-CX850D through every masochistic test imaginable, and it never failed to deliver what it promises. As a CD device, it rates about average. When it comes to DVDs, though, the player is downright awesome. The level of personal tailoring here is expansive, as you're afforded much latitude to create personalized play lists and favorite scenes. And, through the parental control, you can lock out others from watching your more-distasteful movie selections, such as Armageddon or that talking-pig movie.
Combining superior sound and video quality with a device that can store and effectively manage 200 DVD or CD titles makes the DVP-CX850D changer an attractive product. Mate this unit with a decent 5.1 audio system and a good TV or projector, and you'll soon find yourself in the stratosphere of home theater heaven. And, for the first time, you may actually be able to find the movie you want without having to wrestle through boxes or cabinets.
Highlights
• Tons of features
• Easy-to-use disc-labeling system
• Awesome DVD playback