Sony Announces Pricing and Availability of 4K/Ultra HD Bravia TVs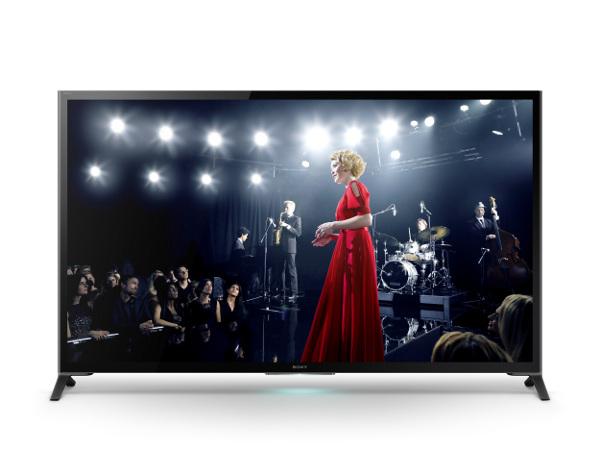 Sony continued to push 4K/Ultra HD as it announced pricing and availability for its new Bravia 4K/Ultra HD TV lineup, a 4K media player, and new 4K content options.
Introduced at 2014 CES in January, nine Ultra HD TVs in three series will be available in June. Suggested retail pricing for 65- and 85-inch models in the XBR-X950B series are $7,999 and $24,999, respectively. The XBR-X900B series includes 55-, 65-, and 79-inch models priced at $3,999, $4,999, and $8,999. The entry-level XBR-X850B series comprises 49-, 55-, and 65-, and 70-inch models priced at $2,099, $2,999, $3,999, and $5,499.
In addition to supporting 4K content from Video Unlimited 4K and Netflix, all models support Internet streaming, HDMI 2.0 with the ability to display 4K/60p content, HEVC decoding, and MHL 3.0, which supports 4K output from smartphones and tablets. The TVs also incorporate Sony's 4K X Reality Pro for upscaling content to 4K resolution and PlayStation Now for streaming PS3 games directly to the TV. An optional wireless subwoofer is available.
The TVs also provide direct access to PlayMemories Online and 500px for uploading and organizing photos from smartphones, tablets, and PCs and enjoying them in 4K resolution as well as a "One-Flick Entertainment" interface for quickly selecting content from a variety of sources.
Models in the flagship XBR-X950B series use LED arrays and a backlighting algorithm to achieve a "wider dynamic range of brightness, with higher peaks and deeper blacks," while the XBR-X900B series uses edge-lit backlighting with LEDs along the side of the panel. X900B models have been redesigned to incorporate larger, more powerful speakers.
Sony is also expanding the number of 4K movies and TV episodes available for its FMP-X104K Ultra HD Media Player, which will be available this summer. Users will be able to select among more than 200 titles from the Video Unlimited 4K service for download to the player's 1 terabyte hard drive or stream 4K content from Netflix. More than 50 titles are available at no charge.
Titles available via Video Unlimited 4K include American Hustle and The Monuments Men with The Amazing Spider-Man 2 and Annie (2014) scheduled for future release; TV shows include The Blacklist. 4K content from Netflix will include Season 2 of the hit series House of Cards.
Sony also announced that it is collaborating with FIFA to produce 2014 FIFA World Cup matches in 4K as well as an official film.
LATEST VIDEO