Sonus Faber Omnia Wireless Speaker System Page 2
Once placed on my large and very long bedroom TV credenza, the Omnia had to be twice rebooted before my iPhone recognized it. Though, once the speaker appeared on my phone, setup involved little more than selecting it on the phone's Wi-Fi settings page. I didn't even need to enter my Wi-Fi credentials. Alternatively, I could have used Apple's Home app for the setup. Android users can use Google's Home App.
Using the QR Code to access the Sonus faber website, I adjusted the Omnia's settings as follows: Crescendo DSP on, Loudness Maximizer off, and room placement "Away from the wall."
I then played music, only to find that at high volumes the speaker caused my credenza to loudly vibrate. Repositioning the Omnia on the credenza mostly solved this issue, but it still occasionally occurred. Though, I had no such problem when I moved the Omnia to the heavy marble shelf that separates my home's kitchen and living room. Here, since the Omnia was about nine inches from a wall on each of its sides, I changed the room placement setting to "Near the wall."
Much of my audition was performed using Tidal and Spotify Connect, which employ Wi-Fi to stream directly from those companies' servers while using a mobile device (here my mobile phone) as a remote control. However, testing the Omnia's versatility, I also used it with an ARC-compatible television and later a desktop computer. For the latter, I employed the mini-DIN to RCA adapter and a pair of interconnects to connect the speaker to the analog outputs of a Matrix Audio X-Sabre-3 DAC, itself connected to my computer via a USB cable.
Performance
In my bedroom, the Omnia produced an enormous soundstage that extended many feet beyond the edges of its cabinet. Within that soundstage, aural images were firmly planted and surrounded by surprisingly generous amounts of air. There was also plenty of detail and deep, articulate low frequencies.
In "Symphony No. 9 in C Major, D. 944 The Great-II. Andante con moto" from Shubert: Symphonies Nos. 8 Unfinished & 9 The Great (Tidal Master), Swedish conductor Herbert Blomstedt uses the German Leipzig Gewandhaus Orchestra's string section to make a series of dramatic motivic statements. The Omnia placed the orchestra across a massive soundstage with imaging similar to well-positioned stereo speakers. In fact, the string section's aural image resided at a point way at the end of my long bedroom credenza where there sat a large, unused audio component.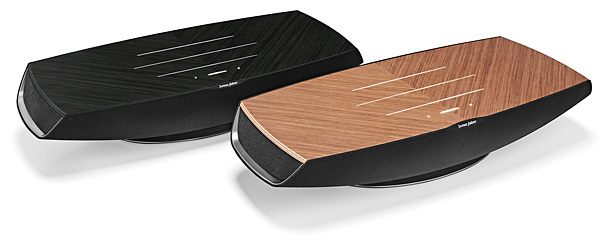 Similarly, with "Quadrant," from Billy Cobham's Spectrum (Spotify), the Omnia placed the faint talking at the track's start in the middle of an immense soundstage. Immediately following the talking and placed at its right, several feet beyond the Omnia's cabinet, was faint laughter and a screaming note from Tommy Bolin's electric guitar. Once the song got going, I turned up the volume and confirmed that the Omnia produces more than its share of deep, clean, distortion-free bass. Yes, the speaker can play very loudly, but like many audiophile speakers it will lose some composure and blur things at extremely high volumes. If you want to pound trance music at a crowded party, skip the Omnia and get a boombox.
Interestingly, the size of the Omnia's soundstage on my kitchen's pass-through shelf—itself closely flanked by two walls—was much smaller than when it was in the bedroom. While on that shelf the Omnia still sounded like an expensive wireless speaker, most of its true magic had disappeared. At that point, a light bulb went off in my head. I went back into the bedroom and removed the unused component from the far-right side of the credenza. Doing so enlarged the Omnia's soundstage, with right stage images moving even further toward the right sidewall. Inescapably, much of its otherworldly soundstaging and imaging abilities are negated by the existence of a nearby side boundary, whether a wall or even another audio component.
The reproduction of detail was another of the Omnia's strengths. With Adel's "Hold On," from her 21 album, the speaker was able to reproduce a number of imperfections in the artist's vocal tone. With "English Suite No. 1 in A Major, BMV 806: V. Sarabande," from Bach English Suites BMV 806-811 (16/44 FLAC, Tidal), Lorenzo Ghielmi's harpsichord sounded complex and naturally bright.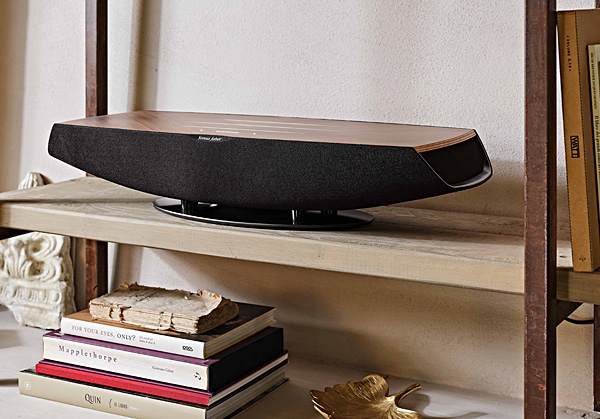 Finally, to test the Omnia's ARC feature, I watched the 2006 James Bond movie Casino Royale. When a large crowd placed bets on a sport fight held in an empty swimming pool between a cobra and a mongoose, I identified individual voices in the cheering crowd. Further, the snake's high-frequency hisses were produced without sharpness at all except at the highest volume levels. Similarly, at realistic volume levels the sounds of explosions were low in distortion. While for movies the Omnia is no match for even a modest home theater system, casual TV watchers will find it to be a nice upgrade from most soundbars.
Conclusion
Although the Omnia looks like it stepped out of a book on modern industrial design, its appeal is more than just visual. It offers crisp, clear, and detailed sound when properly set up, portrays a large soundscape with extremely well-formed images. Due to its built-in phono stage, ARC and DSP features, and wisely chosen connectivity options, the Omnia is also extremely versatile. Whether you want to wirelessly stream from a mobile device or pass audio from a turntable, television, computer, or other devices, this speaker can likely do it. As they say in Italy, ben fatto!