With Sonos In Its Sights, Yamaha Launches MusicCast
With what amounts to a massive introduction covering more than 20 products, Yamaha has launched a new MusicCast multiroom digital audio music system.
Old-timers may recall that name from a wireless multiroom solution Yamaha offered in the early 2000's, but beyond the intent, this MusicCast system shares nothing in common with the original one. The new app-based, Wi-Fi-driven system is very much in the profile of the pioneering Sonos system, and recent competitors including Denon's HEOS, Bose's SoundTouch, LG's Music Flow, NAD's Bluesound, and others.
Yamaha executives, who demonstrated MusicCast for press in New York a few days before yesterday's launch, told reporters they hope to differentiate their system from market-leader Sonos by creating products that appeal to a more serious music consumer—not just committed audiophiles, who they see as a secondary target—a large group of people who care deeply about music and place higher emphasis on sound quality than the steady-but-casual listener.
They showed slides indicating that while Sonos controlled a 92% share of the wireless multiroom audio market in 2014 (Bose had 4% and the remaining 4% was shared among the others), only 3 million of the country's 116 million households have installed wireless multiroom audio to date. With such low household penetration, the market remains wide open.
Reaching their target consumer will be made easier by integrating MusicCast into the large variety of audio products where Yamaha already has a presence, the executives said. Yamaha has claimed the largest market share of AV receivers for several years now, and it turns out that every Yamaha AVR introduced this model year is MusicCast-ready, just waiting for a firmware update and the downloading by the owner of the MusicCast control app to become operational.
Similar to other mulitroom systems, Yamaha will launch a series of dedicated powered tabletop speakers with built-in MusicCast receivers, starting with the compact $250 model WX-030 MusicCast Wireless Speaker (shown here, due October). Along with this standalone speaker and the 10 announced AVR models, MusicCast will also be integrated into two new soundbars and a soundbase (including a new Atmos- and DTS:X-compatible soundbar scheduled for December launch), a home-theater-in-a-box system, a stereo network receiver, audio separates including a new surround processor (also with Atmos and DTS:X capability, September), and an $800 pair of powered studio monitors (December) that have been adapted from Yamaha's professional line to perform as a high-quality MusicCast playback system.
To that end, audiophiles will applaud some unique capabilities for MusicCast, among them the ability to send hi-res audio formats to MusicCast components including ALAC (Apple Lossless) up to 96 kHz/24-bit; FLAC, AIFF, and WAV files up to 192/24; and DSD up to 5.6 mHz.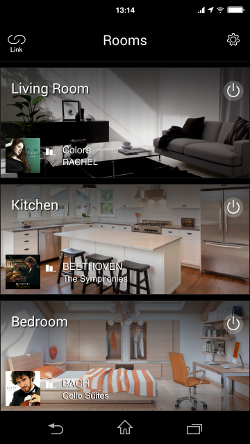 Also, since the MusicCast app knows the inputs available on any device in the system and can control input selection, every source input on any MusicCast-compliant AVR, soundbar, or surround processor is available for multiroom distribution. That includes AM/FM radio for AVRs and any available phono input connected to a turntable. Furthermore, every MusicCast device includes a Bluetooth receiver (standard SBC and AAC variety, not aptX) to play music from a local phone (which then becomes available to the system) in addition to being a Bluetooth transmitter that can push music received via MusicCast to a local pair of Bluetooth headphones or other Bluetooth receiving device. Music libraries on any network attached storage devices are also available for distribution.
In keeping with current trends, the MusicCast control app (for iOS and Android smartphones and tablets) allows integrated access to several popular music streaming services including Pandora, Spotify, Rhapsody, Sirius XM, and vTuner, with more said to be on the way. While that's not unusual, Yamaha has put some serious thought into the app design to make it highly graphic and intuitive to use. Notably, room/zone selection is done via a grid with actual room photos as the buttons, either stock images built into the app or actual images of your own spaces that can be dropped in (as shown here). Content source buttons can also be renamed and organized by the user in the order they like.
More information about Yamaha MusicCast system is available here.