Smokey and the Bandit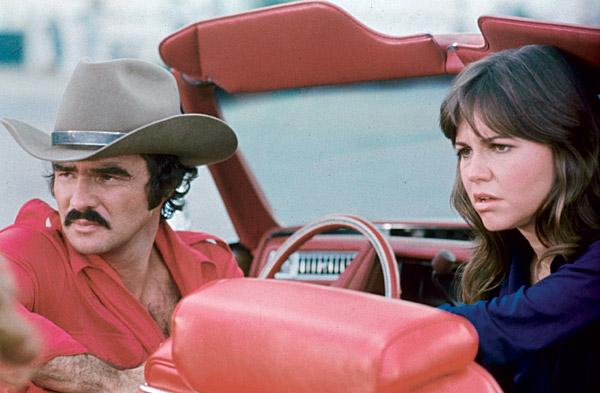 But with Bandit blocking in a shiny new Trans Am and his partner behind the wheel of the big rig, the whole trip looks like it will be a breeze—that is, until Bo suddenly picks up a runaway bride (Sally Field, two years before she began collecting Oscars). Unfortunately, the jilted groom's father (Jackie Gleason) is a Texas county sheriff, and this relentless, foul-mouthed lawman is determined to catch the Bandit at any cost. Shot on a shoestring budget yet brimming with old-school stunts and plenty of down-home humor, Smokey is still a hoot three and a half decades later.
Except for a few problematic shots marked by video noise and inconsistent film grain, the 1.85:1 HD presentation is clean and enjoyably detailed. The colors display a pleasing warmth, particularly the Bandit's red shirt, although the blacks tend to be murky and vague. The movie certainly benefits from the 5.1-channel remix in DTS-HD Master Audio, with terrific bits like the front-to-back phasing of a truck driving over the camera or some surround-only action across the speakers as a car zips off behind us. The rumble of that Trans Am engine will make car buffs glad they have a subwoofer in their home theater. In one early scene, however, some dialogue exhibits an unpleasant distortion, likely owing to the age and/or poor storage of the original elements. Paying close attention to the audio, we also notice that a single actor apparently looped all of the incidental dialogue.
New for Blu-ray are the pocket BLU app for enhanced control and portable bonus content, and BD-Live access. The great mini-documentary with Reynolds, director Hal Needham, and many vintage clips is ported from the 2006 special-edition DVD, along with a fun trucker-term tutorial. In fact, that entire DVD is bundled in here as well, in addition to a Digital Copy.
Blu-Ray
Studio: Universal, 1977
Aspect Ratio: 1.85:1
Audio Format: DTS-HD Master Audio 5.1
Length: 96 mins.
MPAA Rating: PG
Director: Hal Needham
Starring: Burt Reynolds, Sally Field, Jackie Gleason

The second-highest-grossing movie of 1977 (behind only a certain science-fantasy film of some renown) and one of the biggest hits in the esteemed history of Universal Studios, Smokey and the Bandit combined frequent car chases, vast amounts of beer, and copious nose-thumbing at The Man to create a wildly popular piece of entertainment. Like most movies of the era, it lacks the slickness of modern fare and relies more heavily on the charm of its star, Burt Reynolds, as legendary trucker Bo "Bandit" Darville. He takes a big bet to deliver 400 cases of Coors beer across five states in only 28 hours, an extremely difficult and highly illegal challenge.
LATEST VIDEO