SmartThings Hub Home Automation Controller
PRICE
$99
AT A GLANCE
Plus
Z-Wave and ZigBee radios built in
In-app live chat support
Supports multiple third-party devices and services
Minus
Doesn't support Insteon
No tablet-specific app layout
THE VERDICT
The SmartThings Hub offers an impressive range of support, its app is powerful and smartly designed, and it's a great value.
As with all up-and-coming DIY home automation systems, the SmartThings Hub is intended to make your life a living nirvana, bringing peace, love, and, yes, even rock 'n' roll (grunge or otherwise) into your smart home. The $99 price—with a free app and no monthly subscription fees—is certainly a tasty enticement for someone with a sweet tooth for home automation on the cheap. But the big question is whether there's enough meaty substance to the SmartThings system to satisfy a homeowner's long-term automation hunger. Or does SmartThings give nothing more than a sugar high that inevitably leads to a disappointing crash later on?
IP in Your House?
The mundane, near-featureless, little white box that is the SmartThings Hub has an Ethernet port, a power cord, and a tiny LED on the back—and that's the extent of it. Once you've plugged in the AC adapter and connected the Ethernet cable, in all likelihood you'll never look at the Hub again. Inside are radios for communicating with Z-Wave and ZigBee automation devices, and while not fully implemented yet, the Hub is also designed to control IP- and cloud-connected devices. Although it can control TCP smart LED bulbs through a TCP Gateway, as well as Philips Hue bulbs via the Hue Hub, there's no current support for Insteon lighting or other Insteon automation devices.
The free SmartThings app is available in Android and iOS versions. The tablet iterations of the app, however, are merely enlarged copies of what you'd see on a vertically oriented smartphone screen. There's no tablet-specific, landscape-oriented layout of the app, which can make it awkward to use with some of the larger tablets.
The app's Dashboard gives an instant glance into the status of your home and the presence of any people, pets, or things (based on the location of a smartphone or an attached ZigBee-based SmartThings Presence Sensor) you may have set up the Hub to monitor. Swiping the Dashboard to the right gives you access to your account info, in-app purchasing of new devices, and a variety of support options, including in-app live chat with the SmartThings support staff. At the top of the Dashboard is a small speech balloon. Clicking on it brings you to the "Hello, Home" page, which is essentially a conversation-style list of all the notifications and events that the SmartThings Hub has been tracking. What's listed depends on what you've programmed the Hub to monitor and do, of course. In my case, the Hub told me things like "Darryl has arrived at Home," with a time stamp of the event.
Zen and the Art of Smart Home Maintenance
A homey personality, geo-locating via your smartphone's GPS, and presence sensing aren't unique to SmartThings. Nor is the impressively broad and comprehensive range of diverse device support (even though this is one of the very best of the DIY smart home systems I've seen when it comes to maximum device integration). No, what really sets this system apart is the way in which the SmartThings folks have been able to design an app that is relatively simple and straightforward to use yet also possesses incredibly powerful programming capabilities. For the most part, adding devices is an easy, menu-driven process—albeit not without the Hub occasionally encountering a device that's not listed in the SmartThings system. (Often, you can resolve this by adding it as a generic device.) In many cases, once a device has been added, the app automatically suggests appropriate—and sometimes surprisingly complex—templates for Actions typically associated with that type of device. This aspect of the SmartThings app makes the task of getting a smart home up and running much less daunting and lengthy for a DIY home automation novice.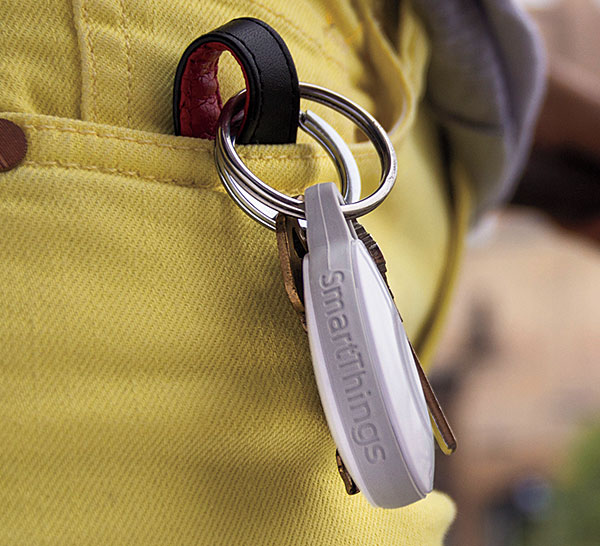 SmartThings has even more to offer those who wish to fully embrace the mysterious ways of the smart home, as well as those who have already done so. That's because the company has taken the unusual and possibly risky approach (for a company targeting the mass market, anyway) of making their platform as open as possible. SmartThings Labs, for example, provides "experimental early access" to control of a range of third-party devices and services, some of which include gear from Sonos, Quirky, ecobee, Jawbone, and Dropcam (but no Nest, as of yet), along with Life360 and SquareHub. ("Experimental," by the way, is tech-speak for "it might not work 100 percent of the time.") SmartThings also makes it possible for developers and makers to write their own SmartApps with a tremendous amount of customization, and there's extensive tutorial information available on the company's support site. With a nod to even more geeky users, there's a $35 SmartThings Shield for Arduino that lets a maker connect a personal Arduino project to the SmartThings platform.
Conclusion
The true measure of a smart home controller isn't how clever its name is or how cute the hub looks. For all it matters, a hub could be called "Thing" and both look and act just like the disembodied, cigar-box-dwelling entity of the same name on The Addams Family—as long as it quickly and reliably does the job at hand (so to speak). All the elements of the SmartThings experience—including the company's own automation devices, along with the impressive range of support for other brands/types of devices, the smartly designed app and extensive programming capabilities, the Hub's $99 price, and the lack of a subscription fee—easily make SmartThings one of the premier DIY smart home systems you can buy today.
It's certainly true that I ran into a few glitches while adding devices as well as several random inconsistencies in operation (some of which could be attributed to the nature of wireless devices and communication—but inconsistencies, nevertheless). If you're interested in drop-dead reliability and minimal hands-on setup and programming, SmartThings probably isn't for you. Likewise, if you're so new to home automation that Z-Wave still sounds like something the crowd does at a football game, SmartThings might be more power than you can handle.
However, if you're serious about making your home smarter, more efficient, and more convenient—and you aren't afraid to think in terms of "I want this action to take place after that particular thing happens but only on Saturdays between 10 and 2 if I'm not at home"—then the SmartThings Hub is one of the smartest purchases you can make. And if you're a fan of The Addams Family, you can always put it in a cigar box next to your router. It'll work just as well there as anywhere else.