Smart Speakers Spark Increased Music and Radio Listening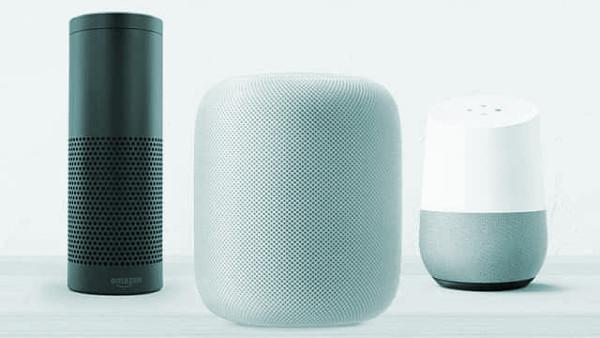 Voice-powered smart speakers such as the Amazon Echo, Google Home, and—later this year the Apple HomePod—may not be the pinnacle of sound quality as S&V's Leslie Shapiro lamented in a
recent blog
, but they are spurring more music and radio listening at home.
Seven out of 10 smart-speaker owners say they are listening to more audio at home since buying a smart speaker, according to an NPR-funded online survey conducted by Edison Research. Among other things, the survey found that household audio consumption goes up because smart speakers make it easier find favorite songs or tune in favorite radio stations.
Nearly two-thirds (65%) of survey respondents say they are listening to more music since they got their smart speaker—up to 4.25 hours in a typical week—while 28% say they listen to more news/talk, 20% to more podcasts, and 18% to more audiobooks. Those who listen to news on their smart speaker report doing so 1.25 hours a week on average.
Nearly four in 10 smart speaker owners say they regularly use the speaker to listen to music over AM/FM radio, while 32% regularly listen to news or talk radio and 22% to sports radio. Nine in 10 of those surveyed say one of the reasons they wanted a smart speaker was to "hear better music" than what's available on AM/FM radio.
More than half of survey respondents (52%) said their primary smart speaker is located in the family room, living room, or den—places where people interact—while one in four (24%) put the speaker in the kitchen and about one in 10 (12%) in the master bedroom.
Smart speakers are also making radio listening more of a social activity in some households, according to Tom Webster, vice president of marketing and strategy for Edison Research. Nearly one in five owners (18%) said smart speakers are the way that they most often listen to audio, just behind AM/FM radio at 20% and smartphone/tablet at 28%.
In a video shown at the recent RAIN Podcast Business Summit, a family is listening together to radio on their smart speaker in a scene reminiscent of the pre-television Golden Age of Radio. "This is a family gathering socially around the radio," Webster said. "Companionship, friendship, and a social aspect to audio isn't something we've seen in the audience [during the earbud era]." Six in 10 (61%) of those surveyed also likened owning a smart speaker with Amazon's Alexa or Google Assistant to having someone to talk to.
The study found that smart speakers may also serve as a new kind of virtual babysitter, allowing parents to put their kids in front of a smart speaker instead of the TV. Nine out of 10 parents said their children enjoy smart speakers and eight in 10 said the speakers have made it easier to entertain their children with 57% of parent/owners citing child entertainment as a reason for wanting the speaker to begin with.
Many smart speaker owners are so enamored with the capabilities of these speakers that they have purchased more than one—42% of smart speaker owners have at least two and characterize them as essential to everyday life. And nearly half of smart speaker owners say they use them more than they did during the first month of ownership; only 17% say they are using them less often.
Beyond listening to music or the radio, smart-speaker activities run the gamut from ordering groceries to getting stock prices. The survey found that smart speakers also help accelerate podcast listening with 70% of owners listening to podcasts compared to 45% of non-owners.
While only 7% of Americans aged 12 and older (about 20 million people) own a smart speaker, those numbers are predicted to grow significantly in the coming years. Among non-owners, 13% say they're very likely to buy a smart speaker in the next six months and 41% indicate they are somewhat likely.
The survey is based on a national online survey of 1,620 Americans aged 18 and older. Device owner data was weighted to nationally representative figures on smart speaker users from Edison's 2017 Infinite Dial study.