From Smart Home to…Smart Person?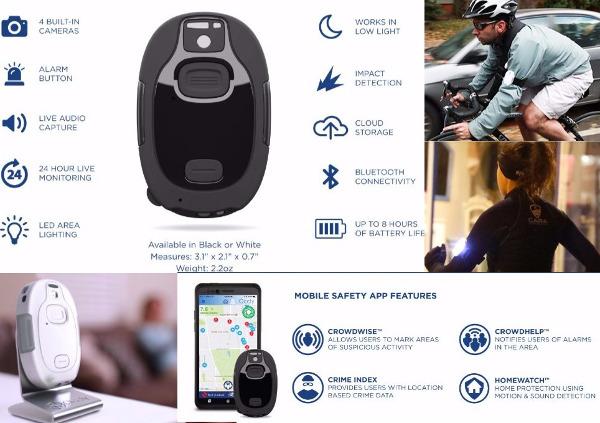 Security is a key component of today's smart home along with a number of other automated devices that can be controlled remotely via a smartphone app—lights, cameras, thermostats, AV gear, and more. What if you could take the security features with you in the form of a wearable device when you left the house? Would you feel more secure?
Chicago-based Occly is betting you would not only feel more secure but be would be willing to pay $200 plus a monthly fee for 24/7 emergency-response protection. The company says its goal is to help empower people against an epidemic of crime with "the most comprehensive wearable safety device."
Slated to ship in August, the Occly Blinc ($199 after rebate) is a 3 x 2 x 0.7-inch personal safety device you wear like an armband or clip to a handbag or backpack. It connects via Bluetooth to an app on your smartphone and is packed with technology: four cameras that continuously monitor your surroundings and store images in the cloud, a microphone that captures and stores audio in the cloud, sensors that detect impact and motion, a siren, LED lights that flash when the alarm is triggered, GPS, and a panic button that summons emergency response 24/7. Blinc weighs just over 2 ounces and has a pair of bright LEDs that serve as a visual deterrent and a battery that keeps it going for up to 8 hours.
If you're in a collision and injured, Blinc's sensors automatically detect the event and call for help. The device also has application-based features that notify you when you are in unsafe areas or approaching a dangerous location (based on crime data).
Hit the panic button and a siren sounds and lights flash, alerting those around you of a problem while Blinc sends audio and images to a 24-hour emergency-response center that dispatches local authorities. The device can also be set up to notify family or friends of an emergency situation via text.
The device is equipped with 24-hour real-time monitoring that costs between $9.95 and $16.95 a month depending on the subscription plan. Images and audio are encrypted and stored in the cloud for 5 days unless you select the Premium plan, which increases storage to 60 days.
When you're back home, Occly can be placed on a stand and converted into a motion and sound detection security system (with the Premium subscription).
For more information, visit occly.com.
Is Blinc a good idea? Would you wear one? Share your thoughts below.