The Sky's the Limit
At home, in the car, or on the go, there's a satellite radio product for you.
I learned two important things at this year's Consumer Electronics Show. One, you can slap an LED into just about anything and market it as a consumer electronics product. Two, satellite radio has hit full stride. Both XM and Sirius reported huge increases in the number of subscribers during 2004: XM added 1.8 million subscribers last year, for a total of 3.2 million—with more than 50,000 people signing up on Christmas Day alone. Sirius, meanwhile, grew from around 300,000 to 1.14 million subscribers. If you're starting to feel like you might be missing something, guess what. You are. If you're ready to do something about it, read on.
Back in the February 2005 Hook Me Up column, I told you how to shop for a satellite radio system. This month, I'm going to tell you what to shop for. . .well, sort of. The tables here list the major products available in the dedicated home audio and plug-and-play markets, as well as the newest satellite radio category: portable audio devices. These sleek handhelds feature built-in tuners, antennas, and memory that lets you record satellite signals. For any product that's either new or on its way, I've given a brief description, while Table 4 highlights a few worthy new products and services that defy classification. What you buy is ultimately up to you, but this list can help you begin your search.
I chose not to venture too far into car-stereo territory due to space constraints. Suffice it to say there are a ton of satellite-ready head units on the market. For convenience and readability, I also didn't list every home docking kit, car docking kit, and boombox that's available for each plug-and-play tuner, but I do point out which tuners come packaged with a home and/or car kit.
Table 1: Home Audio Tuners
Sirius
** Rotel RT1084, price TBD—with this multizone tuner, you can play three different satellite channels in separate rooms at the same time; release date is summer 2005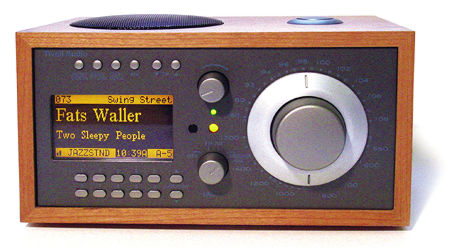 ** Tivoli Model Satellite table radio, $300—a tabletop satellite radio that also features the award-winning analog tuner found in the Model One, Two, and Three radios; released in January 2005
Antex SRX-3, $1,999 (multizone)
Audiovox Home Receiver, $250
Kenwood DT-7000S, $300
XM
ADA Tune Suite, $2,499 (multizone)
Antex XM3000, $1,999 (multizone)
Audiophase XM Skybox dedicated boombox, $170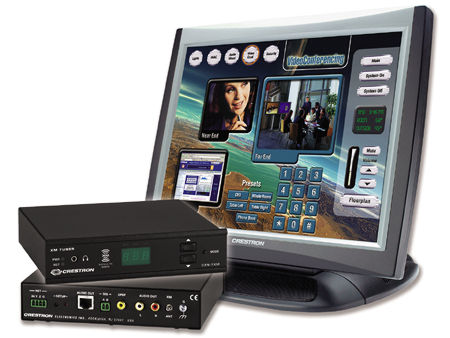 Crestron C2M-TXM, $1,100 (multizone)
Krell Trio, $4,000 (multizone)
Polk XM Reference Tuner XRt12, $330
Russound ST2-XM, $999 (multizone)
**New products
Table 2: Plug-and-Play Tuners
Sirius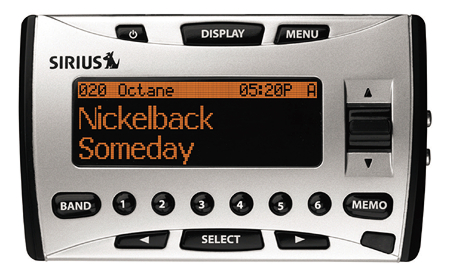 ** Sirius Star Mate, $130—this palm-sized tuner comes with home and car docking kits; released in January 2005
** Sirius Sportster IR, less than $200—this tuner can record up to 44 minutes of satellite radio, so you can pause the unit and resume playback; released in May 2005
Other Sirius tuners: Sportster ($100)
** Clarion Calypso, $150—this compact tuner has a larger display than Clarion's original tuner; released in winter 2005
Other Clarion tuners: SIRPNP ($100)
** Kenwood Here2Everywhere, $150—this tuner has a larger display and a more-upright design than Kenwood's original tuner and includes a car kit; released in winter 2005
Other Kenwood tuners: Here2Anywhere KTC-H2A1, $100
Audiovox SIR-PNP3, $100
Other Audiovox tuners: SIR-PNP2 ($100), SIR-PNP1 ($100)
Brix Streamer GT, $130—includes a car kit
Other Brix tuners: Streamer System SIR-STRPNP1 ($100)
JVC KT-SR2000, $100
Other JVC tuners: KT-SR1000 ($100)
Blaupunkt SR04, $150—includes a car kit
Dish Network DISH SR200, $150—includes a car kit
Jensen CK100SR, $143.87—includes a car kit
RadioShack Orbiter SR4000, $100
Sanyo CRSR-10, $150—includes car and home kits
XACT XTR1 Stream Jockey, $100
XM
Delphi Roady 2, $100—includes a car kit
Other Delphi tuners: SKYFi ($100), SKYFi 2 ($120)
Audiovox XR9, $100
**New products
Table 3: Portable Audio Devices
Sirius
** XACT ReGo, $349—this handheld can record up to four hours of satellite radio and play MP3s through a CompactFlash card; released in April 2005
XM
** Pioneer AirWare XM2Go, $350—this 7.2-ounce handheld can store up to five hours of satellite radio; released in May 2005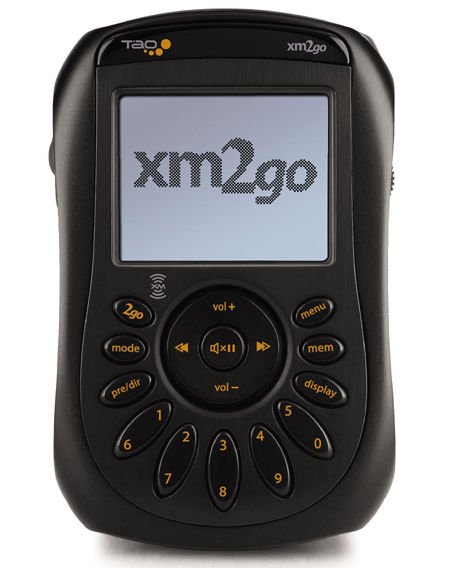 ** Giant International Tao XM2Go, $300—this handheld can store up to five hours of satellite radio; released in May 2005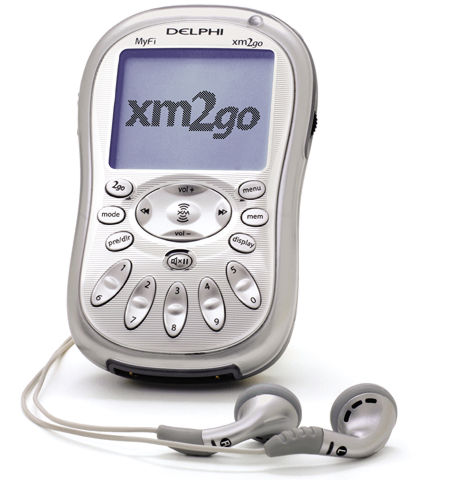 Delphi MyFi XM2Go, $300
**New products
Table 4: Other New Products & Services
Sirius
• SiriusConnect receiver, prices range from $80 to $100—connects to Sirius-ready car-stereo head units from manufacturers like Alpine, Audiovox, JVC, Kenwood, and Eclipse, plus some XM-ready head units from Alpine and Pioneer, enabling satellite radio playback through your car stereo. It can also pass through audio from an iPod or CD changer. The SIR-PNR1 SiriusConnect receiver ($120) is the first Sirius model to work with Pioneer satellite-ready and most IP-Bus head units; released in January 2005.

• Sirius Starbase digital control unit, $170—this control unit, used in conjunction with a SiriusConnect receiver, lets you connect any car radio to Sirius, even a non-satellite-ready model; released in January 2005.
• TimeTrax has added Sirius compatibility to their line of digital-audio recording products. TimeTrax technology lets users record satellite radio signals to their computers' hard drives and play them back in one of six digital formats.
XM
• The XM NavTraffic service, which delivers current traffic information directly to your vehicle's navigation system, is now available as part of aftermarket vehicle navigation systems; the cost is $13.99/month for both NavTraffic and basic XM service. The service will be featured in the Alpine NVE-N872A (price TBD, summer 2005) and the Pioneer AVIC-N2 ($2,200, April 2005) and AVIC-D1 ($1,800, May 2005).
• Delphi XM signal repeater, $169—wirelessly rebroadcasts the XM signal up to 100 feet throughout a home or small office. The system includes the transmitter and one receiver. Each additional receiver costs $69; release date is spring 2005.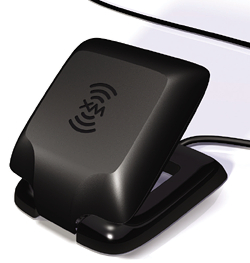 • XM Connect-and-Play allows CE manufacturers to easily make their gear XM-ready with the addition of a chip and data port. Consumers simply purchase a Connect-and-Play home antenna ($50) and order the XM service. The antenna and first round of XM-ready products were released in March 2005.
• XM's Internet radio service, XM Radio Online, is now available through Windows Media Center PCs for a monthly fee of $7.99
Well, now you know how to shop for satellite radio and what to shop for. The only question that remains is, do you really want to wait until the holidays and leave your satellite radio purchase in the hands of your uninformed, albeit well-intentioned, relatives? We didn't think so.
Subscription and Programming Info: Just the Facts, Man
Sirius: $12.95/month
You can purchase a lifetime subscription for $500, get one month free if you sign up for a year, or get three months free if you sign up for two years. You can also add up to three additional Sirius radios to your account for $6.99/month.
No. of channels: 121; 65 music, 8 sports (other channels share broadcasting time for play-by-play coverage), 13 news, 25 talk/entertainment, 10 traffic/weather
Sports exclusives: NFL, NBA, Big 12/SEC/Big East college sports, English Premiere League soccer
Recent programming announcements:
-Howard Stern's morning show will move to Sirius in January 2006.
-Sirius launched the Maxim Radio channel in February 2005.
-In May, Sirius debuted the weekly talk show American Voices, hosted by former U.S. Senator Bill Bradley.
-During the second half of 2006, Sirius plans to add two or three video channels in the WMV9 format, dedicated to children's programming.
-Sirius plans to add a 24-hour Martha Stewart Living radio channel.
XM: $12.95/month
You can add up to four additional XM radios to your account for $6.99/month, and multiyear subscription discounts are available. XM NavTraffic adds $4 to your monthly fee.
No. of channels: 152; 67 music, 31 sports, 12 news, 19 talk/entertainment, 22 traffic/weather, 1 premium
Sports exclusives: MLB, Nascar, PGA Tour, Indy Racing League, ACC/Pac-10/Big Ten college sports
Recent programming announcements:
-XM recently added the High Voltage channel and XM Radio Online to their basic service and upped the monthly charge from $9.99 to $12.95.
-In May, Air America Radio replaced XM's America Left channel.
-Dr. Laura Schlessinger and G. Gordon Liddy launched new talk shows in February 2005.
-XM has added a new MLB channel featuring shows with Tony Kornheiser and Kevin Kennedy. HREF="http://www.xmradio.com">www.xmradio.com