Skyfall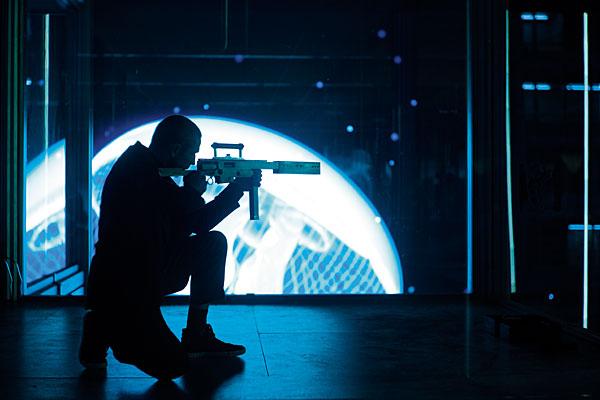 On Her Majesty's Secret Service has long been considered by many experts to be the best Bond ever, delving deeper into the character with dark consequences, but with Skyfall we learn more about James than we ever imagined, and that might be the key to its unequivocal success. While breaking "The Rules," it also breaks new ground and serves to complete the evolution to a new regime, with more installments already in the works.
Roger Deakins' Oscar-nominated cinematography is simply stunning on the excellent Blu-ray Disc from MGM, a marvel of light and aggressive shadows, deliciously inky, and wonderfully authored for this 1080p presentation. The 2.4:1 image is gloriously colorful when it wants to be, notably in the Shanghai scenes, with an extraordinary level of detail. Take a look at young tech whiz Q's Scrabble tea mug if you don't believe me. The DTS-HD Master Audio 5.1-channel soundtrack, meanwhile, has been recorded and mixed by the best in the business. The surround channels are clean and engaging for everything from the lifelike resonance of a gunshot at an indoor shooting range to the stylized phasing of voices as two characters walk and talk on tiny radios. Bass is pleasingly crisp and sharp, really selling several spectacular explosions, each with its own distinct flavor.
The two audio commentaries—a solo track from Mendes and a joint venture from the producers and production designer—handily complement each other with ample insights to go around. These are bolstered by the hour-long multi-part documentary, which is really an assemblage of sundry featurettes, plus a look at the gala premiere. A standard-definition DVD and an iTunes/UltraViolet Digital Copy are also included.
Blu-Ray
Studio: MGM, 2013
Aspect Ratio: 2.40:1
Audio Format: DTS-HD Master Audio 5.1
Length: 143 mins.
MPAA Rating: PG-13
Director: Sam Mendes
Starring: Daniel Craig, Judi Dench, Javier Bardem
Half a century after the release of Dr. No, director Sam Mendes and a gifted team of screenwriters have managed to give audiences a James Bond film unlike any other. Skyfall is Daniel Craig's third outing as 007, and yet the star is unafraid to show his advancing age, as we are reminded that the job of international secret agent apparently takes a heavy toll on all who dare to sign up for it. An enigmatic figure from MI6 boss M's past has returned to wreak havoc on national security, having stolen and now slowly revealing a list of embedded anti-terrorist operatives. Bond may or may not be up to the task of stopping this strangely familiar new nemesis, but he will commit all of his considerable skills to the effort.
LATEST VIDEO