Six Versatile Entertainment Centers
Sanus JFV60 ($540)
The versatile JFV60 can be mounted directly on the wall, appearing to float in midair, or it can be placed on the floor like any other cabinet. It provides a sleek, low-profile sophistication that blends right into the interior decor in either configuration. The unit can support up to 200lbs (all components and TV) when mounted on the wall, or 350 lbs when floor standing.
The lowboy configuration provides enough space for up to six components and a flat panel TV. Attachable feet are available to provide increased stability when used as a floor standing cabinet.
Sliding glass doors provide a contemporary accent while allowing IR signals to reach components when doors are closed. A steel wall mounting plate attaches to 16" on-center studs, enabling unit to shift left and right for proper placement during installation. Additionally, rear cable management channels neatly route wires and cables, providing a clean, organized appearance.
www.sanus.com
Salamander Chameleon Sonoma 236 ($1799)
The mission style design of the Sonoma 236 is bold and attractive in American cherry wood. The extruded aluminum frame securely stores high-tech electronics. The wide dimensions and sturdy cabinet provide amble room to display up to 61" flat panel TVs. A dedicated center channel speaker shelf (up to 19" wide) uses a soft grill covering, which is flanked by two, 20" solid wood doors equipped with soft-closing dampeners. The bottom drawer provides space for 111 CDs or 75 DVDs (or over 100 Blu-Rays).
The interior is the perfect dimensions for all of today's AV components. A cloth grill between the wood slats allows the use of IR remote controllers even when the door is closed. The built-in ventilation louvers keep equipment cool. By placing them on all three sections of the cabinet, this ensure maximum airflow to all components.Removable rear panels allow for fast, easy installation and maintenance. Made of heavy-weight powder-coated steel, the extended rear panels also allow for additional depth for oversized components. An optional IR Repeater allows any handheld remote to control the installed components.
www.salamanderdesigns.com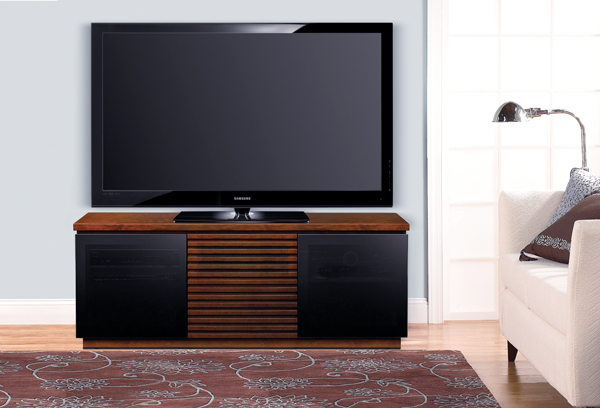 Bell'OPR-11 A/V Cabinet ($1000)
In a hand-rubbed Espresso finished wood, this stunning entertainment center makes it's own statement. It is both substantial and beautiful, an exquisite addition to any contemporary decor. It's capable of displaying TVs up to 175 lbs. and features tinted tempered safety glass doors with adjustable interior shelves to hold up to 6 or more A/V components. The center wood grill hides the center channel speaker shelf from view while providing a pleasant design element. The center grill is surrounded by two tempered and tinted glass doors, allowing IR signals to reach components when the doors are closed. An integrated cable management system hides and cleanly routes wires and interconnect cables.
Additional shelving is available below the top center channel speaker shelf and a cloth grill is embedded in the wood door to protect and preserve the sound performance of the center channel speaker.
Rear panels are easily removed for ease of installation and maintenance. The built-in louvers provide ventilation to all components, keeping them cool to prevent overheating and long term damage.
www.bello.com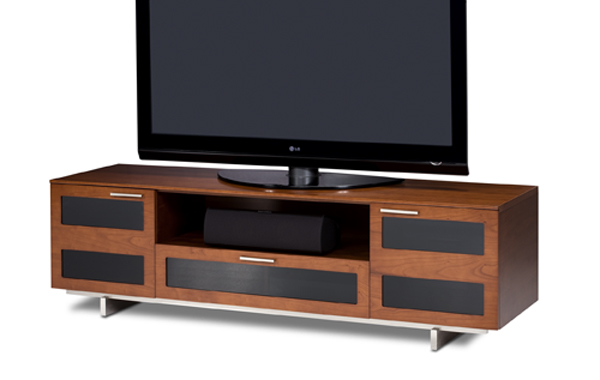 BDI AVION Series II 8929 ($1995)
This four-compartment wide cabinet (bottom center doors hide two side-by-side sections) rests on a satin stainless steel base and can accommodate up to 70" TV sets. Available in espresso stained oak or natural stained cherry, the clean and linear lines of this BDI entertainment cabinet is striking in any environment. The attractive wood and smoked glass doors evoke a zen-like minimalist style, accented by precision satin stainless steel handles and quick release, soft-close hinges. Grey tinted windows allows use of infrared remote controllers even when cabinet doors are closed.
Interior dimensions provide a clean and tight fit for today's components. The drop down door on the bottom compartment makes it easier to slide in heavier components such as power amplifiers. Removable back panels provide easy access to components and hidden wheels allow the cabinet to be easily moved.Ventilation louvers on the back panel and all shelves insures expensive components are kept cool when running for long periods of time.
www.bdiusa.com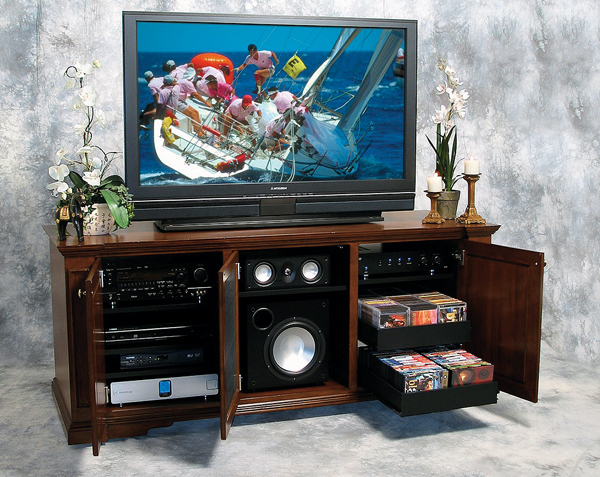 Diamond Case Castleton ($2999) The more traditionally styled Castleton credenza comfortably supports a 73" HDTV. Available separately, shelves and drawers can be added or removed to change the cabinet's configuration to accommodate up to 10 components or some other combination that can include a center channel speaker and subwoofer in the middle section. Two media storage drawers hold either 240 CDs, 120 DVDs or 150 Blu-rays. Manufactured in the U.S, the Castleton can be custom finished to fit a customer's decor, at no additional charge.
Despite the use of raised solid wood doors, IR remote controls are not hindered due to the built-in IR relay system. An optional forced air ventilation system features steel perforated shelves and dual whisper-quiet fans mounted on rear panel in a push-pull configuration to keep equipment running cool. A rheostat mounted inside the cabinet controls the cooling system. Additionally, heavy duty polyurethane casters allow unit to easily be pulled away from the wall for cleaning or system maintenance, whether it rests on carpet or hard wood floors.
www.diamondcase.com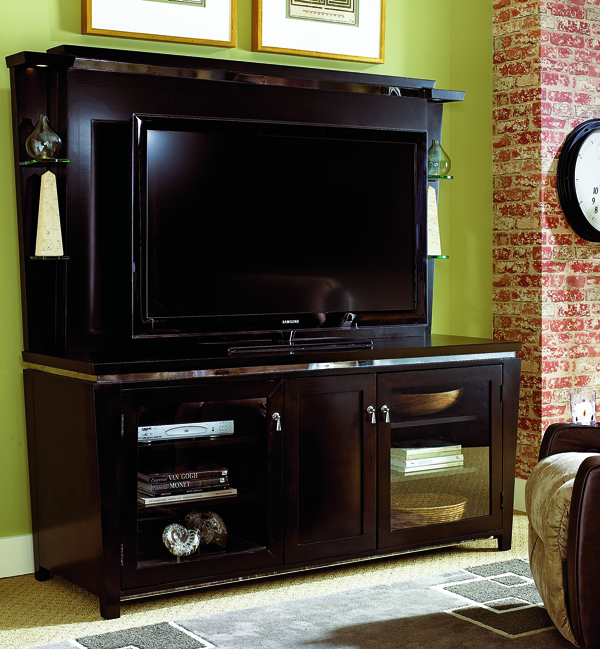 Lane Soho 11962 ($1499)
The modern contemporary styling of this entertainment center is a combination of chrome finished metal. glass doors, and maple veneers in a rich mocha finish, delivering a highlyattractive and functional piece of furniture. The unit comes with a separate hutch providing a backdrop and overhead lighting for your HDTV. It can accommodate up to a 63" TV, and provides adjustable shelves for installing your AV components. Also, the solid, center door is replaceable with a cloth grill when a center speaker is housed in the cabinet, otherwise the center section can be configured with a drawer that holds up to 3 game controllers and 20 games or store a variety of CDs and DVDs.
To keep the overall look clean and uncluttered there is a built-in3-plug power box andwire access between the two sides of the cabinet.Touch the metal strip at the top of the hutch (and lower section) to turn on lights. Additional incandescent lighting is provided on either side of the hutch, where there is additional storage or display area.
www.lanefurniture.com