Sing Street
It's rare that you watch a film and say it's an instant classic, but this one certainly is. The story grabs you from the first scene and never lets go. The performances are fantastic, especially by newcomer Ferdia Walsh-Peelo as Conor and Jack Reynor as his onscreen brother, who have some of the best dialogue exchanges in the film.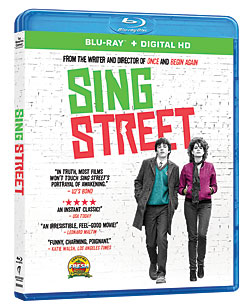 The video transfer is competent, but nothing to write home about. Colors are on the drab side, most likely to fit the times in Ireland. Resolution is a tad soft throughout, with textures a bit blurry, and could have provided more detail. The film was shot both with 35mm film and a digital Red Epic, which may explain why some shots look better than others.
The DTS-HD Master Audio 5.1 soundtrack shines when the score kicks in, especially when the band is shooting a music video or performing live. Imaging across the front is wide and inviting, the LFE complements the music without being overpowering, and the dialogue is intelligible—if you can make out the occasionally strong Irish accents.
The sparse supplemental package includes a "Making Sing Street" featurette, an interview with Carney and Adam Levine (who starred in Carney's last film, Begin Again) as they talk about this particular project. Rounding things out are cast auditions and a UV Digital Copy.
If I had a vote for the Academy Awards, this would receive my Best Picture vote right now. This is an absolute gem that captures the spirit and mood of the 1980s perfectly. We've all seen movies about "making it," but this is more about the journey than the actual results as the boy dreams of a better life, his perfect girl, and his music. Be sure to check it out, especially if you're fond of the eighties.
Blu-Ray
Studio: Starz/Anchor Bay, 2016
Aspect Ratio: 2.38:1
Audio Format: DTS-HD Master Audio 5.1
Length: 105 mins.
MPAA Rating: PG-13
Director: John Carney
Starring: Ferdia Walsh-Peelo, Aidan Gillen, Jack Reynor
The 1980s get a bad rap for big hair, shoulder pads, and synthesized music. But for those of us who are middle-aged, we remember it fondly for those reasons and more. Director John Carney takes us back with his coming-of-age story set in Dublin, circa 1984, where 14-year-old Conor is sent to a more affordable school as his parents are struggling financially. With no friends to speak of, things start out rough, but he eventually finds his place when he decides to form a band in order to get the girl that's caught his eye. His older brother tutors him on various music genres, and as the band evolves, his life takes a turn for the better.