Show Report: 2012 Rocky Mountain Audio Fest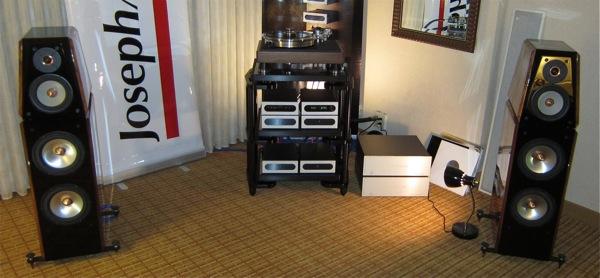 Denver may seem like an odd place for a high-end audio show. As a medium-sized city, you wouldn't expect it to be a hotbed of passionate audiophiles. But when you add the attendees who drive or fly to the mile-high city to a core of local enthusiasts you have what has become the biggest consumer audio show in the U.S. Last June's Orange County (CA) show reportedly drew bigger crowds (no surprise given the huge Southern California market). But the RMAF appeared to attract more exhibitors. By room and product count, RMAF 2012, held October 12th-14th, was the biggest audio show I've yet been to outside of the trade-only CES. And the show, like most current audio shows, attracts a slew of small audio companies that you won't easily find elsewhere—certainly not in your typical neighborhood audio salon (if there still is one).
Going in I anticipated a 2-channel-centric show and, as with all of the current audio shows in the U.S., that's what RMAF was. No matter. My plan of attack was simple: look for anything related to home theater and, failing that, scope out loudspeakers that might at least be suitable for home theater. Good speakers are good speakers no matter what kind of source you feed them, and speakers are the only components you can come close to judging at an audio show. Even then you have to account for the room. More than a few rooms at the show were hampered by either lumpy bass or a hardness in the low treble likely due to the rooms' hard and, for the most part, untreated walls.
I missed a lot of rooms—the show was so big it was impossible to cover in any sort of depth in the 2.5 days I spent there. Nevertheless, of the rooms I visited more than a few stood out. At the top of the pile for me were the stand-mounted Raidho Acoustics C 1.1s in the Nordhost Cables suite and the floor-standing Joseph Audio Pearl 3s. The former were being driven by Hegel monoblock amps, the latter by Bel Canto electronics. The Raidho's had the advantage of a larger and better room, though the Joseph' Audio setup didn't appear to suffer from their smaller space. Jeff Joseph positions his demo speakers on the room's diagonal, which has worked out very well for him at many recent shows. His demos never disappoint.
But neither system is exactly cheap: The Raidho's sell for about $20,000/pair with their stands, while the Pearls list for $28,500/pair. Both makers offer center channel speakers, but the Raidho C, not shown, costs a lot for what is essentially a very pricey, 2-way woofer-tweeter-woofer RLC (right, left, center), they type of center speaker design that when used horizontally for a center always results in off-axis response issues). I'd consider instead using five or seven Raidho C 1.1s in a surround system if I won the lottery. And while Joseph Audio has a center speaker in its product line (another woofer-tweeter-woofer model, again not shown here) it's designed as a mate for less expensive Joseph Audio designs and is not likely an appropriate match for the Pearl 3. Since the latter consists of separate mid-tweeter and bass modules (much like the classic Wilson Audio loudspeaker familiar to most audiophiles, the Watt-Puppy), I suppose you could purchase a third Pearl 3, turn the bass module sideways, and sit the mid-tweeter module on top of it for a center. But this would certainly look very odd.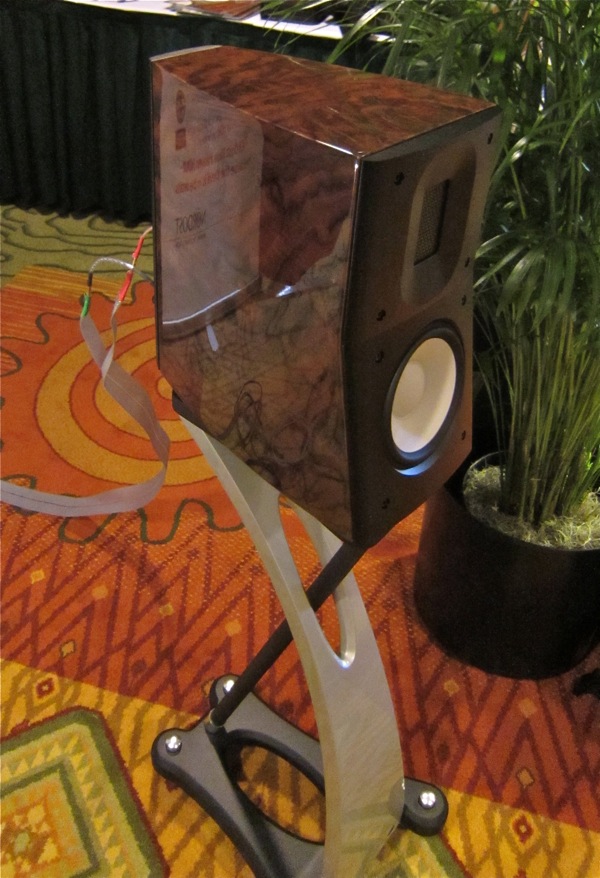 A few companies at the show do support home theater in a big way. Three of them even had surround setups, though in none of these demos was surround the main focus. Hsu Research show showed its justifiably well-received bookshelf speakers in a surround configuration supporting the company's superb subwoofers. Aperion had its wireless surround system on hand, but it was mainly featuring a 2-channel setup with its flagship Grand Verus Towers ($1800/pr) driven by a Marantz integrated amplifier. The Grand Verus' sounded as outstanding as they did when I reviewed them last year. Aperion was also surveying visitors for their opinions on making the Grand Verus' available in more exotic veneers than the standard gloss cherry and black. The demo pair were clothed in a stunning Macassar Ebony.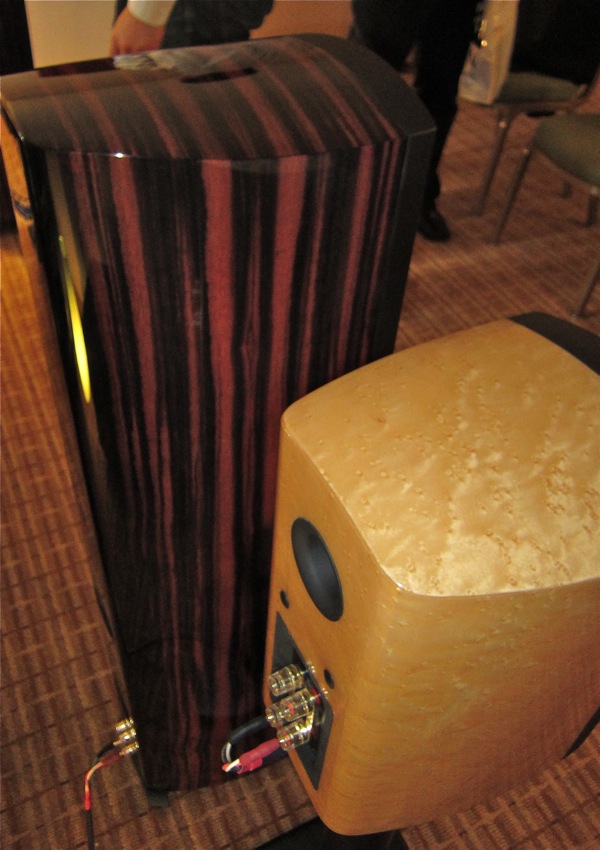 On the same floor, SVS, known primarily for its subwoofers, launched its Ultra series of full-range speakers. The featured attraction here was the new Ultra tower in a 2-channel setup. It's a three-way, five-driver floor-stander that looked far more expensive than its proposed $2000/pair price. They did sound a bit bright to me, but there's a fine boundary between slightly bright and overly bland and polite. I hope they don't cross that line in either direction as they complete voicing the speakers— the pair on demo were hand built and the line is still in final development. There was also too much bling in the bright aluminum trim around the three drivers on the front baffle. The grilles can hide this to a degree, and the SVS rep I spoke to also noted that those shiny bits will be toned down prior to production, perhaps to something resembling brushed nickel. SVS also has bookshelf models in the range, as well as a center channel, and they were also demonstrating a full surround package using these smaller models together with the company's new PB13-Ultra sub.
I mentioned a new Sony speaker in my recent CEDIA EXPO blogs, and it was shown at RMAF as well. While its imaging at CEDIA was superior (in a much larger room) the sound of the pair on demo in Denver impressed me nearly as much. There will also be a matching center speaker, possibly dedicated surrounds, a smaller bookshelf model (also suitable for use as direct radiating surrounds), and a subwoofer. This "ES" line comes from same designer who fashioned Sony's ultra high end SS-AR1 and SS-AR2 models, but hopefully will have more wallet-friendly price tags. Both the CEDIA and RMAF showings were "sneak peaks." The formal introduction of the line, including information on prices and availability, is scheduled for this coming January's 2013 CES.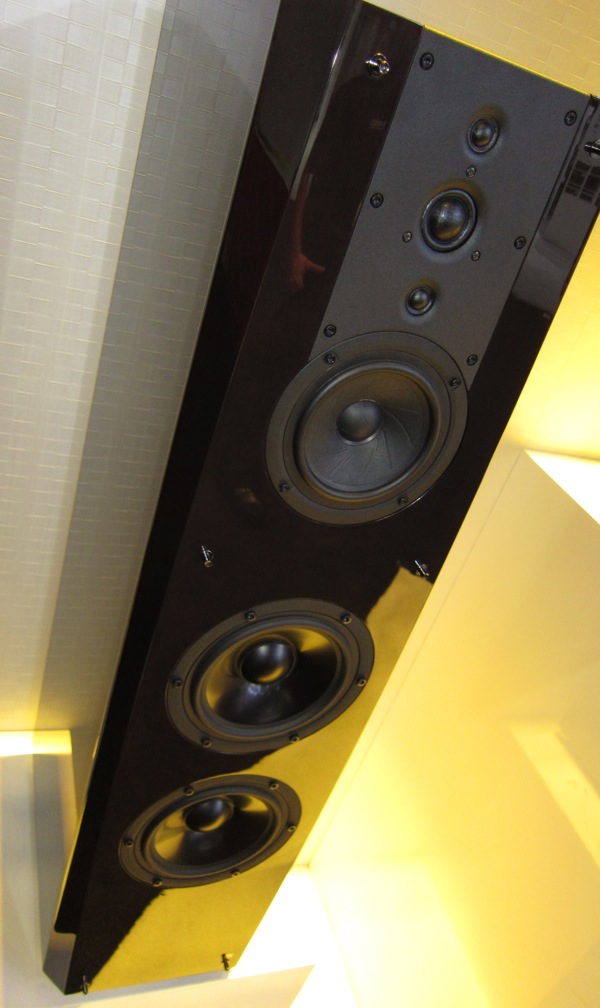 The McIntosh XR50 bookshelf speaker, like the Sonys, also uses three tweeters in a vertical column. But whereas the Sony tweeters are all driven together and cover the same range (according to the Sony reps running the demo), the McIntosh tweeters are driven separately. In fact, the top and bottom 2-inch titanium domed tweeters operate above 500Hz, with the middle "super" tweeter coming in at 8kHz.
Some readers may be familiar with Madisound, a company that specializes in selling loudspeaker drivers and other parts to DIY speaker-builders and, I suspect, even some limited production speaker companies. Madisound also offers kits, and in their room they demonstrated two of them. Both were bookshelf designs. One uses very expensive Scan-Speak drivers. I missed the chance to hear it. The other, however, has a classic hi-fi story behind it. If you're older than dirt, you'll recall that one of the most popular speakers circa 1970 was the Dynaco A25, which sold about 1,000,000 units in multiple generations over a several year run. It's now long gone, but Madisound contracted with SEAS, the Norwegian driver manufacturer who build the original speakers for Dynaco, to reproduce the A25 drivers: a 10-inch woofer and a 1.5-inch tweeter. The speaker will be available in kit form, but there was no pricing information available as of show time (nor was the kit yet available on the Madisound website the following week—Madisound later informed me that the tweeters had not yet arrived in sufficient quantities). But based on the price of the woofer alone (the only one of the two drivers currently listed on the site) I estimate that the kit, drivers only and crossover parts (no cabinet) should sell for no more than $600/pair. Add in $200-$300/pair (an educated guess) for optional finished cabinets, and what you'll get is a new iteration of an audio classic, now known as the Seas A26 and said to differ from the old A25 only in its use of newer driver manufacturing techniques. Don't expect sonic miracles, but from what I heard they should be worth a careful listen under better conditions. Perhaps a future review might just be in order!