Shootout: 3 Blu-ray Disc Players Page 5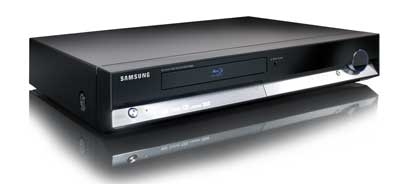 The Short Form
Price $1,000 / samsung.com / 800-726-7864
Snapshot
It's new firmware upgrade finally in place, Samsung's BD-P1000 no longer needs to make apologies.
Plus
•Firmware upgrade brings picture quality up to speed with other Blu-ray players
Minus
•No Ethernet port •No onboard decoding for Dolby TrueHD or DTS-HD Master Audio •Slow disc-load time
Key Features
•Plays Blu-ray, DVD, DVD-R/RW, and DVD-RAM discs •Plays CD and CD-R/RW •Video upconversion of regular DVDs to 720p, 1080i, 1080p (via HDMI) •Faroudja DCDi upscaling chip •5.1-channel analog output with Dolby Digital and DTS decoding •MP3 playback •Multiformat memory card slots •Plays JPEG photo discs •HDMI auto-detection •Outputs: HDMI, component-, composite-, and S-video, optical and coaxial digital audio, 5.1-channel analog audio, stereo analog audio •17 x 12.8 x 3 in; 9.3 lb
As anyone who's followed the launch of the Blu-ray Disc format knows, the $1,000 Samsung BD-P1000 was the first player out of the gate. And while being a pioneer automatically confers some status, it can also have its disadvantages: The BD-P1000 underwent the kind of intense scrutiny that's normally associated with specialists working on cadavers in a forensics lab. In our September 2006 review, we reported on Samsung's disclosure that units in the BD-P1000's initial production run had shipped with noise-reduction processing turned on by default - effectively softening the picture. But that was just one glitch in the Blu-ray launch. The other was the less-than-perfect picture quality of many of the first round of Blu-ray Discs, though with only one player available, it was hard to know where to lay the blame.
Over the past few months, Blu-ray Discs have kept coming, and many new releases look great - most comparisons to DVD are a thing of the past. Samsung's BD-P1000 has evolved, too, with the company releasing a firmware upgrade that solves its softening issue and makes a few other changes as well. Since Sound & Vision thoroughly covered the features and ergonomics of the BD-P1000 in our earlier review, I'll limit myself to the details of the upgrade and its effect on the player's performance.
Along with shutting off that pesky noise-reduction, Samsung's upgrade improves the player's load time. I clocked around 30 seconds from the instant I loaded a Blu-ray Disc to an actual picture onscreen, which is a few seconds faster than before the upgrade. It also gives you the option to watch 4:3 movies on Blu-ray Discs in their native aspect ratio and eliminates any picture stuttering on discs with DTS soundtracks - problems we didn't catch in our initial review but we're glad are now gone. Another welcome change is the colored dots that replace the hourglass indicator that originally popped up onscreen when skipping chapters. I don't know about you, but hourglass icons remind me of slow-performing computers - a stress-inducing notion, to say the least.
PERFORMACE The picture quality of Blu-ray Discs viewed on the upgraded BD-P1000 was right up there with the Sony and Panasonic players. Mission: Impossible III, for example, looked wonderfully solid and clean, and every last drop of detail appeared to come through. The picture on this disc and others such as The Great Raid also displayed punchy contrast and a vivid sense of depth - qualities that seemed to be absent on the initial player, which put out a somewhat flat-looking picture. Video upconversion was also very good, with regular DVDs coming through cleanly and with reasonable sharpness.
The player's audio performance was also equivalent to that of the other players when listening to uncompressed 5.1-channel PCM tracks on Blu-ray movies. But it lacks support for either Super Audio CD or DVD-Audio disc playback. And Samsung's current firmware upgrade doesn't equip the player with built-in Dolby TrueHD or DTS-HD Master Audio decoding - features we can look forward to seeing eventually on the Panasonic DMP-BD10.
BOTTOM LINE The firmware upgrade for the Samsung BD-P1000 puts it on much firmer footing. Anyone buying it now can expect to experience full picture resolution from Blu-ray movies, along with all the visual punch that the best discs in the format now provide. The player's audio features come up short compared to the other two players reviewed here, however, and the lack of an Ethernet port means there's no way to experience the Web-driven extras that Blu-ray Disc producers are promising. That said, Samsung has put in the effort to make the BD-P1000 a better player, and it shows.
LATEST VIDEO