Shootout: 3 Blu-ray Disc Players Page 6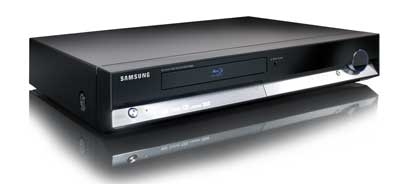 With all the movie studio and consumer electronics muscle standing behind Blu-ray Disc, I expected to see great performance from the format, and my second round of Blu-ray Disc player testing has proved that out. The comparisons I made of the same movies on Blu-ray Disc and HD DVD showed the competing formats to be capable of delivering equal quality in all respects, including picture sharpness, stability, and depth. Granted, the main disc that I used for that test, Mission: Impossible III, is an exemplary transfer of a recent movie. But it puts to bed the notion that the controversial decision by Sony Pictures and other studios to use MPEG-2 instead of newer video compression formats like VC-1 and MPEG-4 AVC was a fatal one.
A more interesting outcome was the mild "jaggies" that I noted when watching M:I III on HD DVD - a video artifact caused by the Sony projector's deinterlacing of the Toshiba HD DVD player's 1080i-format output. Not all TVs will have this problem, but it confirmed for me the advantage of using a true 1080p source like Blu-ray (Toshiba's second-generation HD DVD player will feature 1080p output over HDMI, which should bring it up to speed with the players tested here).
Getting back to our trio of Blu-ray Disc players, my personal favorite was the PlayStation 3. This machine's picture and sound quality were nothing short of stunning, and its HDMI 1.3 connection and built-in Dolby TrueHD decoding give it a layer of future-proofing that the other players currently lack. I also appreciated its multichannel Super Audio CD playback and 60-GB hard disk for storing compressed music files. And even though I don't have much use for the PS3's gaming capabilities, I definitely got a kick out of Resistance: Fall of Man. The PS3's $600 price - several hundred less than the others - also goes a long way toward making it the Blu-ray Disc player of choice.
As for the other players, the Panasonic DMP-BD10 and updated Samsung BD-P1000 are both solid machines capable of providing fine baseline picture and sound quality from Blu-ray Discs. But both also lack built-in decoding for advanced audio formats such as Dolby TrueHD and DTS-HD Master Audio (a situation that Panasonic has promised to fix with a firmware upgrade) and Ethernet connectivity for hooking up to a home network. These missing items make them look seriously lean-featured when compared to the PS3. On the plus side, the Panasonic does offer DVD-Audio playback, but I don't think many people other than me are stoked about that feature. And both players are currently available for purchase - something we can't say about the sold-out PS3.
Blu-ray Disc may have stumbled out of the gate, but my evaluation of these three players along with a pile of current movie discs has shown me that the format is more than ready to conquer the universe - or at the very least compete with HD DVD. No matter which player you choose - Sony's multimedia Swiss Army knife or the more traditional Panasonic and Samsung models - you'll be advancing your home theater experience to a much higher level.
Photo Gallery HD DVD/Blu-ray Info Center Back to Homepage What's New on S&V
LATEST VIDEO