Sherlock Holmes: A Game of Shadows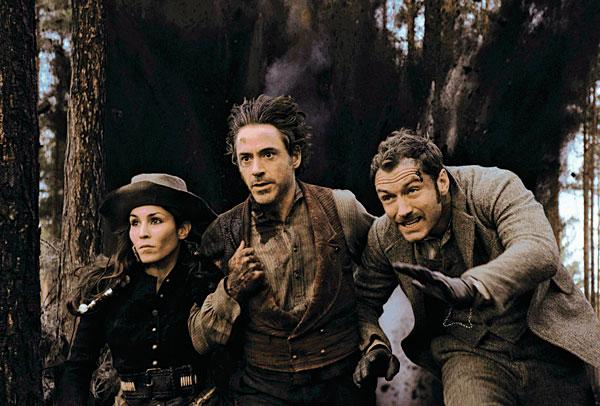 The best scenes are the few where Holmes and Moriarty are sparring both physically and intellectually. Some lines of dialogue are lifted directly from The Final Problem, the Sherlock Holmes story in which an exasperated Sir Arthur Conan Doyle kills off his famous detective in a climactic battle with his archenemy. (He was pressured to resurrect him by overwhelming public demand and grudgingly obliged after numerous death threats.) For this outing, director Guy Ritchie is so intently focused on the highly stylized action sequences that he seems to have forgotten the real reason that Conan Doyle's stories are so popular and compelling in the first place. The fascinating battle of wits between Holmes and Moriarty is relegated to the background, and there isn't nearly enough of it.
The HD picture is strikingly vivid and highly detailed with an almost sepia-toned color scheme, but one that's well suited to the film's period and central theme. Bullet time visual effects have advanced to the next level enough to justify the filmmakers giving it a new name: Holmesavision. And Ritchie uses it everywhere he possibly can. In the first film, it was fun and interesting and used in moderation, but here it's taken to such extremes that it borderlines on overkill.
The DTS-HD Master Audio is a revelation too and gives the viewer a truly immersive aural experience. In the first minute, there's an explosion that practically levels a city block. It serves as a good barometer of where to keep the volume level for the rest of the movie. Mixed with Hans Zimmer's bombastic score, the soundtrack will hammer away at you relentlessly. Do not watch this film while nursing a nasty hangover.
Extras include seven short featurettes called Focus Points, which detail various aspects of the making of the film, and the Maximum Movie Mode, which is a picture-in-picture commentary refreshingly hosted by Robert Downey Jr. The Sherlock Holmes Movie App is available for download to be synced with your tablet or mobile device. There's also a bonus DVD and Digital Copy via UltraViolet. For you no-frills consumers out there, Warner Bros. has also issued a movie-only edition.
A Game of Shadows is unfortunately an elementary case of flash over substance. If you want to see some really fantastic Holmes/Moriarty interplay, you need look no further than the current BBC series Sherlock, starring Benedict Cumberbatch and Martin Freeman. That supremely excellent TV show has raised the bar to a level that surpasses even the Jeremy Brett series from the '80s. Good luck clearing it with Sherlock Holmes 3, Mr. Ritchie. You have your work cut out for you.
Blu-Ray
Studio: Warner Bros., 2011
Aspect Ratio: 2.35:1
Audio Format: DTS-HD Master Audio 5.1
Length: 129 mins.
MPAA Rating: PG-13
Director: Guy Ritchie
Starring: Robert Downey Jr., Jude Law, Jared Harris
Long before Batman had the Joker, the world's greatest detective, Sherlock Holmes, had an evil nemesis who was every bit his equal in intelligence and powers of perception; the yin to his yang, so to speak. Professor James Moriarty was a precursor to the Bond villain and a blueprint for every criminal mastermind to come. In the previous Sherlock Holmes film, he was a mysterious and sinister presence concealed in darkness. For A Game of Shadows, he comes to the forefront to challenge the master detective to a game to the death and is played with relish by Jared Harris.
LATEST VIDEO