The Shawshank Redemption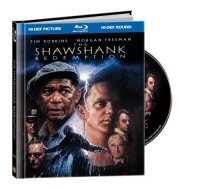 Based on the short story by Stephen King,
The Shawshank Redemption
's central character is Andy Dufrane (Tim Robbins), a banker convicted of killing his wife and her country-club lover—a crime he didn't commit. With nothing to look forward to but a life behind bars, Andy befriends Red (Morgan Freeman), the prison's virtual Wal-Mart "who can get things." Unbeknownst to Red, one of Andy's first requisitions helps him escape the confines of prison life. Over the next 19 years, Andy adapts to his surroundings and eventually puts his financial skills to work for the corrupt warden (Bob Gunton).
Released in 1994 between Oscar-winner Forest Gump and the independent sensation Pulp Fiction, the movie with a difficult-to-pronounce title wasn't a hit with audiences and barely made back the production costs, and it didn't win any awards. But when it hit the home-video market, the movie finally found its legs and became one of the highest-grossing video rentals of all time with its rich, character-driven story about prison life in the mid-Twentieth Century.
The source print is very clean for a 14-year-old production with a slight veil of grain. Detail is quite strong, especially in close-ups, and the depth of the image is the best I have seen on home video, although there are times when it's a bit soft. Colors are richly saturated, and black levels are inky and deep with excellent shadow delineation. There are some minor examples of edge enhancement, and flesh tones lack the subtle texture delivered in reference-quality presentations, but overall, I am very pleased with the video transfer.
The Dolby TrueHD 5.1 soundtrack won't blow you away with bombastic action and discrete effects, but it's solid nonetheless. Dialog intelligibility is a must in this character-driven drama, and it delivers the goods with natural tonality firmly rooted in the center speaker. Surround ambience is subdued with nary a discrete rear effect, but the sweeping score by Thomas Newman tests the dynamic range of any sound system with powerful bass and crisp highs.
Unfortunately, most of the supplements are presented in standard definition and mimic the 2004 DVD release. Included is an audio commentary with director Frank Darabont, a couple of in-depth documentaries on the film, an excerpt from "The Charlie Rose Show," and a short film, "The Shartank Redemption." HD features include some still photos and the theatrical trailer. Warner's DigiBook packaging includes a 34-page book filled with photos, trivia, cast info, and an excellent essay on the film (author unknown).
The Shawshank Redemption is one of my all-time favorite films, and I've been eagerly anticipating its Blu-ray release. The HD presentation is solid and delivers an upgrade over the previous DVD releases. It's a must have for any film lover. Highly recommended.
Release Date: December 2, 2008
Movie: 10/10
Picture: 8/10
Sound: 8/10

Review System
Source
Panasonic DMP-BD55

Display
JVC DLA-RS1 projector
Stewart FireHawk screen (76.5" wide, 16:9)
Electronics
Onkyo Pro 85 pre/pro
Anthem PVA-7 Amplifier
Belkin PF60 power conditioner
Speakers
M&K S-150s (L, C, R)
M&K SS-150s (LS, RS, SBL, SBR)
SVS PC-Ultra subwoofer
Cables
Monoprice HDMI cables (source to pre/pro)
Best Deal analog-audio cables
PureLink HDC Fiber Optic HDMI Cable System (15 meters) from pre/pro to projector
LATEST VIDEO