Sharp Resurrects the Elite Brand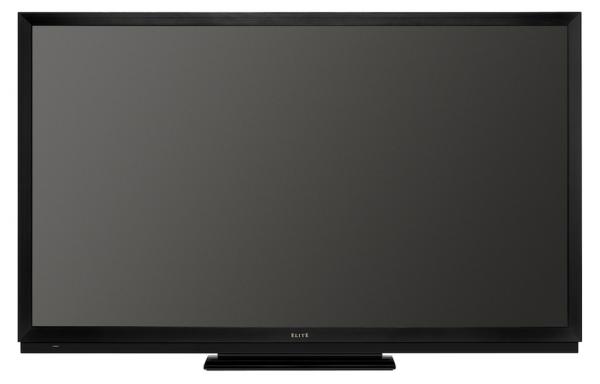 There's little question that Pioneer's Elite-branded Kuro plasmas were among the best - if not the best - televisions ever produced, with black levels still unmatched, in the opinion of most. Pioneer's exit from the TV market in 2009 was met with much wailing and gnashing of teeth in videophile circles. Panasonic scooped up Pioneer's plasma technology, with some notable results, but the Pioneer Elite home theater marque has since lived on without TV representation. Now that's all changed.
In partnership with Pioneer's engineers, Sharp (who became the majority shareholder in Pioneer four years back) has now released the long-in-the-works LCD successor to the Kuro. Taking advantage of the Pioneer team's image-processing expertise and Sharp's LCD panel production capabilities, the new Elite series promises "the finest picture quality ever seen on an LCD-TV."
We got a look at new the 60" and 70" Elite sets (the 60" should be available next week; the 70" by late August, through the existing network of Pioneer Elite dealers), and the units did indeed put out some very impressive blacks. It was a bit difficult to judge overall performance or to compare it with the Elite sets of the past given the demo footage used - clips from Tron and Pirates of the Carribbean, and some nighttime fairground and fireworks imagery - but we hope to learn more once we get a unit in the S+V offices for formal review.
Under the hood, the two models are identically spec'd: 1080p, based around full-array LED-backlit RGB+Y panels. The four-color system here is a "tweaked" version of Sharp's existing yellow-subpixel-added Quattron system found in the Aquos line; Sharp's Tony Favia claims it contributes to better reproduction of yellows and gold tones than otherwise possible. The panel itself boasts extremely high transmissivity, which, according to Favia, boosts brightness while easing power requirements. A proprietary chip runs an "Intelligent Variable Contrast" system, which monitors the video stream on its way to the panel, and in concert with local dimming maintains control over black levels.
Viewing modes are many and varied, and include an "Elite Pure Mode" - used for the demos - which, interestingly is said to "replicate the settings of previous Elite TVs." Favia tells me there's no modeling of the Kuro's response here, but the Pioneer engineers were deeply involved in the software design. That doesn't make it a plasma, of course, but there's something of - as the Sharp brass on hand put it this morning - the old "DNA" on hand.
While we didn't get to check out any 3D material (these use an IR-coupled active shutter system, like their Sharp cousins, and will ship with two pairs of glasses), local dimming works even under 3D on the Elites, which should make for better contrast at the expense of some overall brightness.
The new Elites introduce a routine called "FluidMotion," which makes use of 120 Hz frame quadrupling with a scanning backlight to achieve "240Hz plus" performance - the practical equivalent, in Favia's words, of a set running in the neighborhood of 720Hz. Motion was quite smooth, but again we'd have to take a closer look to make any kind of authoritative pronouncement on the effectiveness of the system.
THX certification is in place for 2D and 3D; in the preproduction unit we looked at a significant amount of adjustment was still user-accessible when running in THX mode; for those who would like professional calibration (given the pricing and target market for these sets, that's likely to be a significant number of purchasers), the sets are also ISF certified.
Beyond the picture-quality tech, Sharp's packed in the expected range of modern convenience features - the sets are DLNA compliant and IP Control compatible, offer built in Wi-Fi, access to a range of streaming videoservices, including Netflix, VUDU, CinemaNow, and Blockbuster, and network conveniences like app-based support for Facebook, Twitter, and Skype (which requires a camera kit, available separately). There's also an online concierge service, similar to that offered by Sharp for their Aquos sets, but staffed separately and here known as Elite Advantage Live, which lets a Sharp technician adjust the set remotely, based on viewer input.
We're looking forward to getting a closer look soon, and if you're in the market for a high-end LCD, you'll probably want to do so yourself.