Sharp 90-inch LED Hits Stores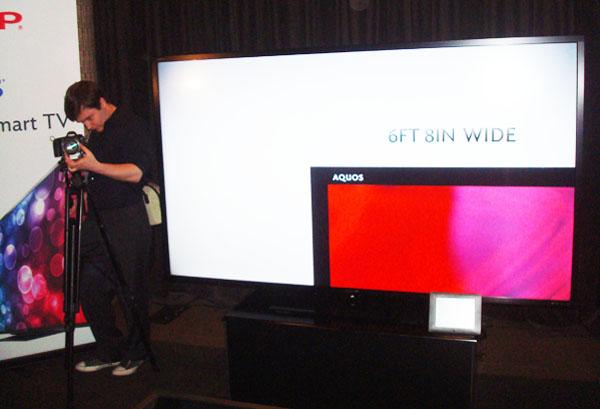 After cornering the market for LCD TVs above 60-inches diagonal with exclusive 70- and 80-inch models, Sharp has released its first 90-inch LED-backlit LCD HDTV.
As Sharp executives were quick to point out at the product's launch party in New York City tonight, this is one big TV. Its 1920x1080-pixel, 90-inch diagonal screen measures 6 feet, 8 inches wide by 4 feet tall. That's said to be equivalent to nearly twice the screen area of a 65-inch television, or three times the area of a 55-inch set. To take it even further, you can squeeze eight 32-inch TVs into its screen, or 56 iPads.
Naturally, big doesn't come cheap: the LC-90LE745U carries a suggested retail price of $10,999.99, and should street at an even $10,000.
While you get a full array LED backlight for that money—one that includes 500 individual LEDs spread across the screen—there is no local dimming as you'll find in Sharp's high end Elite-branded LED models. This means that while each LED can be controlled for it's brightness, small areas of the screen cannot be independently controlled to allow for both the brightest whites and darkest blacks within a single screen image. Nonetheless, Sharp's Active Contrast technology is said to optimize black levels, along with the UV2A manufacturing process for LCD panels that Sharp introduced a while back.
The LC-90LE745U is a 3DTV that comes with two pairs of active shutter glasses. Other technical features include Sharp's SmartCentral streaming platform (Netflix, Vudu, Cinema Now, Hulu Plus, YouTube) and what's said to be a particularly zippy Linux-based web browser compatible with a standard wireless keyboard (not supplied). New IOS and Android apps due out this summer will also provide browser control. There's built-in WiFi if you can't make a wired connection to the set. Sharp's AquoMotion 240 motion technology is provided to reduce blur on fast motion for those who don't mind the soap-opera video effect usually associated with these features.
Aesthetically, the LC-90LE745U is just about all screen. There's a narrow, approximately 1-inch brushed black aluminum bezel that provides a no-glare border all around, and the TV is just 5-inches thick and weighs 141 pounds. Sharp's first 65-inch LCD introduced several years ago weighed about twice as much. Power consumption is surprisingly low: the set burns 138 watts and is said to use just $28 per year in electricity with 6 hours of daily viewing.
Despite it's huge size, Sharp executives tried to implode what they described as a myth associated with their 70-inch and larger TVs by showing how close you can sit comfortably to the TV. Viewing areas for the demos were set up at distances of 6-, 7-, and 10 feet. Seven feet seemed about right to this writer's eye, which kept pixel structure difficult to detect while providing an immersive, cinema-like viewing angle. Sharp had the LC-90LE745U set up alongside its 80-inch model in one area, and it's hard to fully impart just how large and impactful it was even next to that giant screen.
Assessing image quality was difficult in the context of a press event, but the color seemed natural to my eye (this model does not feature Sharp's Quadpixel technology, which adds a 4th yellow pixel to the usual red, green, and blue primary colors). Contrast was probably what I'd expect to see from any typical non-local-dimming set in subdued but still relatively bright lighting, which makes it hard to assess how well the set will reproduce black in a fully darkend room. Film-based images imparted that soap-opera video look thanks to the motion interpoloation mode being turned on in all the demo units. Home Theater hopes to have a review sample soon we can report on in controlled conditions.
Sharp has indeed offered larger TVs than this before, but not at anything close to the price. "About five years ago, we showed a 108-inch LCD that retailed for $100,000," noted Jim Sanduski, Sharp's VP of strategic product marketing. "Five years later, we have a 90-inch that's selling for one-tenth of that."