Shanghai Diary: CES Debuts in Tomorrowland Page 2
Here's the concept, simply: we are at a place where pretty much everyone has or will soon have a mobile, Internet-connected device in their pocket, probably a smartphone. This connectedness is now combining with further miniaturization and the economy of various types of sensors—the average phone, I heard during a panel talk, now has 11, but sensors on nearby devices, such as an activity bracelet, can also talk to us and the cloud through our phones. Optical sensors, for example, have gotten so cheap that multiples of them can now be combined to do things never before possible in consumer products.
Intel's keynote focused in part on showing off the company's new RealSense technology appearing in PCs and tablets this year; it uses several cameras to measure depth, which allows it, for example, to reliably recognize a computer owner's face in 3D for password-free security, or to place that user inside a virtual game world while eliminating everything behind him—no green screen needed. Shaun DuBravac, CEA's chief economist and senior director of research, told the audience at his talk titled "The Future in a World of Digitally Defined Objects" that, just from advances in the last 24 months, we are now poised for an explosion of new dedicated consumer devices doing all sorts of things, as well as collecting all sorts of potentially useful—or useless—data on our habits and health. "We no longer have to ask, 'Is it possible?,' he said, but rather, "'Is it technologically or economically meaningful?'"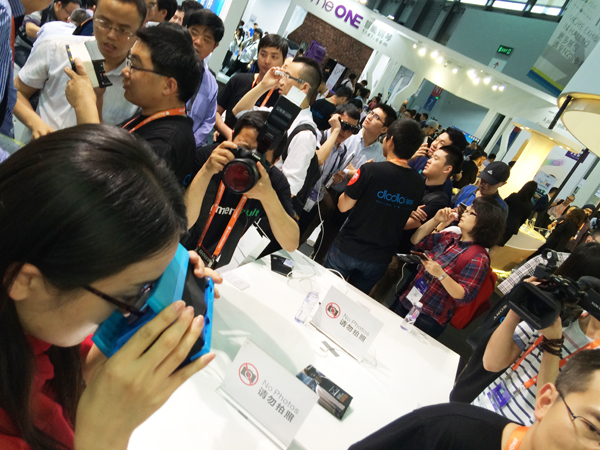 Also fascinating, for entirely different reasons, was Twitter's keynote on Day 2, delivered by Shailesh Rao, the company's VP for Asia, Latin America, and emerging markets. Rao's presentation discussed the ways in which people engage with each other and with businesses using Twitter. The irony, of course, is that Twitter is censored in China, blocked by government authorities who presumably are insecure about the role it might play in encouraging dissent or feeding a revolution, as it has done in other nations.
Neither me nor my U.S. press colleagues could get on our Twitter accounts at any time while attending the show, though the Twitter-loving Chinese have apparently found ways around the ban. One old study from 2012 that I found online said that, using VPN technology and various black-market services, some 35 million Chinese users were contributing at least once or more a month to Twitter, giving it more active users than any other nation. By Twitter's own account, there are now 649 million Internet users in China, and they represent 37% of all social media users worldwide.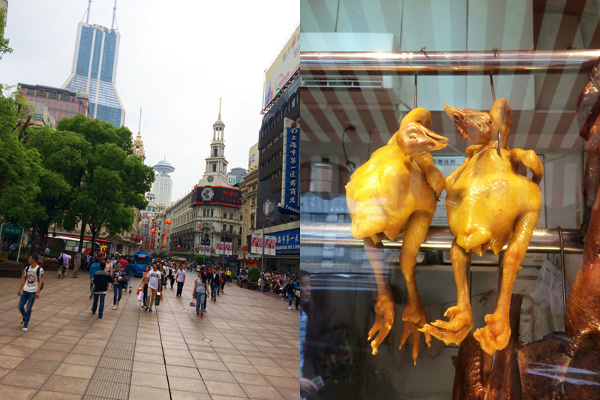 Which brings me, I suppose, to what I finally came to understand as the deeper signficance of this inaugural CES Asia, something I only arrived at after attending the show and reflecting back on my one day of touring around Shanghai. I began that day with a ride from Pudong into the city on Shanghai's modern metro and a walk down Nanjing Road, a pedestrian-only shopping street lined with Chinese and western department stores and designer clothing shops. I spent a couple of hours in People's Square at the Shanghai Urban Development Exhibition, a museum dedicated to explaining how Shanghai became, well, Shanghai, with its mix of classic western/European architecture built up through the early 1900s by British, French, and American interests and the more Asian/modern influence expressed since the Communist Revolution in 1949.
From there, I walked down to "Old Town" to see the one small remnant that remains of the ancient wall that once surrounded Shanghai. It sits in the heart of what an American might see as a classic Chinatown as you'd find in New York or San Francisco; there were few Westerners to be seen in this part of town, and I wandered down a street with food vendors selling all manner of things I mostly didn't recognize and couldn't imagine eating. I toured the stunning Yuan Garden, a magical, meandering maze of trees, stone-ensconced pathways, ponds and pavilions dating back to the Ming Dynasty. By the twilight hours I had made my way north again to the walkway along The Bund, Shanghai's original business district that hugs the Huangpu River and juxtaposes the old European architecture against that spectacular Pudong skyline across the water.
It was an awesome day, but it wasn't until my visit was over and I hopped on the Shanghai Maglev—a magnetic levitation railroad and the world's fastest commercial passenger train—back to the Pudong airport that I started putting it all together. As foreign as Shanghai was, I realized, it was quite familiar. Should I have been surprised that China's commerce hub, a place that began centuries ago as a port where East first met West, would be strikingly similar today to any major American city? During my tour I saw both affluence and the lack of it; the same haves and have-nots I might see in New York. I rode subways with the same commuters and families; their noses similarly buried in their phones. I jogged through Century Park, the Shanghai version of Central Park, and saw the same mothers pushing strollers and elderly couples sitting on benches. I walked into magnificent open-atrium shopping malls that differed from their U.S. counterparts only in their remarkable organization, with all retailers selling like products perfectly situated in the same sections.
On the plane ride home, it finally dawned on me that the Chinese in Shanghai, apart from the weird snacks they eat (spicy chicken claws and dried duck necks?), are just like us. The most significant difference is that we don't have to illegally jump the "Great Firewall" to get on Twitter, or worry about our paranoid government immediately trying to censor the press and turn away victims' families in the aftermath of a cruise ship capsizing off our shores, as happened in China in the days following the show. Seriously? In a highly modernized nation with an exploding middle-class poised for a massive infusion of new Internet-connected devices and communications technology, how long can the Chinese government, or any government, possibly keep that up? And to protect itself from….what internal threat?
And that's my epiphany in a nutshell. As much as this first CES Asia represented a symbolic opening of business channels to a massive, growing marketplace, and a tremendous acheivement for the CEA, it also represents the widening flow of enabling technology to China's consumers. With affluence comes strength, with technology comes power, all dropping into the hands of China's 1.4 billion souls. I was glad to be there to see the start of it. Just think of CES Asia as a big ol' Trojan horse being rolled into town; an innocent seed of a trade show with a technological and cultural revolution tucked inside. Shhh… I won't tell if you don't.