Sezmi launches innovative TV service: L.A. first, U.S. to follow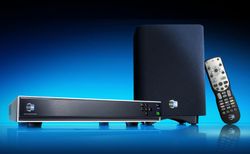 A Silicon Valley company today announced the launch of what it called "the third TV service." The company and the service are named
Sezmi
. Sezmi service is slated to begin today in Los Angeles, and roll out gradually in most parts of the U.S.
Sezmi sources content from digital TV broadcasts and the Internet. It's not just tuning in local digital broadcasts, though. The company says it has struck deals with local TV stations across the nation to use their multicasting capabilities to transmit a variety of programming normally available through cable or satellite, such as CNN, Comedy Central, and Bravo. These broadcasts will be scrambled so they can be received only through Sezmi.
It can also source video content through the Internet, much as many of today's current Blu-ray Disc players and TVs sets can. Currently YouTube is the only big-name Internet provider available through Sezmi, but the company says it expects to add many more in the coming months.
The Sezmi hardware consists of a set-top box with DVR capability; a digital TV antenna/receiver that looks like a bookshelf speaker; and a remote control. Sezmi says that hardware will be available through retailers or through local telephone companies. The hardware could be leased like a cable box, or purchased outright at what a Sezmi rep called a "target price" of $299.
The company says that its hardware can be installed by consumers in 30 minutes. The homeowner will need either DSL or 4G Internet service with a wireless router, and good reception of digital TV signals. Sezmi says that consumers can enter their location on the company website to find out if the service is available in their area. While the company admits that some households won't be able to use the service because of poor digital TV reception, it expects to be able to reach about 85% of U.S. households.
According to Sezmi CEO Buno Pati, the primary benefit of Sezmi is that it's less expensive than cable or satellite service. Target pricing for the Sezmi Supreme service, which includes more than 100 channels plus Internet video, local broadcasts, and access to pay-per-view movies, is $24.99/month. The Sezmi Select service, which includes Internet services, local broadcast, and PPV, costs $4.99/month. "Our research shows that our audience will skew toward younger, more budget-minded and tech-savvy consumers," Pati said.
The remote control features dedicated buttons that allow family members to access their own "home page" on the Sezmi system, which will present a selection of their favorite content and channels, TV shows they've recorded, and movies they've purchased or rented through PPV. The actual source of the content will be invisible to the end user; all they'll see is the program title.
The L.A. launch is a three-month pilot program that provides the Sezmi hardware and service for free. Interested consumers can find out more through a link on the home page of the company's website.—Brent Butterworth
LATEST VIDEO