Samsung's Hip Blu-rays
Integration and contemporary styling is what everyone is looking for so Samsung's new Blu-ray players certainly embrace both these concepts. The BD-P4600 is a wall-mountable Blu-ray player and the HT-BD8200 is a Home Theater Sound Bar with an integrated Blu-ray Player. According to Samsung they are heralding a new direction for the Blu-ray industry and moving away from the traditional square (and boring) black boxes.
The 4600 supports BD-Live (2.0) and Bonus View (1.1). It connects to home networks wirelessly (802.11b/g/n protocols) using a Wi-Fi dongle in one of the two USB 2.0 ports, or wired via a traditional Ethernet connection. The player can instantly stream from Netflix and Pandora music services (subscriptions required), to deliver an ever-expanding library of entertainment directly into the living room. It contains a 1GB internal flash memory that will access BD Live™ and Bonus View Blu-ray features, leaving the USB 2.0 ports for wireless networking and memory expansion (when needed).
The wall-mountable BD-P4600 is just 1.5 inches thin with a piano black design and ruby highlights. It is finished in a clear, prism-like edging for a truly unique look that doesn't appear to be an electronic component at all. If wall-mounting is not an option, an integrated stand lets the BD-P4600 be placed on a table at a 25 degree angle.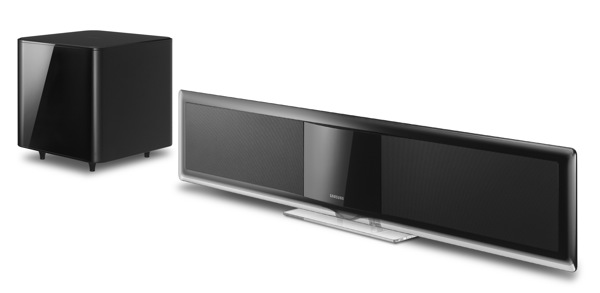 The Samsung HT-BD8200 is the first home theater sound bar equipped with a Blu-ray player and wireless subwoofer. This attractive and streamlined solution features a fully integrated Blu-ray player with Full HD 1080p playback and virtual 5.1-channel surround sound.
Capable of sitting on top of an entertainment center, the HT-BD8200 is also wall-mountable. It is only 2.6 inches deep and accented with Samsung's trademarked Touch of Color design, providing a classy and cutting-edge look.
The HT-BD8200 is also equipped with Samsung's "Smart Volume" technology for volume level adjustments on-the-fly for superb listening levels without the need to continually pick up the remote. It also offers seamless playback of video, photos, or music from digital devices such as media players, mobile phones, and digital cameras, using either the built-in USB port or Bluetooth™ wireless connectivity. Multimedia disc playback and an included iPod dock add even more versatility to the diminutive unit.
Like the BD-P4600, the sound bar is equipped with wireless networking via an 802.11 b/g/n and optional USB dongle, the HT-BD8200 is compatible with BD-Live (Profile 2.0) interactive features and can access Netflix for instant streaming video or Pandora music.