Samsung Unveils HDR Upgrade for LED Cinema Screen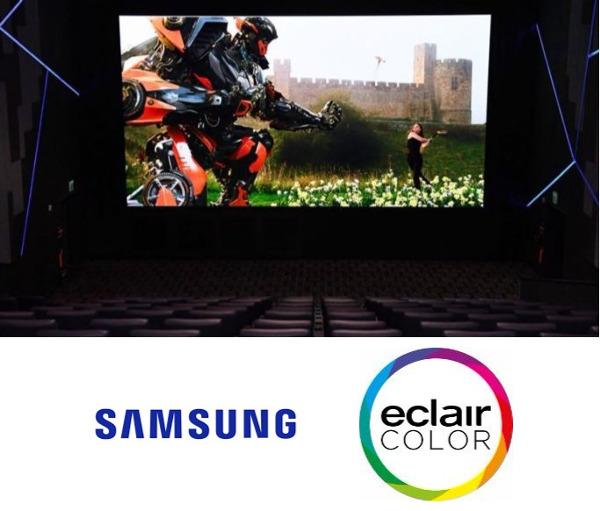 Samsung has teamed with the Ymagis Group, a Paris-based company specializing in digital technologies for the film industry, to enhance the high dynamic range (HDR) performance of the
Cinema LED Screen
it introduced last year.
Engineers from both companies have developed a component that allows the Cinema LED Screen to showcase movies and other content with Ymagis' EclairColor HDR enhancement to produce a contrast ratio of 1,000,000:1 for a "more detailed and resonating viewing environment," according to the companies.
Ymagis describes EclairColor as an HDR mastering solution that refines content for any size screen and says all types of cinemas, from independent movie theaters and regional chains to giant exhibition circuits, can be equipped with the enhancement. The HDR equipment can be used to run EclairColor HDR-mastered content as well as standard DCI content, the company said.
To date, 127 movie theaters have been equipped with EclairColor, including 59 in Germany, 54 in France, and three in the United Kingdom.
Samsung will demonstrate the EclairColor-enhanced Cinema LED Screen at the CinemaCon convention that opens today in Las Vegas. The show attracts theater owners from more than 80 countries.
"We are delighted that the Samsung Cinema LED Screen has been fully-certified with EclairColor HDR technology, and that CinemaCon attendees will be able to enjoy this next-generation movie-going experience," said Jean Mizrahi, president and co-founder of Ymagis Group. "This evolution marks a significant milestone, confirming the ability of EclairColor technology to bring a highly-flexible HDR solution to not only existing high contrast projection systems but also to Samsung's Cinema Screen, which delivers the highest levels of visual quality and technical performance."
"Compatibility with EclairColor HDR technology further empowers the Samsung Cinema LED screen to produce a brilliant, detailed and realistic cinema viewing experience that makes viewers feel as if they are a part of every scene," said Seog-gi Kim, executive vice president of Samsung's Visual Display Business. "This combination produces ultra-sharp 4K resolution and peak brightness levels that make content come alive. The resulting high contrast showcases bright colors, pristine whites and deep blacks accurately and without distortion, creating a perfect arena for both 2D and 3D movies."
Samsung introduced a 3D version of its Cinema LED Screen earlier this year.
For more information on EclairColor HDR, visit eclaircolor.com.