Samsung UN55D8000YF 3D LED LCD HDTV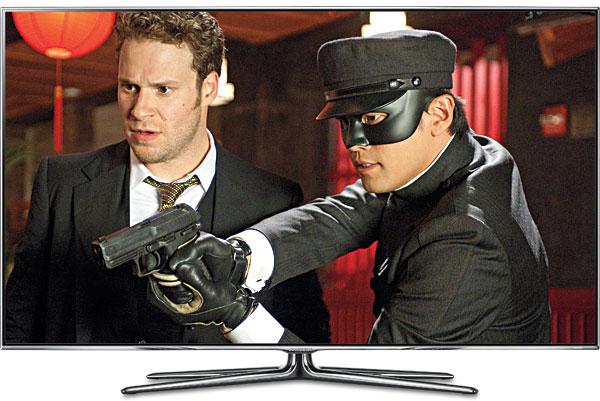 Price
: $3,600
At A Glance
: Superb resolution • Precise color • Bright, ghost-free 3D • Non-uniform screen lighting
Thin, Dark, and Handsome
Thin was in last year, and the trend continues without an end in sight. Manufacturers aren't likely to quit the race until they have HDTVs you can use for wallpaper.
This new Samsung doesn't quite fit the wallpaper description, but at 1.2 inches thick, it will do until the next big breakthrough comes along. Don't be disappointed, though: With all the features of a competitive, upscale HDTV—starting with an impressive picture, 3D capability (two pair of active glasses included), and Internet connectivity—you still have an HDTV worth taking a closer look at.
The Guided Tour
The Samsung's printed manual provides basic guidance in multiple languages, but beyond hookup instructions, it isn't much help with the details. Samsung offers more complete assistance in what the company refers to as an e-Manual you can call up on the screen, which lets you search using onscreen links to specific topics. I'd like to see this e-Manual (and similar onscreen manuals on other sets) fully accessible on an external tablet or computer, which would clear the set's full screen for the important task of seeing the effect of your adjustments. While you can download Samsung's e-Manual to, say, an iPad (which I did), when viewed on this device, it lacks the active links that help you search for specific topics.
The UN55D8000YF is from Samsung's top-of-the-line LEDedge-lit LCD series. Not surprisingly, it has a good many inputs and outputs, including four HDMI 1.4 links, a single component video connection that also doubles as a composite video input (you get one or the other), another dedicated composite video input, and three USB 2.0 jacks. The set can connect to the Internet either wirelessly through its built-in Wi-Fi connection or wired via its Ethernet port. It also offers both optical digital and stereo analog audio outputs. The analog A/V inputs require special adapters (supplied)—a sacrifice to the gods of the thin HDTV.
There are five readily accessible picture modes, including one for PC only. All of them are user adjustable, separately for 2D and 3D. Movie mode retains the set's most important controls, so that's the one I selected for this review, except where noted. In addition, two modes, called Cal-Day and Cal-Night, may be activated by the dealer or trained installer from a service menu. These modes may then be locked so users cannot change the settings.
A number of special controls were best left off. The ones I did use (in addition to the standard video controls, of course) were Gamma, RGB Only, White Balance, 10p White Balance, LED Motion Plus, Color Tone, Smart LED, and Cinema Black. Gamma affects the image brightness in the mid-brightness region, and RGB Only can help you properly set the Color and Tint controls (together with an appropriate test pattern).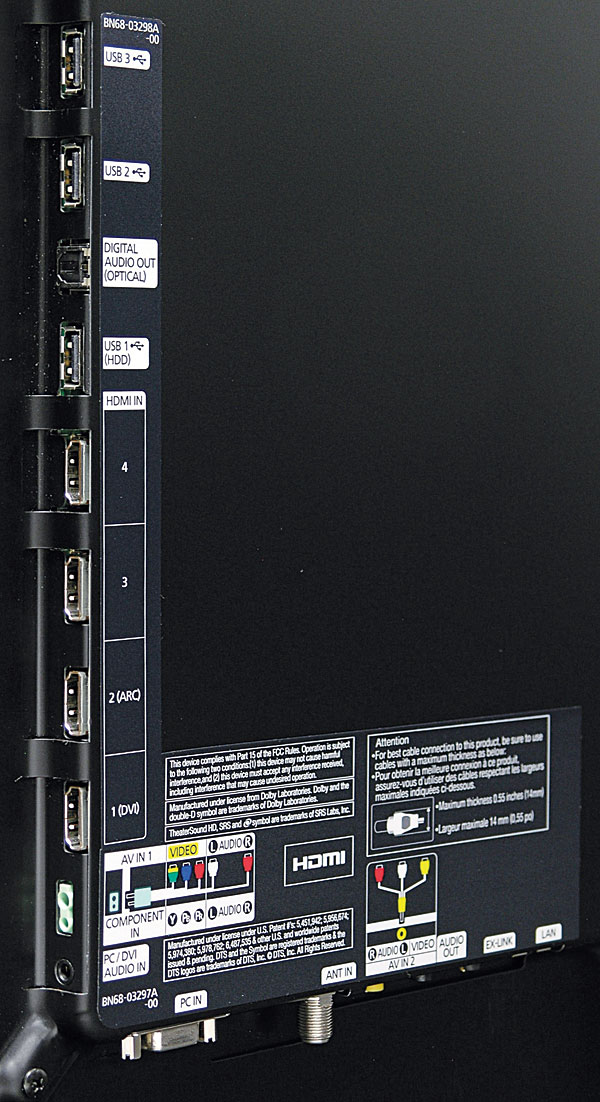 The Samsung offers both standard high/low (two-point) and 10-point (10p) white balance adjustments. You may use these settings together by first performing a rough adjustment with the two-point controls and then fine-tuning with 10p. But the latter are tricky to use. They are labeled as Intervals 1 through 10, but the IRE levels these intervals adjust don't readily correspond to the Interval settings. The Intervals from 4 to 10 appeared to have their maximum effect on IRE levels one step removed from their numbers; that is, Interval 5 worked best for adjusting 60 IRE, 6 for 70 IRE, etc. Intervals 1 and 10 had no significant effect on my measurements. Intervals 2 and 3 interacted with each other, and I had to juggle them carefully to get the best results from 20 to 40 IRE.
All of the set's LED lighting is located on the sides of the screen and distributed behind the picture by diffusers. A selectable Smart LED feature analyzes the source material and dynamically dims or brightens the LEDs by zones to improve black level and shadow detail. Simultaneously, the set processes the image at the pixel level and individually adjusts the brightness of each pixel to prevent the LED dimming from unduly darkening bright areas of the image. Confusingly, Samsung refers to this feature as Smart LED in the UN55D8000YF's menu but as Micro Dimming Plus on its Website and promotional materials.
To improve motion resolution, smoothness, a feature called LED Motion Plus progressively scans the LED lighting from top to bottom. Another control, Cinema Black, is designed to further darken the black bars above and below a widescreen, 2.35:1 source. While I can't say the effect of either of these controls was particularly dramatic on real program material, they did no harm, so I left them both engaged. Smart LED and LED Motion Plus are available in both 2D and 3D (LED Motion Plus is always on in 3D and cannot be defeated), but Cinema Black is operational only in 2D.
LED Motion Plus may get a part of the motion resolution action, but Auto Motion Plus is the set's primary feature designed to enhance both motion resolution and motion smoothness. When selected, it interpolates the extra frames needed to convert the source's refresh rate to the LCD panel's native 240-hertz refresh rate. A 2D source at 24 frames per second (such as from a Blu-ray player) is displayed at direct multiples of 24 fps. However, in 3D, the set adds 3:2 pulldown to 24-fps sources. When Auto Motion Plus is off, the extra frames are simply repeated, not interpolated.