Samsung Previews Smart Speaker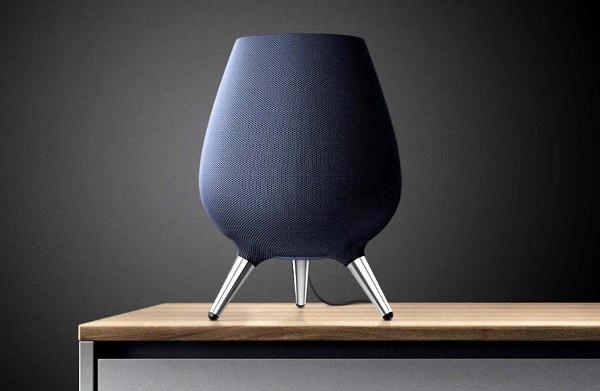 Samsung teased its long-anticipated entry into the smart speaker arena with a peek at Galaxy Home.
Unveiled last week at a launch event for the Galaxy Note9 smartphone and Galaxy Watch, the bulbous speaker is built around Bixby — Samsung's answer to established voice controlled virtual assistants such as Amazon's Alexa, Google Assistant, and Apple's Siri — and has an integrated tripod that gives it a retro-futuristic feel.
Product details were sparse and there was no announcement about launch date or pricing, but Samsung said the speaker will serve as a smart-home hub and support streaming via Spotify, allowing users to use voice commands to play music, get recommendations from Bixby, and switch music between the speaker and a smartphone or television.
The Samsung website is light on specifics but notes that Austria-based audio specialist AKG designed the sound system and describes Galaxy Home as "the only AI speaker that intuitively moves a wave of sound directly toward you when you ask it to. So no matter where you are in the room, you'll find yourself immersed in sound."
In addition to delivering omnidirectional sound, Samsung says the speaker's built-in SmartThings hub will enable users to perform tasks such as turning lights on and off, locking doors, or scheduling a start time for the dishwasher as well as initiate smart-home routines by voice or smartphone. The speaker uses an array of eight microphones to ensure voice commands can be heard from a distance.
Some analysts have speculated that Galaxy Home will sell for around $300, which would put it up against Apple's $349 HomePod, the most expensive smart speaker currently on the market.
Although Samsung is late to the market Amazon created in 2015 with the launch of its popular Echo smart speaker, the brand has a strong presence in U.S. homes through its Bixby-enabled smart TVs, home appliances, and Galaxy line of smartphones, which will separate it from the pack.
Samsung said it will reveal additional details about the speaker at a developer conference in November.
For more information, visit samsung.com.