Samsung LN-S3251D LCD
The dark side is stronger.
As we round the corner toward 2007, the big names in LCD are bringing their next-generation models to market. While some models experiment with new technologies designed to improve LCD performance, all seem to have one thing in common: They cost a lot less than their 2005 predecessors. It's hard to believe that, this time last year, I was reviewing 32-inch HDTVs and HD monitors priced at around $3,500. As I examined the new Samsung 32-inch LN-S3251D, which has a wee-little asking price of $1,800, I couldn't help but wonder which, if any, corners Samsung cut to help that price fall so far and so fast.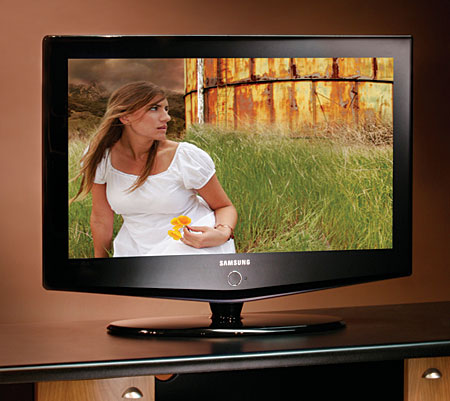 The LN-S3251D doesn't boast many adornments. The connection panel is solid but not outstanding. It includes two HDMI inputs and one D-sub 15-pin connector for use with a computer; however, it only has one component video input, so those people who have yet to go digital on the source end will be limited in the number of higher-end video devices they can connect. Internal ATSC and NTSC tuners are aboard, but there's no program guide, CableCARD slot, USB ports, or memory-card reader. A pair of 10-watt speakers are subtly integrated into the small, lightweight chassis, but they sound almost as thin as the panel itself. The remote control lacks backlighting and dedicated input buttons, although it does have buttons to easily switch the aspect ratio and the picture mode.
The choice to sacrifice features and ergonomics for the sake of pricing is certainly a forgivable one. The more important question was, would Samsung also sacrifice picture quality?
As Is
On paper, the TV has a decent number of picture adjustments: four picture modes (Dynamic, Standard, Movie, and Custom) and five color-temperature settings (Cool2, Cool1, Normal, Warm1, and Warm2). However, you can't set different video parameters for each input, and the Movie mode and Warm2 combination is the only pairing that brings you close to videophile standards for picture quality—very close, in fact. Our measurements revealed that the Movie/Warm2 combo tracks near 6,500 Kelvin across most of the range. Below 30 IRE, the color temperature gets quite blue, but this spike isn't something we'd be able to fix through calibration and will only reveal itself with the darkest images. Beyond that, the color temperature is so close to accurate, calibration isn't necessary.
When I first set up the Samsung LN-S3251D, I was surprised by the apparent lack of an adjustable backlight to tailor the TV's light output to different room environments. I couldn't find a setting in the picture setup menu, so I proceeded to assess the TV as is. "As is" was extremely bright (138.2 foot-lamberts), with a high black level (0.12 ft-L) that made blacks look gray and caused the picture to lose depth and black detail in a dark room. Of course, "as is" did render a vibrant, colorful image in the middle of the day in my upstairs bedroom, which has abundant sunlight, thanks to windows on every wall.
"As is" revealed a TV that has solid detail with DVD sources and excellent detail with higher-quality HDTV sources. Fleshtones and colors are generally good; as you can see in the measurements box, the red and green points are a bit off, but overall color and fleshtones look good. This TV also has above-average film-based processing, which quickly picked up the 3:2 sequence in my HQV Benchmark test DVD and did a fine job rendering smooth rooftops and Colosseum archways in chapter 12 of Gladiator. It didn't handle the HQV disc's video-based tests as well, but it did a better job with actual video-based signals from DVD and cable sources, creating only minor jaggies and stair-stepping artifacts.
Motion lag was less of an issue here than with many LCDs. I did see some blurring of the fine detail in fast-moving sports programming like basketball and hockey, but it wasn't overly pronounced. As for viewing angle, image saturation held up fairly well when I moved off axis, as long as I viewed the TV from a normal viewing distance. The closer you sit, though, the more saturation you lose when you're at one of the sides or beneath the set, if, say, it hangs high above your eye level.
Despite these mostly positive traits, two performance concerns hindered my enjoyment of the LN-S3251D. The first was bit depth, or lack thereof. Through both the HDMI and component video inputs, this TV lacked the bit depth to smoothly render the transition from black to white in the test ramp from Video Essentials (title 18, chapter 6). As a result, I saw more digital noise and pixellation in dark colors and gray shades, both with my test scene from the Chicago DVD and with darker HDTV shows like CSI.

The second issue is edge enhancement, or the insertion of false edges around an image to make it look sharper and more detailed than it really is. Samsung's proprietary DNIe processing adds edge enhancement to the picture, and you can't get rid of it by turning down the TV's sharpness control, as you can with many digital displays. Admittedly, some people can't even see edge enhancement, and others like it because it makes the picture look so crisp. It's certainly less noticeable on a 32-inch screen than it was on the 56-inch HL-R5668W rear-projection Samsung from our 1080p Face Off in the February 2006 issue. But, if you see it, you see it. . .and I saw it.
The real problem with edge enhancement is not so much the thin, white lines it draws around hard edges but all of the false information and noise it creates around those lines, especially through the component video input. The busier and more complex an image is—for instance, a basketball game that includes a lot of fast motion and faces in the background—the more false information gets added to dirty up the picture. Its effects weren't as obvious in more subdued programs, like prime-time TV shows or even a slower-paced sport like soccer or baseball. We've said it here before, and we'll say it again: Samsung ought to include the option to turn off DNIe processing.
Even Better
About halfway through my review, I decided to see what would happen when I pressed the E.Saving button on the remote. Lo and behold, I had found the adjustable backlight. Samsung calls it "Energy Saving" and buries it on page two of the TV's general setup menu. You can choose between four Energy Saving settings that dictate the brightness of the LCD's backlight: Off, Low, Medium, and High. With Energy Saving off, the TV puts out the maximum amount of light and thus uses more energy. In the High mode, it saves the most energy by outputting the least amount of light, dropping from 138.2 ft-L down to a still-bright 41.15 ft-L. Obviously, this also had a huge effect on the TV's black level, lowering it to 0.032 ft-L. That's not the best measurement we've ever gotten from an LCD, but it's close, allowing for a much richer, more attractive image in a darkened room and an excellent overall contrast ratio of 1,286:1.
With just a few presses of that E.Saving button, my opinion of the LN-S3251D changed dramatically. Where once it was an average LCD, hindered by black-level and assorted noise issues, it had now become a pleasure to watch. Obviously, the better blacks were a welcomed improvement, but the lower backlight also drew less attention to the bit-depth and edge-enhancement issues. All of that extra light output was essentially shining a flashlight on these weaknesses. In the darker mode, they were less pronounced, which allowed me to sit back and enjoy the TV's strengths—its color temperature, detail, color, and contrast ratio—with few hindrances. Higher-resolution sources like HDTV and HD DVD looked especially good, but DVD and even upconverted SDTV held their own.
While Samsung's LN-S3251D isn't perfect, its performance bests that of most of the LCDs that passed through these doors last year—and costs almost half as much. Samsung isn't the only one lowering their prices, though. The other big names in the biz have also introduced competitively priced models. Whether these models can also compete in performance remains to be seen; with a few simple picture adjustments, the LN-S3251D renders an HD image that's tough to beat.
Highlights
• Excellent detail and contrast ratio
• The adjustable backlight is key