Samsung DVD-V3800 DVD/VHS Combination Player
The DVD-V3800 combines popular technologies from yesterday and today.
Samsung was the first to market with a backwards-compatible, single-box DVD/VHS combi player a few years ago. It's still a hot product as consumers continue to wrestle with the whole VHS-versus-DVD quandary. Most manufacturers keep upping the ante in small ways, adding this output or that performance enhancement on the digital half—there's only so much room for improvement on a standard VHS recorder, after all—without really rocking the multimedia boat. Finally going a step further, Samsung has incorporated a multi-format flash-memory card reader into the top-of-the-line model in their recent wave of value decks.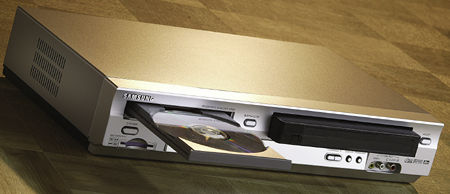 The DVD-V3800 is a remarkably compact unit at 3.3 inches high. It records VHS tapes and can play back both VHS and S-VHS tapes, thanks to playback circuitry that offers lower noise and higher bandwidth. The higher bandwidth doesn't add any resolution per se, but it does allow maximum detail reproduction, although only composite and RF outputs are provided for the VCR. Composite video with analog stereo audio inputs are also provided on the back and front for patching in a camcorder, video-game console, etc. The VCR is well featured, with four video heads, hi-fi stereo recording and playback, and conveniences like automatic clock-set. (Once connected to a TV signal, this painlessly cures the dreaded Flashing Midnight Syndrome.)
The DVD player can connect to the TV via composite, S-video, or component video outputs. This last option enables the progressive-scan output. You must first connect the component video cables while the player is in its default interlaced mode. Then you can select progressive scanning via the temporarily horribly distorted onscreen menus, a mildly headache-inducing process. I could've taken the easy route and just pushed the progressive button on the front panel, right next to the DVD/VCR selector.
The DVD-V3800 supports DVD+R playback but, surprisingly, not videoCDs. CD-R/-RW, DVD-R, and DVD+/-RW playback might or might not work, depending upon the disc-burning software used and the steps taken, such as proper disc finalization. At this stage of the home-recording game, there are apparently too many variables to guarantee absolute compatibility. Only one RF cable and one set of composite video/analog stereo audio cables are included, but the DVD player can share a single set of composite/stereo audio outputs with the VCR for simple hookup.
Certainly the most revolutionary aspect of this new deck is the four-in-one memory card reader—a single, cleverly designed, felt-protected slot on the front panel that accepts Sony's Memory Stick, wafer-thin SmartMedia cards, or the higher-capacity, postage-stamp-sized MultiMedia and SD cards (see sidebar). Once you insert a card and press the remote's DVD/M.Card button, all compatible contents are displayed, with their original file names intact, via onscreen text and graphics. You can display digital still photos in the JPEG format on the television for all to enjoy, and you can also play MP3 or WMA tracks. The DVD-V3800 can handle photos or music burned to CD-R and DVD+R, although the drag-and-drop speed and simplicity of optical discs pale beside handy, reusable flash-memory cards. Because the card reader shares the progressive-scan DVD output, the image quality of stills is optimized.
At first glance, combi-player remote controls always seem a bit busy to me, but the DVD-V3800's was no more complicated than any other and quick to master. Typical for a Samsung player, the onscreen displays are pleasant to look at and easy to navigate. By and large, video processing is impressive, imparting an organic, filmic look to difficult movie material that exhibits blatant halo effects on lesser players. The miniature white snowscapes of the decades-old Superman presented the proper smoothness and subtle gradations, while the heavily compressed digital wizardry of Monsters, Inc. looked just about as natural as the filmmakers could have intended.

Even using the EZ View feature, which removes the black bars from letterboxed movies by either vertically stretching the image top to bottom (Screen Fit) or enlarging the entire image (Zoom In) revealed no appreciable loss of image quality, as no new minute digital flaws were suddenly exposed by the enlargement. In fact, the DVD-V3800 delivered a mostly enjoyable picture regardless of the demo discs I chose, preserving each tiny bit of digital flotsam in Finding Nemo and rendering every last nuance lurking in the murky shadows of Attack of the Clones. Switching on the black level (enhancement) produced a slightly brighter picture with increased contrast, which revealed significantly more detail in dark live-action content like Clones, versus the NTSC standard when the black level was off.
In my more-picayune experimentation, chroma separation leaves a little to be desired, as unwanted rainbow effects are definitely present on fine-line test patterns from the component output. The poor deinterlacing introduces flicker on the most demanding material, leaves jaggies on challenging geometric edges, and feathers some video text. To be fair, these flaws are rarely visible during normal movie watching, although they're legitimate limitations revealed by appropriate testing.
The DVD-V3800 is Samsung's first deck to offer flash memory support, so I can forgive the glaring omission of the ubiquitous CompactFlash cards (perhaps due to their comparatively bulky form factor). But this is a foray into a whole new direction for consumers who want the best of yesterday and today, plus a little bit of tomorrow, in a single chassis. At this point in time, everyone wants DVD; so, if you're also still a VHS fan and your digital camera or portable MP3 player supports the Memory Stick, MMC, SD, or SmartMedia formats, Samsung's stylish super-deck does more than most—and opens up a host of possibilities.
Highlights
• Convenient multi-format flash card reader built in
• Plays VHS and S-VHS
• Solid progressive-scan DVD performance