Salamander Unveils Custom Cabinets for Hisense Short-Throw Projectors
Connecticut-based AV furniture specialist Salamander Designs has introduced a line of custom wall cabinets designed specifically for Hisense "Laser TV" short-throw 4K projectors, including the
100-inch model
we reviewed a year ago, which made our 2018 Top Picks of the Year list.
Built to accommodate Hisense models 100L8D, 100L10E, 120L10E, and 150L10E, the $3,599 cabinets provide a "seamless stealthy solution" that negates the need to open walls and ceilings to run cables.
Each wall unit has a flat top with a recessed projector cavity, space for components and speakers with "pinch-out" quick-access rear panels, a sturdy extruded-aluminum frame, a built-in infrared (IR) repeater system for through-the-doors remote control, and louvers to promote air flow to keep equipment cool.
Eight different styles are available: Chicago (black oak with a grass texture), Zurich (brown with textured doors), Oslo (black oak sides with black glass doors), Miami (gloss white), Berlin (shown above, wenge with wave textured doors), Denver (natural oak or medium walnut with bark-textured doors), and Milan (white with a dimensional diamond pattern).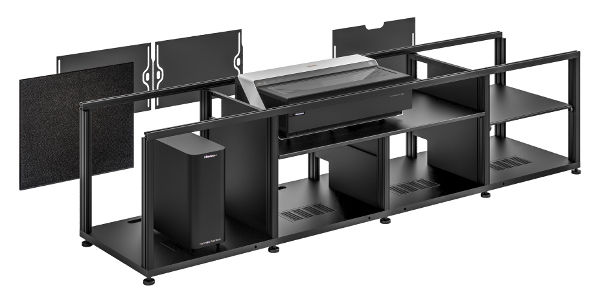 A variety of bolt-on options and accessories are available, including a fan-based active cooling system and "designer footing."
For more information, visit salamanderdesigns.com.