Rotel A14MKII Integrated Amplifier Review Page 2
For a mostly basic integrated amp, the A14MKII offers a high level of setup flexibility. You can configure brightness level for the front panel display and maximum volume level at turn-on. An off-timer lets you set the time that elapses before the amp turns off after sensing no audio input, and you can configure most inputs for fixed or variable gain. And that's just the Rotel's basic setup; advanced control ports allow for additional configuration options.
Performance
I've gone all in on music streaming, especially using Roon, so my CD and vinyl collections have been somewhat neglected over the past few years. But hey, they're still there, and the rotation of the Rotel integrated amp into the system gave me a chance to revisit some fave discs. Starting out with CD, I played "Jubilee Street" from Nick Cave and the Bad Seeds' Push the Sky Away. Heard on the Rotel/GoldenEar Tech combo, Cave's vocals had a good sense of body and focus, and the drums came across with appealing crispness. The overall sound was balanced and engaging, with a refined top end that made for very easy listening. As the strings seeped in midway through and gradually built up to a dramatic crescendo, I didn't hear any sonic compromises, even when pushing the volume to a near-uncomfortable level.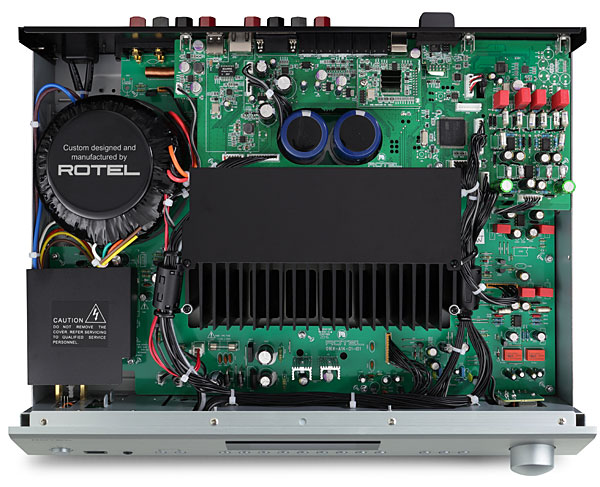 My next spin was the title track from Charles Lloyd's The Water is Wide on the ECM label. The Rotel's refinement was clearly in evidence here, with the breathy texture of Lloyd's tenor saxophone, Billy Higgins' shimmering cymbals and lightly brushed snare, and John Abercrombie's subtle guitar flourishes all coming across vividly. Larry Grenadier's standup bass sounded strong and well-defined, and during the moments where Lloyd lets loose and free, his sax had an unstrained quality that allowed it to float and ascend into space.
Playing these same tracks plus a few others using the Legend L100s, dynamics remained very good, with the Rotel eliciting rich bass from the flagship Polk Audio bookshelf speakers. I did sense a slightly dull character on a few cuts, however, with percussion losing a degree of snap, and vocals receding a bit into the mix. After concluding that the GoldenEar Tech towers made for a better match with the Rotel integrated, I swapped them back in for the rest of my listening.
Powering up my laptop and switching over to streaming, I played Rivers of Mercy (24-bit/44.1 FLAC, Qobuz), from the new Tears for Fears album The Tipping Point—the band's first following an 18-year hiatus. The track's expansive stereo mix came across in an impressively lush and sweeping manner, with clear separation between Roland Orzabal's vocals and the song's background chorus. Subtle flourishes of guitar and drums emerged vividly from the mix, which, despite its density and complexity (an even more impressive Dolby Atmos version of The Tipping Point is available on Apple Music and Blu-ray Audio Disc), never sounded the slightest bit murky or congested.
"Kelso Dunes," (16/44.1 FLAC, Tidal), a track by electronic musician Floating Points, features a driving "Motorik" beat and electric bass line that provides a solid foundation for the layers of guitar and synths to build upon. The presentation here with the A14MKII was cinematically wide, and even the harder-edged guitar tones failed to grate or lessen the smooth, full quality of the sound.
Turning to something more traditional, I next streamed Vaughn Williams' The Lark Ascending (24/96 FLAC, Qobuz) from a collection of the composer's orchestral works. The opening violin had a sweet, clear tone and sounded exceptionally well-defined as it took its solo flight. Orchestral colors were richly presented, with stand-up basses displaying impressive heft, and woodwinds and other strings coming through in a textured and lively manner.
With the A14MKII, it was clearly all good and then some on the digital front, but what about analog? Playback of some of my better-sounding LPs such as Ray LaMontagne's Til the Sun Turns Black revealed the Rotel's phono stage to be notably quiet, with an overall "smooth" character to the sound, that would make it a good choice for someone who has a more casual attitude toward vinyl playback. Listening to this same album, along with a few others, with my Plinius Jarrah phono preamp plugged into the Rotel, the sound was a bit more detailed and dynamic, but there was also a higher level of background noise compared to the A14MKII. My preference? I'd be perfectly content listening to LPs using the Rotel's built-in phono stage, but then again, when it comes to analog I'm part of the aforementioned "casual" camp.
Conclusion
With so many integrated amplifiers on the market offering built-in network music streaming, multiroom playback, and app-based control, Rotel's A14MKII might seem like a throwback to the simpler, good old days. But that's also part of the A14MKII's appeal. Many people still listen to music the old-school way using physical discs. For these folks, attaching their hi-fi to Wi-Fi or smart TV, or running a wired network connection to their listening room, isn't something they want to do. But even if they did want to stream music to the A14MKII, its PC-USB input would allow them to do so in a high-res format, while its Bluetooth capability is on tap for more casual, point-to-point music streaming. (Personally, since I don't like having my laptop in the listening room, I would buy an affordable streamer like the $599 Bluesound Node and pair that with the Rotel.)
No matter how you end up using the A14MKII, you're sure to be impressed by the clean, engaging sound delivered by its Texas Instruments 32-bit/384kHz DAC and surprisingly muscular 80Wpc amplifier. Once paired with the right speakers in my relatively large listening space, I was consistently satisfied with the level and dynamics I was getting from Rotel's step-up entry-level integrated amp. You could spend hundreds of dollars more for the company's RA-1572MKII, and you'll probably be just as happy with it. But given the A14MKII's great overall performance, you may not have to.