RMAF 2018: Two-Channel Heaven for Audiophiles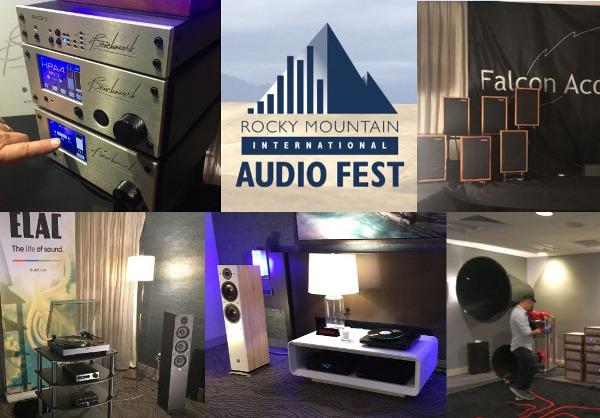 Every October since 2004, the nation's audiophiles have gathered in Denver for the annual Rocky Mountain Audio Fest. This year the show bids a fond farewell to the Tech Center Marriott, since after 15 years — including one where a hotel rebuild forced part of the show into tents in the parking lot — the 2019 event will make a move to the new Gaylord Rockies Resort & Convention Center, a larger venue near the airport.
Unlike mega tech shows such as CES and CEDIA, the Rocky Mountain Audio Fest caters to the dedicated home audio enthusiast. There's practically no home theater, surround sound, or custom installation products, and certainly none of the phones, drones, and televisions that seem to dominate CES these days. This is a show for people who listen to two-channel music using their two ears, whether it be over loudspeakers, or headphones.
Big high end audio shows like RMAF are where manufacturers will often pull out all the stops demonstrating the type of exotica you normally see only in pictures on a distant website. This five-way horn system from China's ESD Acoustic is a perfect example. Five field coil drivers per side, and five-way amplification from a wall of amplifiers. The E in ESD comes from well-known American horn speaker designer Bruce Edgar, so there is plenty of Western influence involved. The same can't be said of the music choices, which consisted primarily of Chinese classical music, which I found hard to relate to. Still, this system had the biggest wow factor on display. Price was a little unclear, but think two bedroom house kind of money.
While checking out crazy dream gear is fun, my main goal at RMAF was to dig out a few new nuggets of affordability. A good starting point is the collection of entry-level rooms RMAF puts together each year. Here you can check out complete systems ranging in price from as little as $500 up to about $5,000.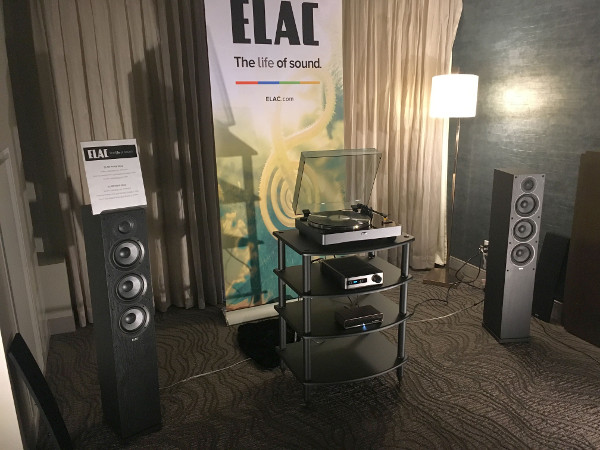 I was particularly impressed by the $2,500 room Elac had put together using their $598/pair Debut F5.2 speakers driven by the $699 Elac Discovery DS-A101G integrated amp. The price varied from about $1,800 to $2,400 depending on whether you fronted the system with the Elac Miracord 50 vinyl turntable ($499) or the Discovery DS-S101-G music server ($1,099). This system showed just how much you can do with budget speakers when the system is well-balanced and set up with care.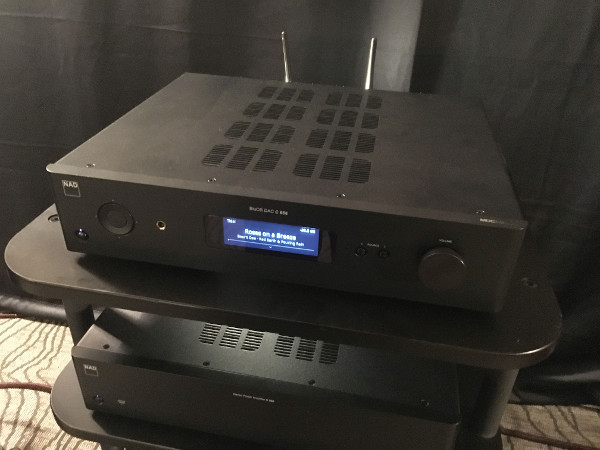 For more than 40 years NAD has been delivering the goods when it comes to affordable audiophilia, and that tradition continues with the C 658 BluOS DAC and digital streamer (available in late October for $1,499). This C 658 is a veritable Swiss army knife centerpiece for your system, with a BluOS streamer, preamp, high quality DAC, Dirac room correction, and even a phono preamp where you can connect the new $799 C 588 turntable. NAD also showed a beefed up version of their D 3020 integrated amp, the 60 watt per channel D 3045 ($699).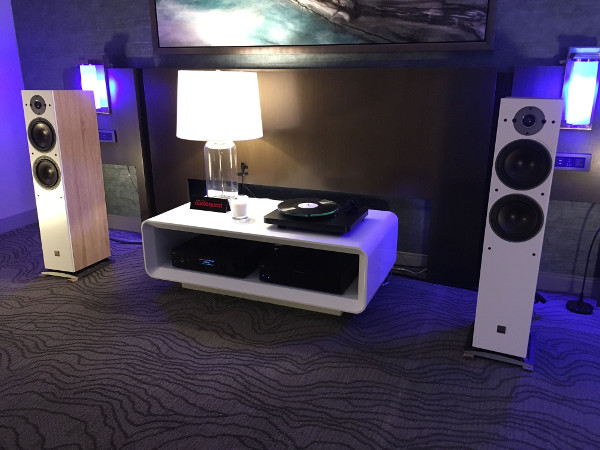 While the name Dali may be unfamiliar to most of us in the U.S., they are one of Europe's largest speaker manufacturers. That unfamiliarity is likely to change soon, as the Danish company makes a big push to increase their presence on this side of the pond. Their Oberon line shows just how much value you can deliver when you are big enough to make just about everything in house. The top Oberon 7 model sounded excellent at $1,399 a pair, with other models including a center channel and on-wall ranging from $549 to $1,099 a pair. The Oberon line is slated to ship in November.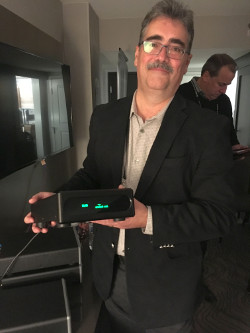 Minneapolis based Bel Canto Design's chief cook and bottle washer John Stronczer looks like a proud papa with the new e.One Stream ($1,595), combination DAC, streamer, and digital bridge. This was first seen at last month's CEDIA show, but now it's ready to ship. Another do-it-all box of digital tricks, the e.One Stream works as a streamer on your home network, but can also work in tandem with Bel Canto's Seek controller app running on your iOS device to connect to high quality streaming services like Tidal, Qobuz, and vTuner. It's also Roon friendly.
Benchmark is known for making some of the best affordable DACs around, although lately they have been expanding their lineup to include all-analog preamps and power amps. Shown for the first time at RMAF is the LA4 Line Amplifier ($2,495), featuring a neat touch screen controller on the front panel. Also new is the DAC3 B ($1,695), which strips out the existing DAC3's variable line output, making it a perfect partner for the LA4. Both units will be shipping later this month.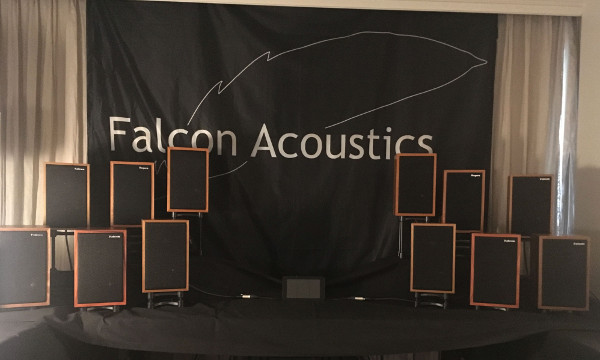 I love high end audio history, so I was fascinated to see and hear the history of the classic BBC-designed LS3/5a monitor speaker in the Falcon Acoustics room. They had set up several pairs of speakers showing the evolution of the design, along with some of the licensed (and unlicensed) copies made by other manufacturers. The extent to which Falcon has gone to recreate an authentic BBC LS3/5a ($2,995) is pretty mind boggling, including remanufacturing the original drivers to the exact same specifications as 45 years ago.
You would think that a hi-fi company celebrating its 50th anniversary would have a turntable hidden somewhere in its past, but not Cambridge Audio. Known for their electronics, and in particular their digital converters, Cambridge Audio has leveraged that expertise while developing the Alva TT direct-drive turntable. With Bluetooth aptX HD output it's ready to connect wirelessly to your digital infrastructure. Naturally, there's also a traditional analog output for those of us who believe analog should be kept analog. The Alva TT will be available in the first quarter of 2019 for $1,699 including Cambridge's own moving coil cartridge.
As the 2018 RMAF show wrapped up on Sunday, everyone from the visitors, to the exhibitors and even us press folks seemed happy with event, even though the weather in Denver was cold and damp. Still, that's better than last year when we were greeted by a few inches of snow! Next year the show will be a couple of weeks earlier, so I look forward to sunny skies at the new venue.