Rise Of The Guardians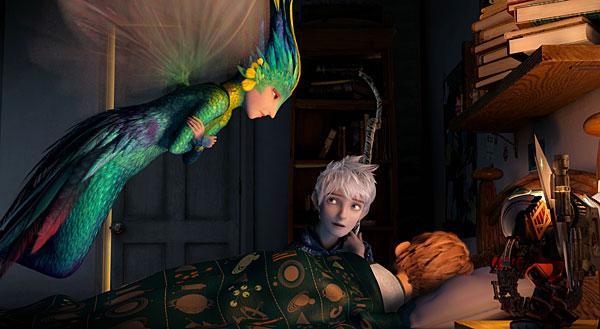 Based on a children's book series Guardians of Childhood by William Joyce, Rise of the Guardians would be better named Jack Frost, for despite the presence of a tattooed, Russian-accented Santa Claus (known as North here); a ready-for-action, Wolverine Easter Bunny; a silent, golden Sandman; and a cutesy Tooth Fairy (the other members of the Guardians), this is really Jack's story.
The movie was a box-office disappointment during the crowded 2012 holiday season. That may have been because of the creepy Pitch Black and his nightmare minions—a bit scary for the under-six crowd. Then there's the Guardian characters themselves, who deviate in significant ways from familiar mythology. Jack's origin story is also a little dark, and his all-for-fun tendencies lead a child into a nearsuicidal sled ride.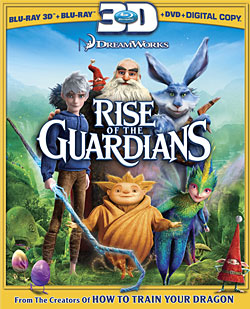 But it is a good story, brought to convincing life by spectacular animation. It's the best-looking computer-animated film I've yet seen, its brilliant color and resolution giving life to a production design that's so detailed, it will take several viewings to fully appreciate. And that's good, since this is now my go-to reference disc for computer animation.
The 1.85:1 Blu-ray definitely does the film's visuals justice. If your preference is for 2D, you'll see a bright and gorgeously rendered presentation. But the 3D version also popped beautifully and was sharp as a tack on the flat-screen set I used. The 3D isn't at all gimmicky, but simply adds a dimension that 2D can't offer.
Apart from a bit of edginess on some of the most hyperactive action scenes, which will depend more on your system than the soundtrack itself, the sound was similarly stunning. Special kudos to composer Alexandre Desplat's gorgeous and classically rich orchestral score. And employing a genuine opera star to perform a song over the end credits, in this case soprano Renée Fleming, is probably a first for an animated film.
Extras include a commentary track, several excellent HD making-of featurettes, two rudimentary games, and a DreamWorks trailer.
Blu-Ray 3D
Studio: DreamWorks, 2012
Aspect Ratio: 1.85:1
Audio Format: Dolby TrueHD 7.1
Length: 97 mins.
MPAA Rating: PG
Directors: Peter Ramsey
Starring: Chris Pine, Alec Baldwin, Jude Law
When boogeyman Pitch Black schemes to plant fearsome nightmares into the minds and hearts of children throughout the world, it falls on the Guardians to derail his plans. When they attempt to convince Jack Frost, a free-spirit prankster, to join them, he agrees only when things turn truly grim.