Rio 3D
Blu is a companion to Linda, and the two are inseparable. But when Brazilian ornithologist Tulio shows up, Linda learns that Blu is the only male blue macaw in existence and must mate to save the species. Linda reluctantly agrees, and she, Blu, and Tulio set off to Rio de Janeiro. This leads to events Linda never dreamed of back home in Moose Lake, Minnesocold. And when birdnappers, together with a particularly nasty jailbird, enter Blu's world, his adventures parallel hers.
Produced by Blue Sky Studios, the computer animation house behind the successful Ice Age franchise, Rio's story line doesn't feel all that promising at first. But it grows on you. While 2011 hasn't yet equaled 2010 for potential entries in the animation hall of fame, a chameleon, a panda, and now a macaw are more than enough to keep the current golden age of computer animation firing on all cylinders.
The choice of Rio as a setting for the story makes for some of the most brilliantly crisp and colorful animation you'll see in this or any year. From the opening song featuring a Busby Berkeley bird chorus line to the extended sequence in Rio's annual Carnival, you'll be picking your jaw up off the floor more than once. The 2D disc looked sensational on a big (101-inch-wide) projection screen. The bright 3D images really popped on a flat panel as well—although the 3D set I reviewed it on, the Sony XBR-55HX929 (reviewed in this issue) is one of the brightest examples of the 3D breed. It also helps that Rio was clearly produced with 3D in mind. A number of sequences make vivid use of the format but don't throw the effects in your face.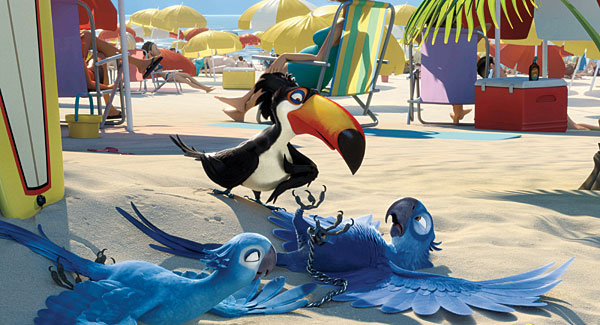 Rio is heavy on music as well, and the sound is good overall. My only beef—a minor one that won't trouble most listeners—is that some of the songs sound both cluttered and dynamically compressed—the proverbial wall of sound with no perceptible depth. Fortunately, this doesn't affect John Powell's score, which was recorded with a detailed, wide, and deep soundstage.
The extras include making-of featurettes, an unfinished deleted scene, a Rio de JAM-eiro Jukebox (a montage of the movie's songs), music videos, kid-friendly interactive features (a basic but educational exploration of the city of Rio and a Carnival Dance-O-Rama), and a short but hilarious Scrat cartoon.
Ratings
Picture: 5
3D-Ness: 5
Sound: 4
Extras: 4
Interactivity: 3
Specs
3D
Studio: 20th Century Fox, 2011
Aspect Ratio: 2.40:1
Audio Format: DTS-HD Master Audio 5.1
Length: 96 mins.
MPAA Rating: G
Director: Carlos Saldanha
Starring: Anne Hathaway, Jesse Eisenberg, Jemaine Clement