Review: Optoma PT100 PlayTime Projector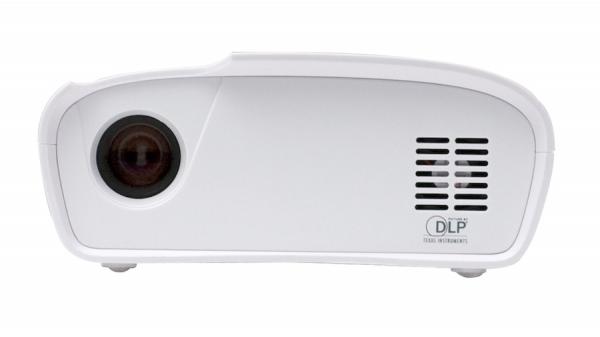 Optoma PT100 PlayTime Projector
$180 optoma.com
Key Features
• DLP projector with LED light engine
• 854 x 480 native resolution (16:9)
• Manual focus; no zoom or lens shift
• Built-in speaker
• Inputs: composite-video/stereo audio; RGB PC
• 7.8 x 3.2 x 7.8 inches; 1.7 lb
Providing a big picture at a relatively small price has been a Holy Grail-like pursuit for many display companies. Into the mix comes Optoma's PT100 PlayTime projector, a pint-sized LED-based DLP model that straddles the no-man's-land territory between a toy projector and a full-fledged home theater model.
Given its native 480p resolution and sub-$200 price tag, the PT100 isn't intended to replace either your HDTV or home theater projector. Instead, it's designed as a secondary, portable display best used for impromptu showings of movies and videogames almost anywhere there's a light-colored wall. With its small size—about 8 inches by 8 inches, and 3 inches high—and under 2-pound weight, the PT100 looks a bit like an Optoma home theater projector that's been zapped by a shrink ray.
LED-based DLP projectors, which use red, green and blue LEDs instead of a conventional bulb and a spinning color wheel, have a few advantages. One is that, unlike bulbs, LEDs don't have to be replaced. Another is that they're very energy efficient. And with no color wheel, there's less chance of the rainbow effect—intermittent flashes of color—common to most single-chip DLP-based projectors. The tradeoff, however, is fairly limited brightness — in this case a claimed 50 lumens. By comparison, my Optoma HD8000 projector—no light cannon itself—has a claimed light output of about 1,300 lumens, which is fine only because my home theater can go completely dark.
The unit's front panel houses just the projection lens, plus a small fan vent for dissipating heat from the LED light source. In my use, the projector always ran cool, and the fan was fairly quiet, unlike several Optoma home theater projectors I've tested. Connections are on the back, and with no HDMI or component-video inputs, there's no pretense of high-def glory — perhaps appropriate given the projector's 854 x 480-pixel native resolution. Instead, you'll find a composite-video jack, plus a VGA port for connecting a computer (though no VGA cable). There are also stereo RCA audio jacks, and a DC input for connecting the included power adapter.
All the controls—buttons for power, menu, and source, plus a triangular directional pad with up/down and left/right arrow buttons—are on the top of the unit. Fortunately, they're easily accessible, as there's no remote control. The up/down and left/right arrow buttons are used to control the volume, and to navigate the on-screen display. Using the menu, you can adjust the aspect ratio, image brightness, language preference, and image orientation, and select sources. Located just above the lens is a focus wheel, and a perforated area toward the rear acts as a grille for the built-in speaker, which is powered by a 1.5-watt amp.