Review: Meridian Sooloos Control 15 Music Server Page 2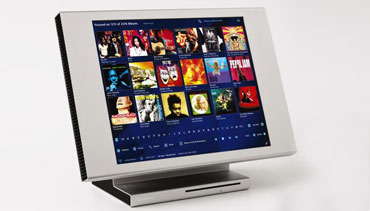 Setup
With the system reduced to a single chassis, installation is embarrassingly simple. This was literally a case where unpacking the component took far longer than the actual installation — a process that merely requires making an Ethernet connection to your home network and running a coaxial digital audio cable to your A/V processor/preamp. Power is handled by a large "brick"-type adapter, meaning that power-cord upgrades are out.
The Control 15 provides two other connections that will be of great significance to current Meridian gear owners. First is a DIN connection labeled Meridian Comms that supports legacy Meridian components. Second and more important is an RJ-45 connection labeled SpeakerLink that sends balanced digital audio and control signals to the company's powered speakers. (Meridian describes the connection as being "more robust, requiring less error correction, and producing lower jitter" than standard digital audio hookups.) With SpeakerLink, someone interested in assembling an incredibly simple, high-quality audio system need only buy a Control 15 and a set of Meridian speakers.
I was a tad disappointed to find no analog outputs on the Control 15 for a couple of reasons. First, analog outs are perfect for connecting to a housewide audio system, and when used with the company's wonderful — and free! — iPad app, you could enjoy the system all around the house. (Meridian does offer a separate component called Ensemble that links to the Control 15; it includes four analog outputs and a coaxial digital connection plus an additional terabyte of storage.) Also, after noticing a slight audio improvement in my system's sound when I recently tested Olive's 4HD music server with its top-shelf digital-to-analog conversion (read that review here), I was hoping to hear what Meridian could bring to the analog front.
The system's base has a slot-loading drive that's used for importing CDs, a process that takes about 8 minutes. Or you can use the Control PC software (despite the name, it's also Mac-friendly) to import music across a network. This is a great option if you have an existing library of ripped CDs, and it's the only way to import high-resolution FLAC fi les.
The Control 15 has some basic configuration options such as volume leveling, crossfade times, skin selection, file-format selection for exporting music, and Rhapsody and RadioTime account setup. The Rhapsody integration, which I'll discuss in a moment, is such a stellar part of the experience that Meridian Sooloos provides owners with a 6 month trial subscription to get well and truly hooked.