Review: LG BD670 Blu-ray Disc Player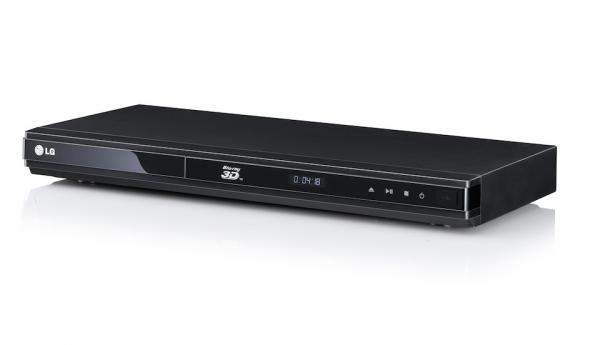 Blu-ray players are becoming less a means to play discs than a gateway to online services — and to any media stored on computers, smartphones, and iDevices lying around your home. Take LG's BD670. You might pick up this modest-looking machine thinking you'd use it to play Blu-ray and Blu-ray 3D discs, along with DVDs and CDs. But once you got it hitched up to your home network, you'd be surprised to discover how much cool stuff it can do — everything from tapping the deep online music reservoir that is MOG, to ID'ing the track/album/ artist name of a song in the soundtrack of a movie you're watching.
While companies like Samsung insist on making pretty-looking Blu-ray players, LG seems to favor no-nonsense design. A simple black box with only a few control buttons and a big Blu-ray 3D logo on front, the BD670 shouts basic. Its A/V connections are also basic: HDMI, component- and composite-video, optical digital audio connections, and stereo analog output. There are no multichannel analog jacks — but that's not a huge deal since most people buying this player will get audio via HDMI. The BD670 also provides a USB slot along with a LAN port if you prefer a hard-wired home network connection. (I used the player's built-in Wi-Fi for my testing.)
Like the player itself, LG's remote is nothing fancy. The keypad isn't backlit, but the button layout is clear and important functions (title, menu, home, info/display, back, etc.) are all clustered around the central cursor. Pressing the Info/Display key calls up a bar that lets you select things like soundtrack format, picture preset, and Gracenote Movie ID, a feature that calls up cover art, data, and a plot synopsis for the disc you've loaded. (Another Gracenote feature, Music ID, gets its own dedicated button on the remote.) LG also offers free iPhone and Android remote control apps to operate the BD670. With its speedy response, sonic and tactile feedback effects, and fairly complete array of controls, LG's iPhone app was a pleasure to use — the only other thing I could ask of it would be a virtual QWERTY keyboard to enter data.
SETUP
Since the BD670's setup menu lets you configure it for automatic 1080p/24 (Blu-ray only) and 3D output, getting this player up and running is a set-and-forget affair. LG gives you a couple of background graphics options, including a homey-looking wood-panel pattern that I settled on. (Some people might find this type of customization silly, but I sorta like it on otherwise-bland electronic devices.) Nero MediaHome PC media server software comes bundled with the BD670, but I found the player would read files both from both my laptop and a NAS server connected to my network using other programs, including Mac-specific ones. High-rez audio hounds take note: While the player's DLNA feature lets it stream a fairly wide range of video files, audio is limited to compressed formats like MP3, AAC, and WMA.