Review: JBL OnBeat Xtreme Dock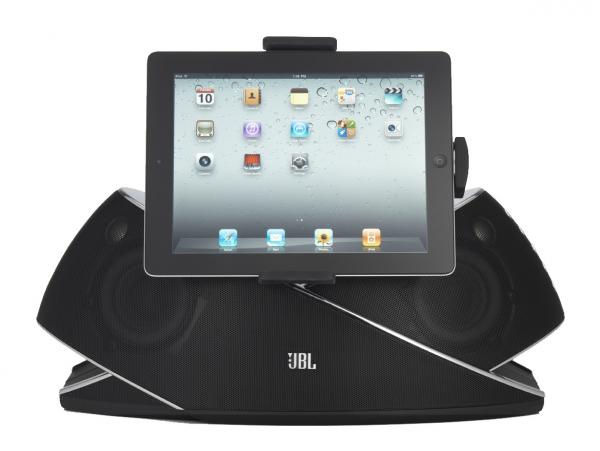 Here's a product that had three strikes with me before I ever heard it. First there's the name, which seems more appropriate for a Frito-Lay product. Then there's the lineage: JBL's smaller, less-expensive docks never impressed me. Last, Maroon 5 appears in the ads. What, I ask rhetorically, would the creators of "Moves Like Jagger" know about sound quality?
Of course, the idea that Maroon 5 purportedly gives the OnBeat Xtreme a thumbs-up doesn't mean it's bad. And of course, JBL has made some of the greatest speakers in the history of the universe. And of course, you can't judge a product by its name. And as it happens, I heard the OnBeat Xtreme first at JBL HQ in Northridge, California, and was pretty impressed.
The OnBeat Xtreme's dock mechanism accommodates iPhones, iPads, and iPods, and it swivels so you can choose vertical (portrait) or horizontal (landscape) orientation for the screen. Very useful if you want to watch Netflix on your iPad. It also has Bluetooth, so you can stream music or Internet radio from the phone when the OnBeat Xtreme is across the room on a shelf, but keep your phone right next to you for important calls. There's a speakerphone function, too. Plus a 3.5mm stereo input that connects to… well, almost anything. And a USB input, too, but that's just for syncing your iDevice with iTunes on your computer.
You control the OnBeat Xtreme through buttons on its side or through the included tiny remote. The remote also lets you access EQ settings. In addition to the default Music setting, you'll find Movies, Chat, Internet Radio, and Games. You can also access the EQ modes through your iDevice if you download the OnBeat Xtreme app through iTunes. But once you hear the OnBeat Xtreme in Music mode, you'll forget about those others in short order.
There's not much apparent audio muscle on tap, just two 3.5-inch woofers - but if you look close, you'll see they're really beefy 3.5-inch woofers, not the usual junkers found in most iPod docks. Two 0.75-inch tweeters augment the woofers. Each driver gets its own 30-watt amplifier, and the woofers vent out of a surprisingly fat port on the back.
What's lacking? There's no rechargeable battery, and there's no AirPlay capability, but I'll take Bluetooth over AirPlay any day. Also, you can't get it in bold colors. Bummer.
Xtreme Performance?
It's immediately apparent that the OnBeat Xtreme, despite its in-your-face industrial design, wasn't intended to compete with a typical iPod dock, or even to please mainstream tastes. It was obviously designed to deliver high-quality, accurate audio, rather than the pumped-up bass and exaggerated highs you often hear in low-priced docks. It's an iPod dock for serious listeners
Like a really good high-end minimonitor, the OnBeat Xtreme's sound is extremely open and ambient. It never seems like it's coming from a plastic box, as the sound of most iPod docks does. When I played the Replacements' "Alex Chilton" - a colossal-sounding rock production - the OnBeat Xtreme's soundstage practically exploded out of the little box, delivering a huge, exciting sound. It wasn't just dazzling, though; it was also accurate. Paul Westerberg's vocal sounded exceptionally clear, with just a slight trace of sibilance but none of the bloated sound that the vibrating, flimsy plastic parts of so many iPod docks produce. The bass and kick drum sounded super-tight (JBL really nailed the port tuning on this thing), even if the bottom end wasn't as loud as I've heard from some competitors.
While the OnBeat Xtreme was blowing my mind with its big sound, it was also faithfully extracting every last bit of detail in my MP3s. I was amazed to hear new subtleties in the guitar and drums - a little more crunch in the chords, a little more dynamics in the snare and cymbals - when I played a time-worn old fave from my teen years, Drastic Plastic by the British prog-rock/proto-New Wave band Be-Bop Deluxe.
The detail in the percussion from one of my go-to, all-purpose speaker testing tracks, "Train Song" from Holly Cole's Temptation CD, was spectacular. I also got a well-embodied sonic image of Cole's voice, which I'd expect from a good stereo system but never expected from an iPod dock. The OnBeat Xtreme even reproduced the brutal low bass note that begins the tune with superb definition, something most inexpensive subwoofers fail to do.
I was lucky enough to have on hand two other very good high-end speaker docks - the $699 NAD Viso1 and the $349 House of Marley Bag of Rhythm - when I checked out the OnBeat Xtreme. I plugged them all into my custom testing switcher to make direct comparisons easier.
On jazz saxophonist Stanley Turrentine's "Salt Song" (from the CD of the same name), the OnBeat Xtreme sounded simultaneously smoother and more detailed than the other docks, which is a tough trick to pull off. It also had a bigger, more open sound.
It didn't compete so well on Jeff Beck's punishing version of "Rollin' and Tumblin'" from the You Had It Coming CD. The NAD and the Marley both delivered considerably more bass power and lower distortion. Same for Steve Earle's "Goodbye's All We've Got Left" (from Guitar Town). With the other docks, I suffered little or no sonic penalty for cranking up the tune; with the OnBeat Xtreme, the sound thinned out and distorted as the volume rose from normal listening level to party level.