Review: Eton Rukus Solar Portable Bluetooth Speaker System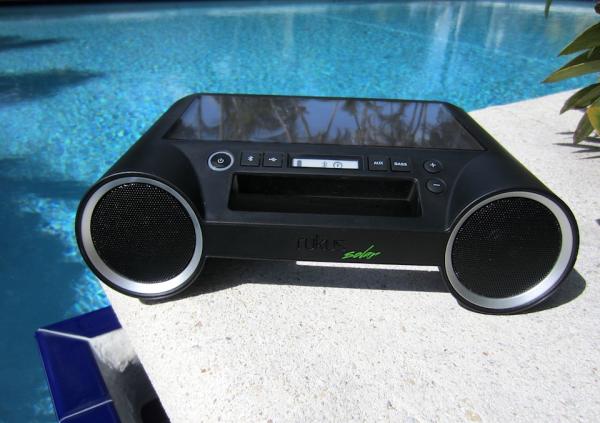 If you've ever tried to jazz up a party with the speaker built into your iPhone, you know how pathetic that can sound. These days, everyone is coming out with portable speaker systems (don't call them boomboxes!) for MP3 players, but they all require one thing: Power. Now, we all love power, but AC power isn't always available where we want to party (eg. poolside or the beach). And while the battery run time on some portable players is impressive, it's not infinite and bringing spare batteries is a hassle. If only we could harness the power of, say, the sun to extend the battery life.
Eton is a company known for making portable radios, emergency weather radios, and even some hand-crank charging radios. Leave it to them to come up with a solar-powered speaker system. The Rukus compact system features a solar panel on one side. The panel's output can't quite keep up with the battery drain at max volumes but it does dramatically extend battery run time. If you're not playing, the panel can charge the internal battery for nighttime playback. There is also an AC charger to charge the battery and run the Rukus when AC is conveniently nearby. If you're near a pool — which isn't really a great mix with AC power — we recommend battery power.
Now, sure, power from the sun is certainly cool enough. No messy wires, right? Well, the Rukus is also equipped with Bluetooth, so no wires are required to get music into it either. So much coolness on a sunny summer day. Pairing was very simple - just press and hold the Bluetooth button for 3 seconds, and it searches for a Bluetooth signal in the area. The Rukus uses AVRCP for one-touch Bluetooth pairing and control and it has A2DP for good quality sound. I used the Jaybird iPhone apt-X adapter with an iPod Nano, and the signal was solid from about 30 feet away. Bluetooth connectivity is great because you can keep your phone in your pocket (or next to your deck chair) for taking calls or changing songs. This is also a standard mini-jack input for non-Bluetooth devices.
If you're worried that the Rukus will outlast your iPod, do not fear. The Rukus has a USB port (power only, not data input) that will use the sun's rays to charge up your iPod, iPhone, or any device that charges via a 5V USB port, including portable GPS devices. Eton claims 8 hours of Bluetooth playback on a single charge — I started mine 13 hours ago and it's still showing 50% charge. Be warned however, that charging a device via the USB port will decrease battery run time.
Conveniently, a handy elastic sleeve near the USB port holds your device while it's charging. A small nitpick: people who have used a true docking stand might be annoyed that you have to remove your device from this sleeve to skip songs. However, no one is forcing you to use the sleeve — if you're playing DJ, just set your device wherever it's handy.
The Rukus Solar is a nice-looking device. The two full-range speakers flank the large solar panel. Their wide set design gives the Rukus fairly good stereo separation; although we can't help thinking the speakers resemble Pringles cans. In addition to volume up and down buttons, there's a power button that illuminates with a green glow when the Rukus is on, a Bluetooth button, USB charging on/off button, AUX on/off button, and a bass boost. There is a small, simple E-Ink display that uses very little power. It indicates battery power, USB on/off, Bluetooth status, solar charging, and AUX on/off. The display can be switched between black or white backgrounds by holding the power switch for 5 seconds. Interestingly, there isn't any visual indication that the bass boost is engaged, nor is there a volume indicator. However, the power light will flash when you've hit either the minimum or maximum volume. It would be nice if there was some indication when you're raising or lowering the volume. What would be really cool is if the display sensed if the Rukus was standing up or on its side and flipped the display accordingly. Maybe the next generation will do that. It doesn't come with a printed version, but an instruction manual is available online; solar power and conservation — these guys think of everything.
When running off batteries, the Rukus doesn't play very loud — Eton claims 7 watts per channel, and it sounds like it might be putting out around 5. Plugged in, it plays a little louder. I listened to Train's "Drive By", and sadly, its driving kick drum lacked any serious deep impact. Even with the bass boost engaged (and I really wish there was a way of knowing if it's on or not) there wasn't any deep bass. The boost just increases the level of the lower midrange. Oddly, there is too much of this low midrange boost with it on — it would be nice to have it about half as loud as it is. The sound gets very thin at softer listening levels. The high-end is slightly veiled, but it has a good, clean and natural upper midrange and low treble.
Obvious sonic and interface limitations aside, for an outdoor system, it's more than adequate. The Eton Rukus Solar is a very clever product. Most rechargeable devices force you to plan ahead, making sure they're fully charged before you use them. With the Rukus, whenever the sun is shining and a party's starting, you're ready to roll.