Review: Beats by Dr. Dre Pill Bluetooth Speaker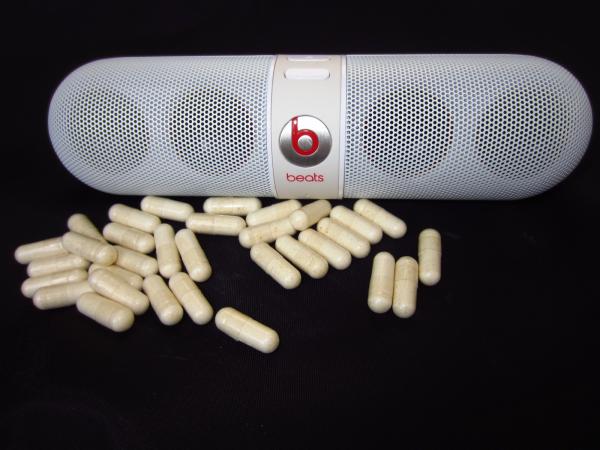 The Beats Pill is another portable stereo speaker launched onto an ocean of portable stereo speakers. But it features cool cosmetics, upscale tech features, and best of all - that unbeatable Beats logo. Alert the hipster audiophiles, stat!
The genius of product design happens something like this: you take a familiar, ordinary item like a portable stereo speaker, and redesign it so it suddenly appears fresh and interesting. That is accomplished, in part, by tapping into whatever the current design milieu happens to be - in this case, Apple-like minimalism. To help further differentiate it from other products, you include particularly useful features. Finally, in the case of audio products, it helps if it actually sounds good.
When you open its tres chic packaging (e.g. one flap has a magnetic clasp), you'll find the Pill encased in a plastic bubble with a pull-off backing. You know - like a pill. Fun. Further, the Pill is also encased in its own zip-up hard carrying case which is also shaped - like a pill. The ensemble also includes a carabiner for artfully carrying your audio meds, a USB wall charger and mini-USB cable, and a 3.5-mm audio cable. One bummer: the skin-tight case doesn't have room for a nano or even cables.
The Pill (available in white, black and red) is shaped like a gelcap. That's not a bad approach for something that should be sausage-shaped - or at least elongated anyway - to accommodate stereo playback. Mainly though, it's a nice design that fits in nicely with the style-conscious product line at Beats. Its length is a relatively svelte 7.5 inches and it weighs 11.5 oz. You don't need a prescription for this pill; it's available over-the-counter for $200. As far as premium portable speakers go, that's not too hard to swallow.
Operation is simple. A trio of buttons provides power and volume; pressing and holding the glowing Beats logo lets you pair Bluetooth devices; two jacks provide audio in and out; there's also a mini USB charging port. Its Bluetooth 2.1 supports HFP and A2DP along with SBC, aptX, AAC codecs and the Pill can remember up to 8 paired devices. Also onboard is NFC (Near Field Communication) Bluetooth pairing; simply touch another NFC device to the Pill's NFC logo and they pair. Conveniently, a microphone (with echo cancellation) lets you make and take calls via Bluetooth without messing with your phone. Finally, an auto-shutoff feature powers down the party if no audio input is detected after 30 minutes.
Its pharmaceutical cloning aside, the Pill's main mission is to play music. Four small (about 1-inch) speakers are aligned behind the metal grille, angled slightly upward. Backed by 12 watts of amplification, the Pill played quite loud without undue distortion at maximum volume, but its frequency response proved to be limited.
In particular, we auditioned the Pill with Alex Clare's "Too Close" from his debut album The Lateness of the Hour (a song brought to prominence in a Microsoft commercial). The first verse of "Too Close" sounded accurately simple and understated, with a good balance between an open-sounding kick drum, a bright, clean guitar and a pervasive percussion track. Clare's voice had a natural timbre in the verses, and it stood out even when the choruses filled out with more complex instrumentation. His voice never came close to becoming sibilant or distorted except at the very loudest listening levels. All in all, the Pill handled the intricate sounds of this song deftly. Obviously, a small speaker cannot generate the thumping bass that is a trademark of Beats headphones but it still had a presence that was impressive on a player of this size.
The Pill was the perfect prescription for the fresh sound delivered by Of Monsters and Men's "Little Talks" from their debut album My Head is an Animal. The interplay between lead vocalists Nanna Bryndís Hilmarsdóttir and Ragnar Þórhallsson showcased the balanced sound of the Pill. Their voices can sound thin and tinny if not played on a quality system, and the Pill delivered a nice, clear upper range on this song about insanity. Their voices are in a similar range, yet on playback they remained distinct and articulated. More interesting than the pairing of lead vocals is the addition of trumpet, accordion and the boisterous chants from the rest of the band. (No wonder this band won Iceland's biggest music competition.) "Little Talks" has a thick and elaborate mix, and yet the details were all present and distinct on the Pill. Again, the bass was pulled back, but what bass there was had a clean sound. The bass guitar and kick drum were both audible and had some punch, especially when listening at louder levels, but the deep bass impact was missing.
The sound quality via (non-aptX) Bluetooth was almost identical to wired sound, though we detected slightly more harshness in the upper ranges when listening at loud levels. Although its Bluetooth range specs at 30 feet, an Apple nano and the Pill started losing connectivity at around 15 feet indoors. Still, the convenience of a wireless Bluetooth connection is a must-have feature. The Pill claims 7 hours of playing time from a full battery charge, at an average sound level of 80 dB. At a somewhat lower level, we got 8.5 hours.
The Pill will be widely compared to other Bluetooth portables such as the Jawbone Jambox, another hip, compact speaker. The Pill's sound quality compares favorably to the Jambox, and the Pill can play a bit louder. Also, the Pill's form factor makes it more expediently portable. Of course, anyone looking for a small, quality speaker should also check out the excellent Soundmatters FoxL.
Measurements
Frequency response
263 Hz to 20 kHz ±8.7 dB on-axis
I didn't get a chance to measure the sample of the Beats Pill that Ken and Leslie tested, but as it happens, a friend brought a Pill by my house for me to hear. I didn't have time to run a full set of measurements, but was able to grab a quick on-axis frequency response measurement. To do the measurement, I set it atop a 1-meter stand, placed the microphone at a distance of 0.5 meter from the left-most driver, and piled attic insulation on the floor between the stand and mike to absorb the floor bounce. I used the quasi-anechoic measurement capability of my Clio FW analyzer to eliminate reflections from surrounding objects. I got the bass response using a close-miked measurement, then spliced that at 200 Hz to the quasi-anechoic on-axis meausurement. I fed the test signals into the left channel of the Pill's 3.5mm line input. The quasi-anechoic measurements were smoothed to 1/12th octave.
The Pill's response is characterized mostly by a large emphasis between 2 and 16 kHz, which will likely make it sound subjectively thin. If I'd have had the chance to do my usual full set of measurements across a ±30-degree listening window, the averaged response would show a more modest treble peak-although given the broad dispersion of the 1-inch drivers, the treble wouldn't be attenuated all that much off-axis. There's no bass response, which isn't much of a surprise considering the driver complement.
-Brent Butterworth
Bottom line
The Beats Pill is a terrifically trendy entry into the hot portable speaker market. Its clever druggie styling upholds and even improves upon the Beats cool factor. Even better, its hard case and carabiner are no joke; you can easily take this system with you. Plop it on a table, pair it to your phone or tablet's playlist, and kick back. Sound quality is perfectly adequate, and the ability to make and take calls is super convenient. This Pill is chill.
Well, okay. One more: Is that a Pill in your pocket, or are you glad to see me?