REL T3 Subwoofer At A Glance & Ratings
AT A Glance: REL T3 Subwoofer
Subwoofer: T3
Connections: Neutrik Speakon high-level, line-level, LFE with separate volume control
Enclosure Type: Passive radiator
Woofer (size in inches, type): 8 active (1), composite cone, 8 passive (1), composite cone
Power Rating (watts): 150
Crossover Bypass: Yes
Available Finishes: Cherry, Black, White
Dimensions (H x W x D, inches): 13.75 x 11.2 x 14
Weight (pounds): 27
Price: $598
These listings are based on the manufacturer's stated specs; the HT Labs box below indicates the gear's performance on our test bench.
HT Labs Measures: REL T3 Subwoofer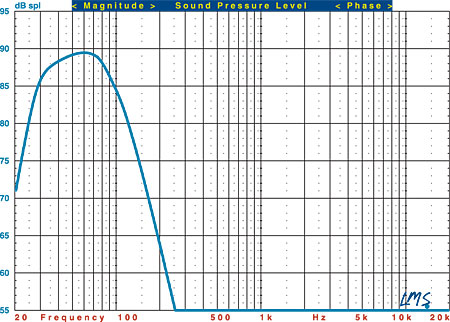 This graph shows the quasi-anechoic (employing close-miking of all woofers) frequency response of the T3 subwoofer (blue trace).
The T3's close-miked response, normalized to the level at 80 Hz, indicates that the lower –3-dB point is at 30 Hz and the –6-dB point is at 27 Hz. The upper –3-dB point is at 97 Hz using the LFE input.—MJP
REL T3 Subwoofer
Build Quality: Build Quality 93 Good
• Finished solid-maple side rails
• Crossover and volume controls with detents
Value: 96 Excellent
• High-end audio performance at a budget price
• Stylish and compact design
Features: 93 Good
• Separate volume controls for speaker-level and LFE inputs
• Neutrik Speakon high-level connector
Performance: 94 Good
• Established a bass underpinning for the system
• Created bass output with texture and nuance
Ergonomics: 90 Good
• Small cabinet size and forward-firing passive and down-firing active provide more placement options
• Side cabinet rails are convenient for lifting
Overall Rating: 94 Good
Although there are less expensive subwoofers available, it's very difficult to find one that blends so well with the main speakers and provides such a sense of space when playing back movies or music.
General Information
REL T3 Subwoofer, $598/each
REL
(510) 843-4500
www.rel.net
Sumiko Audio
(510) 843-4500
www.sumikoaudio.net