Reference DVD Review: Hairspray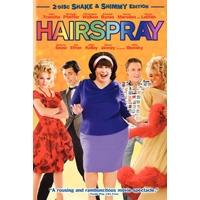 New Line
---
Movie •••• Picture •••• Sound •••• Extras ••••
Hairspray has quite an enduring and endearing history, starting as an idea in a TV show before becoming a film, a hit Broadway musical, and then returning to theaters as a big adaptation of that stage musical. A 40-minute featurette included in this two-disc set covers that journey, with interviews and archival photos. Along with a gorgeous transfer, excellent sound, and more enjoyable extras, it helps make this DVD yet another winning installment.
The picture really pops and sizzles. The blazing colors are bright and steady, and skin tones are perfect from start to finish. Images are so sharp, you might feel like you're watching high-def. Of the two 6.1-channel sound­tracks included, the DTS ES is more distinct in the higher ranges, while the Dolby Digital EX is smoother, with more focused bass. Although both are well balanced, they keep most of the action up front, offering little in terms of surround effects beyond crowd ambience.
In addition to the production featurette, there are two commentaries - one a breezy reminiscence by director Adam Shankman and star Nikki Blonsky, and the other an informational discussion between producers Craig Zadan and Neil Meron. You also get an 80-minute making-of documentary, five deleted scenes, footage of song rehearsals, alternate-angle edits of the finished numbers, sing-along subtitles, and instructions for two of the movie's dances.
more Entertainment reviews Back to Homepage What's New on S&V
LATEST VIDEO