RED's Scarlet Beauty Update
Scarlet is the new black. Really. This Scarlet is the much-anticipated 3K camera from RED Digital Cinema. Finally we have a sneak peek at this beautiful bombshell.
Scarlet is a 3K digital camera that's expected to retail for under $3,000. It has a 2/3-inch 3K sensor, built-in 8x T2.8 Zoom lens that maintains speed through the zoom, 4.8" flip-out LCD screen, built-in stereo mic, internal removable battery, and dual CF card slot.
No one has known what Scarlet would look like. Keep reading to see what everyone is talking about.
Do we need to say anything else? -Leslie Shapiro
Via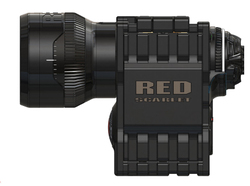 LATEST VIDEO
WHERE TECHNOLOGY BECOMES ENTERTAINMENT