The Quiet Man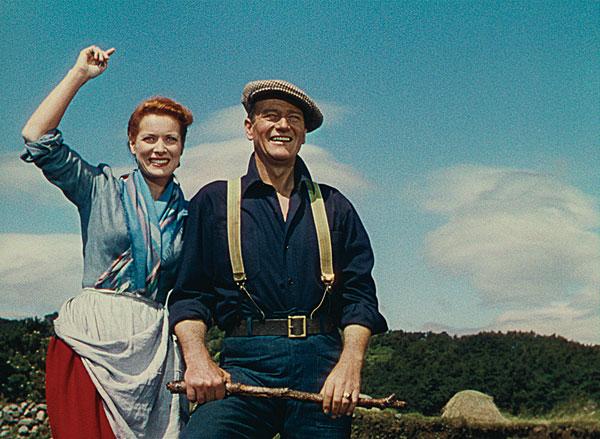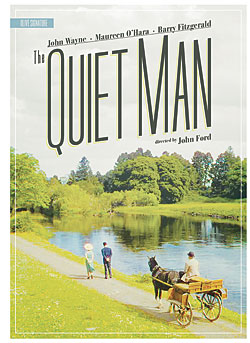 The film won Oscars for Best Director and Best Color Cinematography, and this "Olive Signature" Blu-ray offers a glorious 1.37:1 presentation of a 4K restoration from the original camera negative, with a consistently high AVC bitrate. A sumptuous Technicolor production, The Quiet Man boasts gorgeous location photography, frequently beneath overcast skies that give the movie a subdued, supremely natural look that's still razor-sharp. Sean's go-to tweed jacket is mostly spot-on, showing only a hint of flicker. Faint noise can be detected, along with modest grain, more noticeable in rear-projection shots and dissolves. Interior scenes lean toward a warmer palette, while little peculiarities of focus from the original lensing are maintained.
The DTS-HD Master Audio 2.0 rendition of the mono soundtrack is pleasingly roomy, with surprisingly wide dynamic range. Thunder, howling wind, and the intermittent crack or crash are darned near effortless, and the left/right spread even helps to make rain sound a bit more believable. Victor Young's memorable music remains as enjoyable as ever. Dialogue is perfectly balanced throughout, compromised only by the accents and dialect.
The disc's bonus features put a decided emphasis on director John Ford, and rightly so. Ford biographer Joseph McBride delivers a solid audio commentary, and expert Tag Gallagher has created a visual essay that weaves together stills and extensive clips to provide deep insight. There's also a quick backgrounder on Republic Pictures, and finally Leonard Maltin's 1992 "The Making of The Quiet Man," in nostalgic SD.
Blu-Ray
Studio: Olive Films, 1952
Aspect Ratio: 1.37:1
Audio Format: DTS-HD Master Audio 2.0 Mono
Length: 130 mins.
MPAA Rating: Not Rated
Director: John Ford
Starring: John Wayne, Maureen O'Hara, Barry Fitzgerald
Bigger-than-life John Wayne stars as Sean Thornton, a mild-mannered American returning to his native Ireland, seeking nothing more than a peaceful life in a charming village. But his homecoming is soon complicated by the sight of a tempestuous redhead (Maureen O'Hara) and by the aggressions of a blustery local bully... who just so happens to be her brother. Sean does his best to blend into the colorful community, occasionally led into an inadvertent clash of cultures, and ultimately forced to confront a dark secret from his past, all culminating in one of the most satisfying two-fisted finales in movie history. Much of the story might seem a bit quaint or even politically incorrect to modern audiences, but The Quiet Man endures as a sweetly irresistible bit of entertainment, quite possibly inspiring an urge to visit The Emerald Isle or at least throw back a pint.