Q Acoustics Speakers Debut in America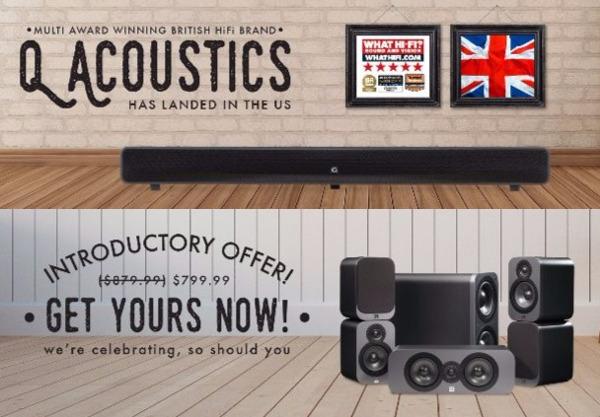 Q Acoustics, which claims to be the UK's fastest growing loudspeaker brand, today launched a website offering a full line of home speakers. Products are also sold on eBay, Amazon, and the pro audio site Reverb.com.
The lineup includes five two-way bookshelf speakers ranging in price from $130 to $430/pair, three floorstanding models priced at $430, $620, and $1,200/pair, a six-piece compact 5.1 home theater system ($800), a dedicated center-channel speaker ($160), powered subwoofer ($360), and the Bluetooth-enabled Media 4 HiFI Soundbar ($380)—featuring a built-in subwoofer—which was named What HiFI?'s Product of the Year in 2015 and 2016. Speaker stands and wall-mount brackets are also available.
The company said all orders will ship from its warehouse in Atlanta, Georgia, "arriving in two days." Free same-day ground shipping is offered in the 48 contiguous states and the company has a 30-day return policy with a 15 percent restocking fee.
For more information, visit qacoustics.com.
WHERE TECHNOLOGY BECOMES ENTERTAINMENT