Q Acoustics Previews its 'Most Powerful' Subwoofer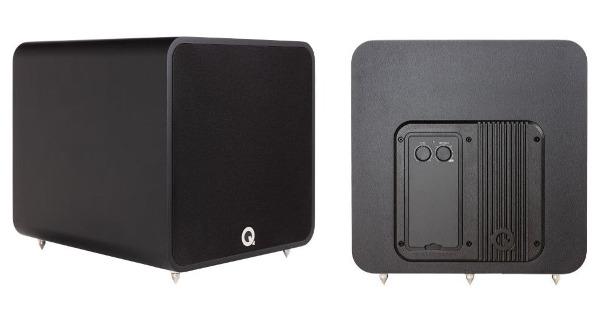 U.K. speaker specialist Q Acoustics has announced plans to launch its "largest and most powerful subwoofer" early next year.
The first in a new series, the Q B12 mates a long-throw 12-inch driver with a 220-watt Texas Instruments TPA3255 Class D amplifier in a sealed MDF enclosure measuring about 16 x 16 x 17.5 inches. The amplifier is designed to "minimize distortion across the board" and works in tandem with an active limiter that prevents the subwoofer from overloading.
Q Acoustics uses a special 'dart brace' to reinforce the cabinet and reduce resonance and vibrations, while a custom die-cast aluminum heat sink supports and cools the amplifier and power supply. The minimalist rear panel has controls for phase and crossover, which can be set between 70 and 225 Hz, and cleverly conceals all connections behind a panel with cables running out from the bottom of the subwoofer.
Initial specs peg the B12's operating at 28-300 Hz.
Slated to ship in January 2020, the QB12 will be offered in black or white vinyl and black or white gloss with adjustable spiked feet to provide additional support on carpet floors; rubber caps for wood floors will be available as an option. Prices will range from $599 to $799, depending on finish.
The subwoofer will also be included in three home theater packages, including the Top Pick-designated 3000i 5.1 system Sound & Vision reviewed earlier this year. With the new subwoofer, system price will increase to $1,845.
For more information, visit qacoustics.com.

SPONSORED VIDEO