Q Acoustics M2 Soundbase Review
PRICE
$350
AT A GLANCE
Plus
Even coverage from unusual drivers
Down-firing bass driver
Minus
No Dolby or DTS decoding
Limited EQ options
THE VERDICT
The Q Acoustics M2 soundbase is a well-built and well-voiced product whose cleverly constructed flat-diaphragm drivers provide wide dispersion and excellent overall sound.
I will never forget my first flat-panel TV. Its substantial metal chassis included large side-mounted speakers that sounded, by TV standards, pretty good. Sure, I used my surround system for movies, but it never would have occurred to me to use an external audio system just to watch the news. My next flat-panel TV was flatter, though not in any way that especially benefitted me, and its back-firing speakers were too awful to survive more than a single newscast. I hooked up a good pair of powered speakers and called it a day. Since then, TV enclosures have only gotten slimmer and flimsier. With rare exceptions, their speakers sound worse than ever. That's an opportunity for companies like Q Acoustics, which offers two soundbars and the new M2 soundbase ($350), reviewed here.
Bars and Bases and More
Mitigating horrible TV audio has turned soundbars and soundbases into busy product categories. In addition to serving that need, Q Acoustics is a full-service speaker company based in England, offering multiple floorstanding and stand-mount models — in addition to the 3000 series 5.1 system, which earned five stars for the speakers and 4.5 stars for the sub.
The M2 soundbase is fewer than 22 inches wide and can handle TVs of up to 55 pounds. The round-edged enclosure is made of proper speaker materials — namely, matte-vinyl-clad fiberboard, not plastic. Behind the metal grille is a 2.1-channel driver array. The two main channels are served by flat BMR, or Balanced Mode Radiator, drivers, which combine what the company calls "bending-wave technology and pistonic operation."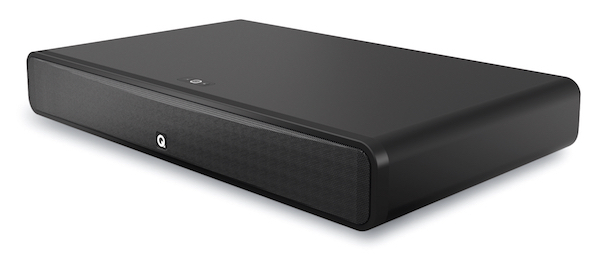 The technology was originated by the British company NXT, is currently licensed by the American company Tectonic Elements, and endows the little soundbase with what is billed as "180-degree coverage." An integral cone woofer of about 4 x 6 inches fires through a metal grille underneath the ported base, beefing up the bottom end. Each driver has its own source of power, with 20 watts each for the stereo BMRs and 40 watts total for the dual voice coil woofer.
A single HDMI jack with ARC, or Audio Return Channel, is on the back, along with digital optical, analog RCA, and analog minijack inputs. Bluetooth V4.0 includes aptX, AAC, MP3, and SBC codecs plus NFC pairing to connect devices with a simple bump (or the back-panel button). The USB input is for service only. Also on the back is a three-way switch that tailors output for placement on top of a cabinet, within a large cabinet, or within a small cabinet. (I used the first mode with my TV table.) And there's a two-position digital input gain setup switch with standard gain or increased gain to compensate for sources with oddball digital audio output levels.
Accessible from the small, bare-bones card remote, the MoviEQ mode conjures a modest balance change for movie effects. Presumably, the off position is the de facto music mode. There are no tone controls as such; the company probably prefers the voicings inherent in the placement and MoviEQ switches to be sufficient without adding complexity. Even so, it would have been nice to have the option of taming a boomy or bright source with some simple tone controls or user adjustment of some sort.
A soundbase (or bar) may be designed for one or more hookup configurations. The M2 is TV-centric: Connect all sources to the TV and one of the TV outputs to the soundbase, preferably the HDMI jack, whose ARC capability makes it bidirectional. This also allows the use of HDMI CEC, which lets you control the M2 with the TV remote. If your older flat-panel TV has pre-ARC HDMI inputs or no HDMI at all, it won't be able to feed the soundbase via HDMI. I used my pre-ARC TV's digital optical output to connect it to the soundbase.
Signal sources included an Oppo BDP-83SE universal disc player for movies, a Panasonic DMP-BD87 Blu-ray player for CDs and Netflix streaming, a Samsung Galaxy Tab A 10.1 for Bluetooth streaming, and a Spectrum cable box for general TV watching. All were set to PCM output to communicate with the M2; the soundbase has no onboard Dolby Digital or DTS surround decoding. Surround soundtracks were downmixed to stereo at the source. I gave the turntable a rest. Both movies were on Blu-ray with DTS-HD Master Audio soundtracks.
Voice of Reason
The M2 seemed carefully voiced to cover all bases. It was clear and up front in the presence region but not especially bright or harsh. While the enclosure did reveal a smidgen of knuckle-rap coloration, it was otherwise pretty solid, and the results sounded that way. Bass was sufficient to make male voices sound complete. Only rarely did an especially deep voice, recorded with an especially aggressive bottom end, call unwanted attention to the down-firing bass driver. Neutrally recorded voices were dialed in just right. Tonal shift between the MoviEQ and EQ-off modes was audible but minimal. The off mode was marginally less aggressive, which suited TV programming with blaring SUV ads. But if you're not into tweaking your audio system, you might choose one or the other and just leave it that way, likely with no harm done.
The DTS pre-show logo trailer that heralds the Bruce Willis crime thriller First Kill gave an instant demonstration of what the M2 could do. It had a good dynamic kick. Surround effects were tightly bound to an area a few inches in front and to the sides of the soundbase; keeping their dimensions modest also kept them from sounding off-puttingly fake. Rain-in-the-forest effects would have benefited from a real 5.1-channel speaker array. But they also made it clear that the MoviEQ mode was having a moderately desirable influence when I switched it off and back on. The score's deepest and loudest percussive parts were slightly understated, but that's not unexpected at this size and price. It's a tradeoff, but the upside is that a lack of bass heft helps avoid boominess and excessive vibration to a TV sitting on top of the soundbase, or the shelf below.