Push (Blu-ray)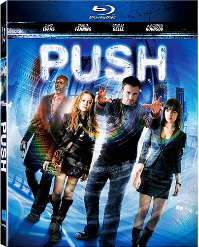 Hang on tight as a gang of super-powered paranormal operatives takes you on a white-knuckle thrill ride. The excitement starts when a future-seeing Watcher (Dakota Fanning) convinces a telekinetic Mover (Chris Evans) to help steal a briefcase that holds a billion-dollar secret. But to outrun government agents, they must enlist a mind controlling Pusher (Camilla Belle) who could be their salvation - or their doom.
The trailers for this one did nothing for me but this one it turned out to be quite a fun ride. With superheroes being the rage right nowtoday this was a refreshing change from the typical storyline. The action sequences weren't quite as elaborate as some of the more popular films in the genre, but I appreciated the change of pace and approach. Overall a fun bit of popcorn entertainmentflick.
Summit delivers a sensational HD presentation for this one. The image has incredible detail with an awe -inspiring amount of depth and definition. Colors have plenty of pop and the stylized palette really adds to the contrast and punch of to the image. Fine object detail is superb in close -ups and dimension is as good as anything I've seen. This is Aa tremendous looking title for Blu. .
The DTS-HD MA 5.1 soundtrack delivers some great punch and style. This film has with a lot of action and the innovative sound design is pretty inventive most of the time. Surrounds are used effectively and really open up the soundstage and I was am impressed with the level of sidewall imaging. going on. Dialogue is balanced nicely within the mix track and imaging spread across the main soundstage was is dead on.
Extras includes a feature commentary with the director and cast along with some deleted scenes. There is also a behind-the-scenes featurette that takes a closer look at the production and story.
A fun departure from the typical superpowers story, Push delivers a fun action ride. The presentation is outstanding making this one an easy rental recommendation.
Release Date:July 7, 2009
Studio: Summit
Movie: 6/10
Picture: 10/10
Sound: 9/10

Review System
Review System
Source
Oppo BDP-83 Blu-ray player

Display
Planar PD-8150 1080p DLP Projector
120" ST 130 Screen w/ Carada Masquerade Masking System
Electronics
Onkyo Pro PR-SC885 pre/pro
Outlaw Model 7900 Fully Balanced Amp
Exact Power EP-15A Voltage Regulator
Exact Power SP15x4 Balanced Power Transformer
Speakers
Paradigm Reference Signature S8 Mains
Paradigm Reference Signature C5 Center
Paradigm Reference Signature ADP Surrounds
Paradigm Reference Signature S6 Rears
Dual SVS PB12/2 Plus Subs
Dual SVS 25/31 Subs
Cables
Cables by Accell, Nordost, Blue Jeans and Better Cables

LATEST VIDEO