The Proposal (Blu-ray)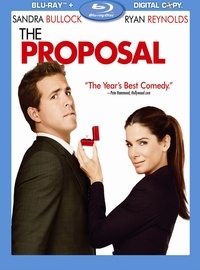 There's no other way to put it—Margaret Tate (Sandra Bullock) is not a very nice person. In fact, co-workers, especially her personal assistant Andrew Paxton (Ryan Reynolds), fear her because of her management style. But when Margaret discovers she's being deported back to her native Canada because she neglected her immigration paperwork, the quick-thinking executive announces that she and Andrew are engaged to be married.
It's rare that a romantic comedy makes me laugh out loud, but I was in stitches throughout most of this movie. Bullock's delivery as the bitchy executive is outstanding, and her onscreen chemistry with Reynolds is genuine. The second act drags on occasion, but the strong supporting cast of Mary Steenburgen, Craig T. Nelson, and Betty White add to the hilarity, especially White. The ending is nice an tidy—like all romantic comedies—but the journey is a lot of fun.
Disney delivers another nearly perfect AVC encode with sharp detail and rich color saturation. Contrast is spot-on, giving the image excellent depth, and the black levels are inky when called for, but brightly lit scenes dominate the production. An occasional shot exhibits some softness in the background, and some of the CGI backdrops are blatantly obvious, but the overall presentation is strong.
The audio track is very front-heavy, as expected from a romantic comedy, but the DTS-HD MA 5.1 soundtrack never disappoints. Dialog is firmly rooted in the center speaker, and the surround channels provide suitable ambience, especially in the Alaskan forest. The musical score opens up the soundstage and supplies the only LFE in the track.
Bonus features include an audio commentary from director Anne Fletcher and writer Peter Chiarelli, three deleted scenes, an alternate ending, and six minutes of outakes—all in HD. Additionally, there's a digital copy for use on portable devices.
Good romantic comedies are hard to find, but The Proposal has all the ingredients for a great date night. The main characters are likable, the story has a semblance of believability, and the ending is touching. Granted, it certainly helps that Bullock sports her birthday suit in glorious 1080p! Recommended.
Release Date: October 13, 2009
Studio: Disney/Touchstone
Movie: 8/10
Picture: 9/10
Sound: 8/10

Review System
Source
Oppo BDP-83 Blu-ray player

Display
JVC DLA-RS1 projector
Stewart FireHawk screen (76.5" wide, 16:9)
Electronics
Onkyo Pro PR-SC885 pre/pro
Anthem PVA-7 power amplifier
Belkin PF60 power conditioner
Speakers
M&K S-150s (L, C, R)
M&K SS-150s (LS, RS, SBL, SBR)
SVS PC-Ultra subwoofer
Cables
Monoprice HDMI cables (source to pre/pro)
Best Deal analog-audio cables
PureLink HDC Fiber Optic HDMI Cable System (15 meters) from pre/pro to projector

Acoustical treatments from GIK Acoustics
LATEST VIDEO