A Projector for all Sizes of Devices
Explay, a company focused on developing "nano-projector engines" to be used in a variety of consumer electronics products", says it has tested its nano-projector technology with several mobile devices (things like cell phones, digital camcorders, and portable media players) and successfully produced "eye-safe, always focused images".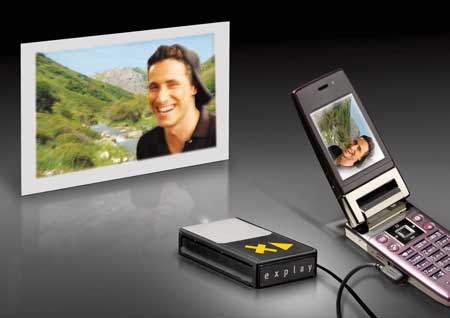 The Explay nano-projector engine is a matchbox size, fully integrated, full-color projection display device. The engine uses laser-based diffractive optical technology, a proprietary micro-display efficiency-enhancement technology, and a proprietary application-specific integrated circuit (ASIC)that allows the components to work together.
Explay's CEO, Daniel Oleiski, says, "An ultra-small, ultra-efficient, eye-safe projection engine is the key enabling technology for embedding the projector into mobile devices." One rather optimistic forecast claims that more than 60 million portable devices with projector capabilities will be sold by 2010.
Explay says consumer acceptance of mobile multimedia content is limited because of the size of the screens on phones and other portable devices. The nano-projector is supposed to overcome the objections to watching video downloaded to these devices by being able to produce images from seven- to 35-inches in diagonal. No information on resolution was provided.
LATEST VIDEO
WHERE TECHNOLOGY BECOMES ENTERTAINMENT